HIGH TRAGEDY OR high farce? Haig might have been forgiven for wondering by which of these two his destiny had been ordained.
His diary for 3rd October outlined the problem:
A great bombshell arrived in the shape of a letter from C.I.G.S. [Robertson] stating that the British Government had 'approved in principle' of the British Army in France taking over more line from the French, and details are to be arranged by General Petain and myself.

This was settled at a Conference at Boulogne on September 25th at which I was not present. Nor did either L. George or Robertson tell me of this decision at our interview…'
"Taking over more line" was not an administrative task, but an eminently practical one. It meant somehow conjuring up large numbers of experienced soldiers, possessed of the vim and vigour to meet the enemy. On top of that, more bad news followed on 6th October:
General Petain… came to see me at 4 p.m. He said he was heart-broken at the delay in putting in his attack on the Aisne.
Privately, it seems likely Haig was not much surprised, but it was a serious problem. The British were to bear the full weight of the German opposition without the French support. On 2nd October, to compound anxieties, the rain returned. The last weeks of September had been mainly dry and sunny, but that was over. Generals Plumer and Gough advised a delay.
Haig would not hear of it. Despite the sober advice of his most trusted lieutenants, the Commander-in-Chief insisted that the assault on the Broodseinde Ridge must begin, as planned, on 4th October. Ironically, the enemy was of the same mind. German commanders, having reviewed their tactics after recent setbacks, also decided to go on the offensive, launching their own bombardment at 5.30 a.m. on 4th October — half an hour before the scheduled British Zero Hour.
WJ Harvey, an Australian in the 24th Battalion, experienced the German artillery fire that day:
They pounded our position with high explosives, including minenwerfers and eight-inch shells, and we had tremendous casualties. It was the heaviest shell-fire the battalion had ever encountered on the jumping-off line… We had forty killed, including two of our platoon officers, and taking into account the wounded a third of our men were put out of action. Everyone kept their nerve, although it was a terrible strain to lie there under that sort of fire.
At 6 a.m., when the British barrage began, the Anzac Corps stormed forward in heavy rain. The Germans were caught, first by the British artillery fire, and then by the Australian infantry sweeping down upon them. They even got past the German pillboxes. The Anzacs advanced around 1,000 yards on average, while — extraordinarily — the 3rd Australian Division pressed more than a mile. It was a great victory and hailed as such in the British press.
An unnamed Australian soldier recalled:
From the Broodseinde Ridge the whole field was under observation, and as we gazed back over the country we could see quite plainly the movements of our own units on various duties — guns, transport, men, the lot. The ridge was a prize worth having.
Eight Victoria Crosses were won that day. Generals Monash and Birdwood commanding the Australian Divisions were jubilant: "There could be no doubt as to the completeness and importance of our success."
Ludendorff wrote later that "The battle of the 4th October was extraordinarily severe, and again we only came through it with enormous losses." The official German monograph called 4th October "the black day". One can see why: German casualties were around 10,000 and at least 5,000 German prisoners had been taken. But the Allies had taken a serious beating as well: the number of killed and wounded totalled 6,432 Australians; 892 New Zealanders and 800 British.
Intelligence reports kept suggesting that German morale was crumbling. This was Haig's defence for his obduracy. For weeks, months even, Haig had been pressing this point exactly, claiming that only one final and supreme exertion stood between the British and final victory.
Perhaps he was also misrepresented. While wish fulfilment seems to have entered the military equation, so too should the insidious role of Horatio Bottomley, journalist and demagogue, be weighed. He had visited the front at the end of September, dined with Haig, following which newspapers in England claimed that Haig had told Bottomley that "he is absolutely confident of a complete and early victory in the west. The enemy's power is visibly weakening all along the line."
Various criticisms may be levelled at Haig, but garrulous indiscretion in the company of a man of doubtful provenance is not one of them. On the other hand, such effusions in the press certainly scotched any plans Lloyd George may have had in mind to give Haig his marching orders, and it is possible Haig himself was aware of that. However it happened, Bottomley certain threw all caution to the winds in John Bull:
The war is won. Germany is beaten. On every front she is weakening and weakening — and it is now only a question of the psychological moment to strike. That momentous decision rests with one man — at least, I hope to God it does. If the politicians will kindly keep out of the ring Haig will very soon administer the knock-out blow. I know what I am saying.
Colonel Nicholson, of the 15th Highland Division, recalled his visit in peppery terms, with which it is impossible not to sympathise:
We all kowtowed to the little brute, yet despised him intensely… he insisted on being photographed — many times — and demanded that the official photographer should record that it was within a hundred yards of the enemy. We put him into a gasmask for the purpose of a photograph — and for a moment I had hopes he might die of apoplexy…
Bottomley's moment of nemesis lay some way off, however. A much bigger problem was the riots which had broken out in recent weeks at the huge army and medical encampments at Etaples. Tensions had arisen partly because of the radically different treatment of officers and men. Le Touquet had been deemed the exclusive purlieu of those holding a commission, which added to the sense of grievance Other Ranks felt at some of the rough handling they experienced at the camp. Riots had broken out in September, and following a spell of troops ignoring orders, and military police becoming violent, a unit of the Honourable Artillery Company was eventually brought in to restore order.
In the ugly wash-up which followed, it became clear that there was seething resentment from hundreds of thousands of British troops who passed through Etaples at the primitive living conditions and casual brutality, especially at the hands of NCOs (the so-called "canaries"), most of whom had not seen active service during this war. Since a spell at the Etaples "bullring" was a staple of the experience both of raw recruits and veterans returning to the front, the authorities had to act briskly, but avoid any hint of panic. No guns had been used by the rioters, which helped.
Those deemed "troublemakers" were rounded up, and sentences were meted out ranging from ten years' imprisonment, a year with hard labour and field punishment, to fines and reductions in rank. Of the 50 or so men court-martialled, only four were charged with mutiny and, of these, only one was executed. Corporal Jesse Short was found guilty, partly because he had tried to initiate an attack on an officer, and Haig confirmed the death sentence on 30th September.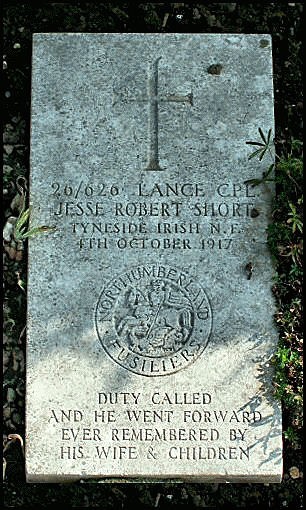 Short faced a firing squad on 4th October and was buried in Boulogne. Poor devil: he was the last British mutineer to be executed in the Great War. Nearly 5.4 million men served in the British Army in the Great War, of whom only 1,132 men were ever charged with mutiny — only three of whom were executed. Without sinking into self-congratulation, this is a statistic which seems to say something reassuring about the ability of the British to manage a conscript army.
Yet the social compact, insofar as it ever existed, was always fragile. Lieutenant Colonel Feilding of the Connaught Rangers wrote shrewdly on the subject to his wife on 3rd October. At the time, his battalion was out of the line at a camp near Ervillers:
You can imagine how discouraging it is to both officers and men to be sent to a different camp each time they come out of the line, and, when at last they do by chance return to some place where they have been before, to find the cook-houses they had made with such loving care turned into latrines; the men's reading-room employed as an ablution shed; and the linings of the principal huts vanished into thin air, having done duty as firewood; — and then, on the top of that, though the battalion may only have been relieved from the fire-trench the night before, to be ticked off with entire lack of justice for not keeping their house in order by some 'eye-wash' General visiting from the back areas.
Ervillers was a particularly bleak place just then. Feilding spent the following day visiting Guillemont and Ginchy, where his battalion had fought shattering and costly battles in September 1916, and reported that night to his wife:
A land of poisoned wells (the Germans saw to this) with the labels nailed up by our people marking them so. A land whose loneliness is so great that it is almost terrifying. A land of wooden crosses, of which, wherever you may stand, you can count numbers dotted about, each indicating a soldier's grave, and the spot where he fell.
Others had fears more pressing than loneliness, as Corporal Louis Avery with the Australian 3rd Field Engineers doing repair work at the Ypres Front recorded in his diary on 1st and 2nd October:
Shelling was difficult, plenty of mustard gas and it took a great amount of mental persuasion to drive the cowardly body on & on & still on… Jumpy, irritable, drawn, ashen grey faces, quivering nostrils & bloodshot eyes just mildly describes the appearance of every man…

[More mustard gas] and a number of us are affected in the throat & eyes… We have to be careful not to walk near the places where the gas shells fall as it would eat your boots off your feet. You must not let it come in contact with the flesh…
On 3rd October, he had a very welcome day off. Even so:
My nerves are terribly on edge though I hate to admit it that the explosion of a heavy shell miles away causes me to jump. We are all much the same. I am a mass of nerves, the more you get the worse you become. New troops stand up to it well for a while until they become nervous wrecks like ourselves. Many can't stand it & have to be sent away.
This makes for painful reading — Avery seems to have become old before his time, which was what fear did to Tommies. Feilding had the professional soldier's advantage of having been thoroughly trained in peacetime. Writing again to his wife on 8th October, he combined compassion with gentle detachment:
The section of the frontline which I hold is, as I have told you, more or less… a graveyard. Many soldiers lie buried in the parapet, and in some cases their feet project into the trench. The positions are marked, where known. We come across others, unmarked, as we dig. On such occasions the men put up little notices, some of which combine with the tragedy of it all a certain amount of pathetic and unintended humour… somebody has contented himself by just writing piously in chalk on the sole of a projecting foot: 'R.I.P.' Over another grave a bas-relief of the Head of Christ has been carved with a jack-knife on a piece of the chalk through which the trench is dug. It is embellished with hair and a fine halo in purple indelible pencil. If you saw it all you wouldn't know whether to laugh or cry.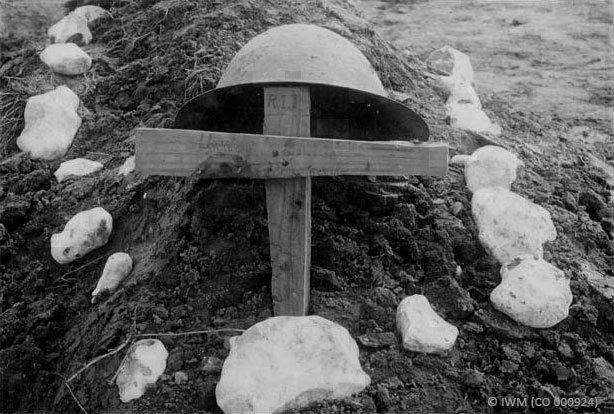 Save one's tears for Russia, perhaps. The author Somerset Maugham was one of the diminishing number of Westerners still in Petrograd. Employed by the British Secret Intelligence Service (now MI6), and charged with the modest brief of preventing a Bolshevik Revolution and keeping Russia in the war, he watched Kerensky speak at the Democratic Conference on 3rd October, describing him as "green in the face with fright".
If so, he was right to be. Journalist-author Arthur Ransome, about to return to Britain, was shocked by the sneering Bolshevik representatives who shouted Kerensky down as he tried to argue the case for a coalition government. He succeeded in that, but to what effect? Maugham described how Kerensky
stood practically among the audience as though he sought to appeal to each man personally. His appeal was to the heart and not to the mind and— although he received a standing ovation — the final impression I had of Kerensky was of a man exhausted.
As for the Bolsheviks, Maugham had harsh words:
They alone at a moment of terrible difficulty brought to the assembly the irresponsible nonchalance of a debating society… smiling, indifferent to words that to their speakers represented blood and tears.
The pitiless contempt of the extreme left was to become a nostrum of 20th century politics. The Bolsheviks' hostile response to any conciliatory gestures was encapsulated when they walked out en bloc, allowing Kerensky's resolution to be passed with a small majority.
Westerners were apprehensive. The British Ambassador warned the Foreign Office that:
The Bolsheviks, who form a compact minority, have alone a definite political programme… If the Government are not strong enough to put down the Bolsheviks by force, at the risk of breaking with the Soviet, the only alternative will be a Bolshevik Government.
These were prophetic words, but Kerensky was not ready to hear them. On 8th October, Buchanan and a posse of other diplomats met him and urged that his government should "concentrate all its energies on the prosecution of the war" and on restoring internal order and army discipline and increasing factory output. The Russian Premier grew irritated, terminating their interview with a dismissive comment: "You forget that Russia is a great power!"
Buchanan, like Lenin, found Kerensky a bit too "Napoleonic". His pretensions have little historical significance, but his growing impotence certainly does. A consequence of Russia's increasing anarchy was detailed in a report of 5th October in Petrogradskaya Gazeta:
The Ministry of Internal Affairs has received very disturbing information from Yasnaya Polyana. Peasants are destroying Yasnaya Polyana, killing crops, plundering gardens and allotments, cutting down the forest. The widow of the late Leo Tolstoy, Sofia Andreyevna, appealed to Nikitin, the Minister of Internal Affairs with a request to protect the estate from further lawlessness of the peasants and complete destruction of the property…
In his will, Tolstoy had left the bulk of his estate to the peasants. The paper now observed, acidulously:
…to this generous gift they [the peasants] now repay it with dark ingratitude.
That was setting the bar high. Set against the multiple tragedies of war, hopes of encountering gratitude were unlikely to be fulfilled anywhere in Russia.
The same rough justice laid waste this week to many at sea. On 2nd October, HMS Drake was on convoy duty when she was torpedoed by U-79 off the Irish coast. Miraculously enough, only 19 of the 900 on board were killed but, in the same engagement, HMS Brisk was also hit and exploded into two pieces, with over 31 killed. The fleet sweeper, Begonia, was declared lost on 6th October, having been missing since an earlier trip, and around 100 men were presumed to have perished with her. On 8th October, the German submarine U-96 torpedoed and sank two ships in St George's Channel with the loss of around 60 lives and, on the same day in the Atlantic, a coaster and a cargo ship were sunk by U-57: around 55 men died.
An exhausted and traumatised civilian population could be vengeful. The press reported with glee the destruction of two German submarines which struck mines in the North Sea, claiming the lives of all 63 men in the two crews. The news that the Prime Minister and General Smuts had been tasked with organising reprisal raids against Germany, following the Gotha bombings on London and the south the previous week, was also met with smacking satisfaction. Reporting this on 3rd October, the Daily Telegraph suggested that it would
be read with satisfaction from end to end of the land — despite, of course, this being a course of action which is repugnant to the natural feelings of all humane men and women.
In other words — we are not monsters, just sorely provoked.
The cumulative suffering seems to have dented the irrepressibility even of Cynthia Asquith. A great admirer of Brigadier Freyberg, VC, she went to visit him in hospital on 4th October:
He looked very white and subdued. Poor fellow, before he went out last time I remember his saying he would rather be killed than wounded again — he has been through such terrible mills of pain. Now he has been hit in five places again by a shell bursting at his feet — right through the lung for one, and he has a hole the size of his fist in his thigh. He is riddled like St Sebastian. I believe he's been hit everywhere except in face and head, so he's really had amazing luck not to have lost a limb. He said he'd take poison if he had to have a leg off. He refused to be taken away for a day and a half after he was hit, as he wanted to see the attack he was then engaged on carried through to a successful finish. His men didn't know he was wounded until it was over.

He loathed being in bed and, of course, chafes and frets at the interruption to his brigadiering, which he adores…
The temptation to parody, or just to generalise, what war and suffering meant is one to be avoided at all costs. Freyberg had the reputation of being an old blood-drinker, but his remarks to his visitor hinted at desperation wrought by fear and pain.
It is in this spirit, perhaps, that we should also contemplate the arrest, on 1st October, of Sarah Aaronson, a member of one of the many networks of agents spying for the British around the world.
Aaronson had come to the British after journeying from Istanbul to Haifa in December 1915, and witnessing mass killings which were part of what we now know as the Armenian genocide. Shocked to her core by what she had seen, she dedicated herself to travelling around Ottoman territories collecting information which she transmitted to offshore agents or personally delivered to the British in Egypt. On one visit there, her brother Aaron, a world-famous agronomist and botanist, tried to persuade her to abandon such dangerous work, but she was adamant.
Her arrest came as a result of her carrier pigeon being intercepted, and its message to the British being decrypted. Her family house in Zichron Yaakov was surrounded and her father tortured before her eyes. Sarah refused to give any information, even when tortured herself for four days. Before being taken to Damascus for further interrogation, she asked permission to change her bloodstained clothes at her home. Once there, she shot herself with a pistol concealed in the bathroom. The bullet destroyed her mouth, severed her spinal cord, but missed her brain and she suffered agonies in the days which followed.
On 9th October, she died. Sometimes we have to look very hard indeed to find the mercy of God.