FOR THOSE AT Passchendaele the opening moments could not but fail to recall the sound of deafening guns, and the tableau of desperate men in khaki clambering out of trenches, in the Battle of the Somme thirteen months earlier.
Truth was, the barrage which preceded the first dash of troops across no-man's land in this Third Battle of Ypres was even more intense and cacophonous. A German staff officer, General von Kuhl, said of it later:
A hurricane of fire, completely beyond anyone's experience broke out… This was not just drum fire; it was as though Hell itself had slipped its bonds. What were the terrors of Verdun and the Somme compared to this grotesquely huge outpouring of raw power?
Captain Walter Williamson of the Cheshire Regiment remembered this awesome spectacle and sound:
On the dot of 3.50 as per programme, we heard the boom of one big gun, and immediately the barrage opened. We sprang out of our shell holes to watch the wonderful sight… It was stupendous barrage. The number of guns in action was sufficient to keep the firing like the continuous roll of drums. The sound was beyond description. One seemed to have the impression that nothing existed in the world but one great howling noise, a noise that hammered itself against one's flesh, almost numbing the senses…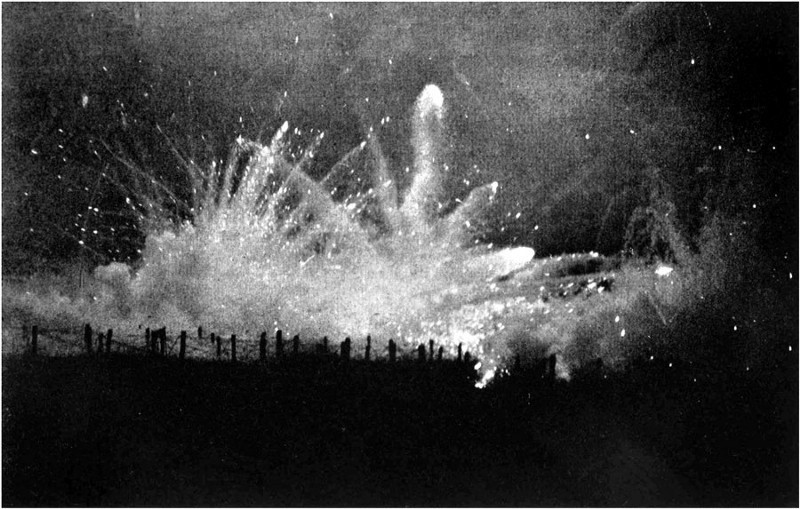 Gotterdammerung, staged in real time and space. Lieutenant Floyd of the Lancashire Fusiliers seems to have been more preoccupied with what came next:
Our time was drawing near. At 8.30 we were to go over. At 8 we were all 'standing to' behind the parapet waiting to go over. Colonel Best-Dunkley came walking along the line, his face lit up by smiles more pleasant than I have ever seen before… The minutes passed by. Everybody was wishing everyone else good luck… Eventually, at 8.40, I got a signal to go on. So forward we went…

Could you possibly imagine what it was like? Shells were bursting everywhere. It was useless to take any notice where they were falling, because they were falling all round; they could not be dodged; one had to take one's chance: merely go forward and leave one's fate to destiny. Thus we advanced, amidst shot and shell, over fields, trenches, wire, fortifications, roads, ditches and streams which were simply churned out of all recognition by shell-fire.

The field was strewn with wreckage, with the mangled remains of men and horses lying all over in a most ghastly fashion — — like any other battlefield, I suppose. Many brave Scottish soldiers were to be seen dead in kneeling positions, killed just as they were firing on the enemy. Some German trenches were lined with German dead in that position. It was hell and slaughter. On we went.
Yet there were niggling doubts about the efficacy of the barrage, as opposed to its cacophony. By the afternoon, these had, in Walter Williamson's mind, crystallised into certainty:
…There was no doubt … that the enemy had his guns out of harm's way before the barrage had opened, as he certainly could not have moved them through it… Very few dead were seen in passing his first and second lines, and practically no prisoners were taken till they fled to us from their own third line. This pointed to the fact that his first two lines were but lightly held, and he had massed his defence at the third line with his full artillery at his back…
And then, infamously, came the rain – great sheets of it, which fell from the skies every day, except one, between 30th July and 6th August. For those trying to cross low-lying ground, already pummelled by artillery, flooding spelled a new danger. Williamson recalled:
It was now getting well on into the afternoon, and had commenced to rain heavily. The sides of the trench having been badly smashed, the rain commenced to dissolve the sides slowly but surely, little rivers of mud began to trickle in, and in a short time we were in a quagmire half way to your knees… It was a black night and raining now in torrents. The clayey soil torn by the shells, and now sodden by the rain, had turned to a succession of great pools of mud…

Innocent looking pools on the roads turned out to be huge shell holes, and many guns were put out of action for the day, by disappearing into some of these traps. Off the roads matters were worse, and mules and men were actually drowned in trying to get along tracks in the darkness…
Such horrors were part of a larger dash on 31st July by ten British divisions, supported by six others of the 1st French Army, to capture German positions on Pilckem Ridge, with 136 tanks in support.
Unlike a year earlier, early reports that first day were encouraging. Haig, always sanguine about the potential of cavalry to exploit gaps in enemy defences, now ordered them to move up. That feeling of purpose and confidence made for a good moment, but it proved – all too quickly – an ephemeral one. By afternoon, as rain fell heavily, German counter-attacks slowed everything down to a crawl, and often not even that.
When the German frontline was finally reached, it was found that, once again, Allied intelligence had been wanting. Despite the huge efforts which had gone into planning and extensive reconnaissance by the RFC, the strength of German defences had not been fully appreciated. Allied soldiers found themselves confronted less by troops than by large shelters with thick walls and roofs. The pillboxes, called blockhouses, were equipped with machine-guns to see off any attackers, and were strong enough to withstand even direct hits from field artillery. Many soldiers, loaded with up to 100lb of equipment, simply slipped from the duckboards and drowned in the deep craters full of slimy water.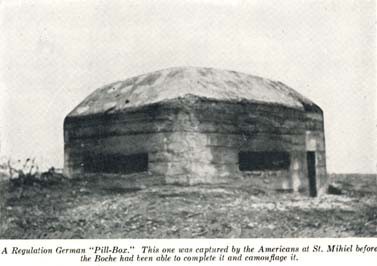 Pilckem Ridge was taken on 6th August, but at a cost of over 31,000 Allied casualties. One of these was Lieutenant Floyd:
We passed through the 166th Brigade. We left St Julien close on our left. Suddenly we were rained with bullets from rifles and machine-guns. We extended. Men were being hit everywhere. My servant, Critchley, was the first in my platoon to be hit. We lay down flat for a while, as it was impossible for anyone to survive standing up. Then I determined to go forward. It was no use sticking here for ever, and we would be wanted further on; so we might as well try to dash through it.

'Come along — advance!' I shouted, and leapt forward. I was just stepping over some barbed wire defences when the inevitable happened. I felt a sharp sting through my leg. I was hit by a bullet. So I dashed to the nearest shell-hole which, fortunately, was a very large one, and got my first field-dressing on.
One senses Floyd was making light of something far worse than his clipped words suggest. Most battles were host to any number of terrors. In the case of Passchendaele, some were so desperate that their indecency still screams, a hundred years later, to be acknowledged. A witness to one was Lieutenant Annan, with the 1st/9th Royal Scots, following a battalion of the Gordon Highlanders which had taken the fortified German stronghold of Minty's Farm.
They [the Gordons] took it with the bayonet, like wild things, and when we got to it the dead were lying all around. The Germans, grey against the mud, all mixed up with the dead Gordons, lying there in their kilts…

As we were struggling up to it one of the boys got hit with a huge shell fragment. It sliced him right in two. He dropped his rifle and bayonet and threw his arms up in the air, and the top part of his torso fell back on the ground. The unbelievable thing was that the legs and the kilt went on running, just like a chicken with its head chopped off!

One of my boys — I think it was his special pal — went rushing after him. He had some mad idea of picking up the upper part of the torso and chasing the legs to join him up. I shouted him back and he was wild with me because he wanted to help his pal. He couldn't realise that he was beyond help.
The cost inflicted upon the mind by such sights defies belief. The incident may have been grotesque, but death and maiming were everywhere. Walter Williamson remembered that, on 1st August:
…we made for the next stop. This turned out to be the ruins of a building on the St Julien road, where our Medical Officer had fixed up his aid post. Here, he and his staff were overwhelmed with dead, dying and a few hopeful cases. The place had simply been battered with shell fire and the road ploughed up, but this had now settled down to one horrible level surface of water and oozing mud.

Outside lay many bodies covered over, of men who had been wounded, had managed to make their way to the aid post, but had been killed by shell fire while waiting for their turn of attention. Stretchers with their pitiful burdens were brought out from the inner recesses of the ruins, and we were detailed each four to a stretcher…

Rain still poured down unceasingly and the road was being shelled viciously… We had not travelled far down the road when we passed 3 dead Germans laying face downwards in the mud, and a yard or two behind them, one of our boys who had evidently been escorting them.

The road was a gruesome nightmare, bodies lay in the mud all along the road and burial parties were busy collecting them as best they could. Dead mules, horses, wrecked guns, limbers and all the terrible debris of battle lay in the mud…

At last we came in sight of the burial party, busy on their gruesome task. Here a Padre in soaked surplice over muddy uniform, was reading a short service over a great open trench where men who had given their all, lay side by side.
As always, there was a terrible pathos which attached itself to dead soldiers' small possessions:
At one end of the trench lay stocks of equipment muddied and torn, and piles of boots, while the officer in charge was busy with notebook and numerous little discs, paybooks, and little bags for 'effects'.

That cold little word that covers all the intimate treasures found in a soldier's pockets, photographs of home folks and usually the last letter written home which had missed the post, and would usually contain those lies, finer than the truest truths, that he was having a 'bon' time and that he expected to be comfortably at home in a month or two at the outside, with the war all finished…
Terror was everywhere, but – counter-intuitively, perhaps – it was never universal. The full intensity of battle provoked in some men an exceptional calm, sometimes bordering on euphoria. Those who observed it were almost invariably heartened. Lieutenant Floyd, moving gingerly across no-man's land, saw:
About a hundred yards on my right, slightly in front… Colonel Best-Dunkley complacently advancing, as calmly as if he were walking across a parade ground. He was still going strong, last I heard of him.
Not for much longer, alas. Best-Dunkley was awarded the VC for his courage and leadership on 31st July but died of wounds on 5th August, two days after his 27th birthday.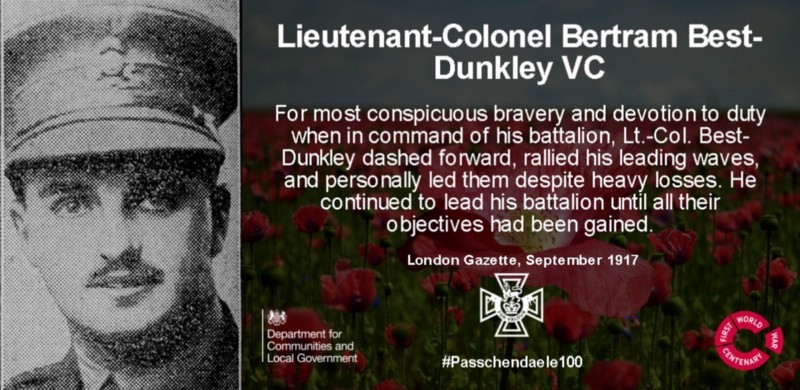 Lieutenant John Hobson, of the Royal Scots, appears to have been quite as imperturbable. Now in command of a section of the 116th Machine Gun Company, he took part in the assault on the village of St Julien, which had been in enemy hands since April 1915. The heavy bombardment and recent torrential rain had transformed the landscape into a quagmire of mud and slime, and the only firm ground was provided by the concrete blockhouses built by the Germans. He was described as "strolling about quite unconcernedly, as if he were out on a pleasure jaunt, cheering his men up, and setting a splendid example".
Hobson was killed when a shell struck him as he reconnoitred ahead of the line to find the best place for his guns. The village was eventually captured on 4th August but the British casualties included 145 officers and 3,716 other ranks. Eleven VCs were awarded, four posthumously, a tally unsurpassed at any other moment in the war. Two further VCs were won on the following two days, and one of these made history as the first man in the Great War ever to be awarded a Bar to add to the VC he had already won at the Somme.
This was the exceptionally gifted and modest RAMC surgeon, Captain Noel Chavasse. Serving with the Liverpool Scottish as they attacked at dawn on 31st July, he had moved his aid post from the more distant Weiltje dug-out to a captured German dug-out at Setques Farm to tend the wounded despite heavy gunfire. Then, unsurprisingly, he was himself wounded, but not so terribly that he could not continue his search for survivors all through that night and all the following day. On the morning of 2nd August, the increasingly inevitable happened and he was hit by a shell. This time, the damage was bad. They managed to get him to the hospital at Brandhoek to operate. There are reports that he came round from the anaesthetic, well enough to talk cheerfully, but he died on 4th August.
Chavasse was a phenomenon, and his story had – and continues to have – great resonance. At the time of his death, he had just refused a safe job at a base hospital behind the lines as he wanted "to stay with the lads". His father, Bishop of Liverpool, received over 700 letters of condolence, including one from the King.
Two further VCs were won over the next couple of days. Doubtless it suited the British government to laud the gallantry of its soldiers, but there was a deep and unalloyed respect for courage, and medals for gallantry were only ever awarded with the greatest circumspection.
This was the week when the Pope issued a peace plan – a high-minded initiative to some, preposterous to others. Its timing, in the midst of these dire contests, was hardly propitious, but Benedict XV had pedigree as a man of peace. He had been elected to the see of Peter just a month after the start of the war, and had initiated humanitarian programmes in Italy for refugees and prisoners-of-war as well as making several earlier peace overtures. His new seven-point plan, announced on 1st August, claimed "to preserve complete impartiality in relation to all the belligerents…"
There was precious little chance of that in summer 1917. Equally improbably, he wished:
to leave nothing undone within Our power, which could assist in hastening the end of this calamity, by trying to lead the peoples and their heads to more moderate frames of mind and to the calm deliberations of peace…
The proposals, couched in terms of generalities, were delivered to King George V with a letter asking him to forward them to the governments of France, Italy and the United States. The King wrote in reply:
His Majesty the King has received the proposals with the most sincere appreciations of the lofty and benevolent intentions which animated His Holiness and His Majesty's Government will study them with the closest and most serious attention.
Emollient words aside, the papal initiative rapidly hit the buffers. The Allies were in no mood for peace – they believed Germany was on the edge of breaking, and hoped this latest offensive would snap her spine – an ambitious assessment. Their refusal to take it seriously helped to ensure that there would be no early end to the carnage across the continent.
Carnage did not discriminate. Suffering was everywhere. Vera Brittain, nursing at the 24th General, a large and busy military hospital at Etaples, wrote to her mother on 5th August:
…You will be surprised to hear that at present I am nursing German prisoners. My ward is entirely reserved for the most acute German surgical cases; we have no cases but the very worst (26 beds) & a theatre attached to the ward….

The majority are more or less dying; never, even at the 1st London during the Somme push, have I seen such dreadful wounds. Consequently they are all too ill to be aggressive, & one forgets that they are the enemy and can only remember that they are suffering human beings… It is incongruous, though, to think of Edward [her brother] in one part of France trying to kill the same people whom in another part of France I am trying to save…
Animals suffered as well as humans – a reflection which piled on the pain to many, perhaps especially to the more sentimental British. Hundreds of horses and mules were killed or swallowed up by the mud, their handlers unable to drag them out. Beb Asquith, right at the heart of the battle just south of the Menin road, had a lucky escape from injury, but it cost the life of his horse:
A shell exploded near us and my own horse gave a faint shiver and lowered his head: to my great sorrow he was mortally wounded in the neck and I shot him with my revolver so as to put him out of his pain.
To be out of all pain: there was a thought to befuddle those who still held life within their grasp, and – perhaps – to reconcile to their fate those who did not. Two great poets died on 31st July. One was the Irish nationalist and nature poet, Lance Corporal Francis Ledwidge, who had enlisted in October 1914, and had served in Gallipoli and Serbia before his posting to the Western Front in December 1916. Irish nationalists were not the most obvious constituency for the British armed forces and, at the time Ledwidge had joined up, he had commented:
Some of the people who know me least imagine that I joined the Army because I knew men who were struggling for higher ideals and great emprises, and I could not sit idle to watch them make for me a more beautiful world. They are mistaken. I joined the British Army because she stood between Ireland and an enemy common to our civilisation and I would not have her say that she defended us while we did nothing at home but pass resolutions.
Such scrupulousness now exacted the ultimate price. His "B" Company of the 1st Battalion Royal Inniskilling Fusiliers was behind the lines in the vicinity of Pilckem Ridge as the third battle of Ypres began on 31st July. Ledwidge had attended Mass that morning for the feast of St Ignatius Loyola and, in the evening, was laying wooden planks over the pools of mud to enable guns and equipment to be moved forward. In torrential rain, soaked to the skin, he paused for a mug of tea and was killed outright, struck by a shell.
A Soldier's Grave

Then in the lull of midnight, gentle arms

Lifted him slowly down the slopes of death,

Lest he should hear again the mad alarms

Of battle, dying moans, and painful breath.

And where the earth was soft for flowers we made

A grave for him that he might better rest.

So, Spring shall come and leave it sweet arrayed,

And there the lark shall turn her dewy nest.
That same day saw also the death of the great Welsh language poet, Hedd Wyn, or – as he was known to the Army – Private Ellis Evans. He was in the 15th Battalion Royal Welch Fusiliers, part of the 38th (Welsh) Division which was to take Pilckem Ridge in the first stage of the battle. They crossed the Comines-Ypres canal early on 31st July and Wyn was one of several ordered to hold a ridge of land about a mile from Langemarck.
It was at that point that his luck ran out. Wounded in the chest by a piece of trench mortar shell, he was taken to an aid post. His last words – in English – were, "I am very happy."