THE INSISTENCE OF serving soldiers marking out the birth of the Christ-Child, Prince of Peace, may have seemed touching in 1914, but by now had become tragic and even sickening. But old habits died hard, not least because feasting at Christmas was a tangible source of comfort, and a potent evocation of the past. Edwin Kuehns and his comrades near Cambrai wrote about their Weinachtsfest:
The celebration was a very simple wartime effort. A Christmas tree with eleven candles… Gunther opened the proceedings with a short address and then distributed four Iron Crosses 2nd Class and one Wurttemburg Medal.
Harry Drinkwater, a subaltern with the Royal Warwickshires, spent his Christmas at a camp near Padua, just one of the 200,000 Allied troops who had been transferred from France to shore up Italian defences after Caporetto. He seems to have feasted rather well:
No building was found to be large enough for the whole battalion so each company had its own dinner. We, C Company, besides the turkeys and geese, had the army issue of beef, 160lbs of plum puddings and nuts, fruit and beer bought locally… It was a highly successful dinner… I went round last thing to see if any of my platoon could do with their rum ration. Some were still game but most were asleep, full of turkey and beer.

At 8 p.m. the whole of the battalion officers gathered at battalion headquarters mess and sat down to dinner. Toasts, turkeys and plum pudding and afterwards song, concluded a very successful Christmas… I reflected upon my previous Christmas Days since the war broke out. 1915, I was in Maricourt and spent most of the day scraping mud from my clothes. 1916 I had spent in the trenches and cooked my Christmas dinner in the trenches…

[On] the 27th, we were reviewed by General Plumer after a short divisional route march. It was mercifully short. No one felt like marching…
Drinkwater had earned some respite, having survived Passchendaele a few months earlier. Vera Brittain's brother, Edward, was also in Italy — but his culinary prejudices suggest he was more of a Little Englander than a gastronome:
…We were all very short of anything to smoke until just lately when some cigarettes came for me from home; it is an absurd country for supplies though canteens are arriving now: I think the poorer people live entirely on polenta — a heavy, tasteless, fat, yellow cake which they make themselves and eat hot and an inferior species of vino which is rather bitter and rather too potent for the men who would drink it as though it was beer when they first got here. The servants are singing 'Hark the herald angels' and 'Good King Wenceslaus' raucously in the kitchen.
The coming of Christmas saw Yves Congar, now 13, revelling in unaccustomed treats:
Very cold: 12 degrees! There are icy patches on the Meuse and the banks are frozen. It is snowing as it should at Christmas. But there will be no midnight mass and no big party. Then again even if we're not celebrating Christmas Eve properly, at least we have what feels like a banquet: waffles, cocoa… what a treat, it's great! Unforgettable!
Congar, a future Archbishop, lived in Sedan, in occupied France. He expiated his burning resentment of the Germans in his pungent diary, while fretting about the fate of his two brothers who were being forced to work for the occupying troops. On New Year's Eve he wrote:
…time for us to make a wish. This is mine: 'May the war end, the hard times be over and may France, with peace in her heart, turn once more to God and enjoy a prosperous victory, Amen.'
Christmas for John Nash perfectly embodied the contradictions of war.
He aspired to become an official war artist like his brother, Paul, but meanwhile was at the front with the Artists' Rifles. On Christmas Eve he started a letter home, finishing it on Christmas Day:
Such a queer position to write in, you can't see anything but my feet are d — — d cold. This is Xmas Eve — I spent last night w. 3 of my men in advanced post — a perfectly uncovered shell hole; it was strange to watch one's rifle freeze all over & one's coat get covered with slime and my wasn't it cold! …I am curled up in a little 'funk' hole covered w. a 'water' sheet & the shells which are bounding & bouncing… shake the earth like a thunder clap…
On Christmas Day, he had tinned turkey, a ration of pudding and rum, all of which gave him a terrible headache:
A man gave me a cracker & we gravely pulled it while great shells bounded overhead to its tiny report. We then sang carols & I have to go out again to the beastly post tonight. A proper mockery of a Xmas day…
Vivid descriptions of Christmas also arrived from Russia. While civilians were not required to confront the immediate terrors of the battlefield, many were living in a state of entirely rational apprehension. The American Red Cross Mission gave a lunch for American correspondents on Christmas Day. The entire American colony was also invited that evening a party laid on by the National City Bank, held in the old Turkish embassy. According to a young bank clerk, no effort or expense was spared:
Our plain, bare old counters, only used to having money handed across them were covered with good things to eat. White bread sandwiches, turkeys, chicken salad, cranberries, jam cakes of all kinds and apple pies… another counter held the punch bowl made of about ten different kinds of wine.
Another guest observed how someone had managed to obtain:
…baking powder from Vladivostok, six thousand versts away, to make American layer cakes. The eggs came from Pskoff, up near the Russian front. The Ambassador's pantry was robbed of its white flour. And the turkeys came from heaven knows where.
Restraint seems to have been more the order of the day at the British Embassy, where the party also marked the official farewell for Ambassador Buchanan, recalled to Britain.
Pluck, rather than feasting, was what counted there, as his daughter, Meriel, recalled:
Although the ballroom was stacked with tins of bully beef and other provisions, although every officer there had a loaded pistol in his pocket, and there were rifles and cartridge cases hidden in the Chancery, we tried to forget the desolate streets and the threats of constant danger. We played the piano and sang songs, we drank champagne and laughed to hide the sadness in all our hearts.
In Russia, of course, the war had become a civil war. Elsewhere, it was business as usual. There were artillery actions around Vimy and east of Ypres. A German assault opened at dawn on 30th December, aimed at taking the Welsh Ridge, north of Cambrai. Hand-to-hand fighting ensued, but after two days the Hood battalion had beaten off the enemy. In the words of Surgeon McCracken: "our fellows simply knocked hell out of them". True enough — but at a cost: British fatalities included two brothers, Sergeant James and Corporal Charles Freeman of the Shropshire Light Infantry, who died fighting together.
Fighting that week was also memorable for the large-scale aerial battle which took place 18 miles north of Venice on 26th December. Two nights later, Padua — a revered university town — was bombed. The Austrians kept it up for three consecutive nights and 16 people were killed.
Meanwhile, the Turks mounted a valiant effort to recapture Jerusalem. The British were taken by surprise, but were having none of it. Enemy forces were driven back as far as Jericho.
Yet something had shifted by the end of 1917. Russia's convulsions were more symptom than cause of the profound scepticism which had now entered the thinking of many who, until now, had seldom questioned the war. It alarmed them that, even now, there was no end in sight. For the Central Powers, the best hope was pouring troops from the East onto the Western Front before the United States had yet made itself formidable. For the Allies, it lay in holding on until then.
That meant, however, pouring men into the mincer of war indefinitely. That was what Lenin understood, and he was outraged by its cynicism. On 27th December, he inveighed against
… this horrible, criminal war [which has] has ruined all countries, exhausted all peoples, and confronted mankind with the alternative — either sacrifice all civilisation and perish or throw off the capitalist yoke in the revolutionary way, do away with the rule of the bourgeoisie and win socialism and durable peace… The socialist revolution that has begun in Russia is, therefore, only the beginning of the world socialist revolution…
Of course, this kind of Marxist analysis was not one to which all of his listeners would subscribe. But even hardened warriors were heartily fed up with the war. Having been passed fit for general service, Siegfried Sassoon was now preparing to go back to France, and brooding about the injustice of the endless fighting:
…I have done all I can to protest against the war and the way it is prolonged. At least I will try and be peaceful-minded for a few months — after the strain and unhappiness of the last seven months. It is the only way by which I can hope to face the horrors of the front without breaking down completely. I must try to think as little as possible. And write happy poems. (Can I?)
Sassoon was unusual for a soldier in his insistence on thinking politically. But he was not alone. To judge from his wife's diary this week, Beb Asquith, husband of Cynthia, was also becoming restive:
27 December …I was sitting writing my daily letter to Beb when a telegram was handed to me, sent from Portsmouth: 'Arriving London on leave… Beb.' I met the last train and, sure enough, he arrived, looking thin but really well, I think.

28 December …Beb and I walked up to the top of the New Hill and back via Coscombe. It was one of the most lovely-looking days I have ever seen. Beb is in very good form  — in good, lean looks and very keen and eager — seething with indignation against the Government and the 'hate campaign' of the civilians. He is ashamed of the way England brutally snubs every peace feeler, and reiterates that, either we should negotiate or else fight with all our might, which he says would mean doubling our army in the field.

He speaks with rage of the way we are not nearly up to strength at the Front and says it is to a large extent merely a paper army. In existing circumstances a military victory is quite out of the question until America can really take the field, which will not be for years —and he thinks all the lives now being sacrificed are being wasted, it's like going about with a huge bleeding wound and doing nothing to bind it up.

Thank God Beb isn't in the House of Commons! I should never have the moral courage to face the reception given to the kind of speech he would make.
The Asquiths had known their fair share of loss and sorrow in the war, not least the death of Beb's eldest brother, Raymond. Now his middle brother, Oc, was in hospital at Le Tréport following a wound in his ankle. He wrote gamely to his father on 30th December that he hoped to "retain my own leg and foot with stiff ankles". His recovery was not helped when news arrived that his friend and comrade-in-arms, Patrick Shaw Stewart, had been blown to pieces by a shell on 30th December at the start of the German attack on Welsh Ridge. Shaw Stewart had been on his rounds before dawn, and, although wounded in the face by shrapnel, refused to go for treatment. Then:
Very soon afterwards, a shell burst on the parapet, and a fragment hit him upwards through the mouth and killed him instantaneously.
The death of this charismatic character, scion of Eton, Balliol, All Souls and Barings Bank, hearkened back to the deaths of other golden young men, awakening memories of Horners, Grenfells, Rupert Brooke, Raymond Asquith inter alia. Shaw Stewart was a little older, perhaps, and had been awarded the Légion d'Honneur and the Croix de Guerre by the French for his liaison work with them on Gallipoli and Salonika.
He had also been a notably reluctant soldier, writing a few months earlier:
…Every time I remember that nearly all my friends are dead, I… fall back on the comforting reflection that I may soon be dead myself (wonderfully cheering that).
Such aplomb — detachment, anyway — was not really a marketable commodity, least of all at a time when the war was unpopular and seemed endless. King George V's Christmas Message tried to strike a more fulsome tone.
…I recognise your hardships, patiently and cheerfully borne, and rejoice in the successes you have won so nobly. The Nation stands faithful to its pledges, resolute to fulfil them. May God bless your efforts, and give us victory. G. R. I.
Even here, perhaps, one senses a slight current of unease permeating his emollient words. By contrast, the Kaiser was in full bombastic mode, noisily reassuring his countrymen that God was One of Them:
The year, 1917, with its great battles, has proved that the German people has in the Lord of Creation above an unconditional and avowed Ally.
But everyone was suffering: God, however concerned, seems to have been non-aligned. By 31st December 1917, the Germans had lost 1.3 million men in the war to date — that is men killed or missing, or presumed dead. In France and Flanders, British casualties had been higher than in 1916: nearly 200,000 British servicemen had been killed in the previous twelve months and over another 600,000 were wounded, missing or prisoners of war.
Germany's particular suffering owed most to the British blockade, which left many of the population on the edge of starvation. Britain had, through the adoption of the convoy system, fought back successfully in recent months against the efforts of Germany to inflict the same treatment on her.
But the dangers at sea remained immense, and this was a week in which the British took a particularly savage beating. The purveyor of death was UC-34, a U-boat lying in wait outside the harbour at Alexandria, Egypt. On 30th December, she torpedoed the troopship Aragon with 2,500 on board. The bodies of many of the 610 killed were never recovered from the Mediterranean.
Tragedy on such a scale deserves to be better-known, but in fact UC-34 was far from finished. The escort destroyer Attack, which now tried to rescue survivors, was also sunk by the same submarine. Ten of the 70 crew were lost and, the following day, the fleet messenger HMS Osmanieh struck a mine laid by her. That accounted for another 198 souls, of whom eight were Queen Alexandra nurses.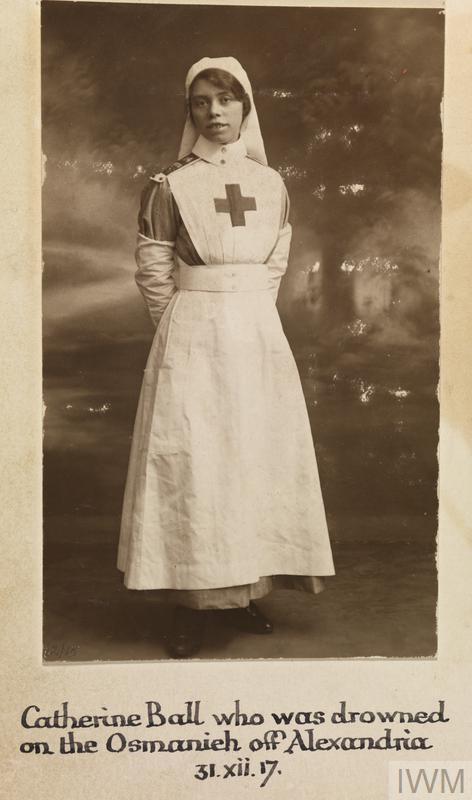 The youngest, Hermione Rogers, was 22. And even that was not the end. Ninety-seven others died in other sinkings this week. It is not hard to believe that these final days of 1917 numbered some of the blackest days of the war for all sides.
Yet, even now, we see the extent to which the human spirit searches out hope more readily than it submerges into black despair. While some would argue that the triumph of hope over experience is simply a Darwinian contrivance — a last-ditch resource with which to cling to life — others prefer a more metaphysical explanation.
What is incontestable is that anyone who witnesses profound courage and generosity is forever changed. It is in this context that we may consider a letter home this week, penned by the Army Chaplain, Julian Bickersteth:
December 29 The last twenty-four hours have furnished me with some severe tests of physical and mental endurance. Once again it has been my duty to spend the last hours on earth with a condemned prisoner. I cannot disclose to you many of the details of those trying hours, but I have, I hope, learnt much from the simple heroism of this mere lad of nineteen, who has been out here at the Front since 1914 when he was only fifteen and a half, and who, in spite of two wound stripes on his arm and all that service, has met his end. It was my privilege to comfort and help him all I could, to hear his first and last confession, to administer to him the Holy Communion and to stand by his side till the very end. We have no time here amid the stern realities of war for pathos. We could not live at all if we dwelt on the 'pathetic' side of this vast tragedy, but there are few deaths I have witnessed which so wrung my heart-strings as this one.

He gave me all his little treasures to give to this or that friend. He wrote a letter to his sweetheart and sent her his letter wallet with its photographs and trinkets, a lucky farthing which she had given him for a keepsake, his last 'leave' ticket and other small things. He sent a letter to his best chum in the regiment and said he was sorry he hadn't made good, and wished them all a happy New Year and hoped they would all get home safe after the war.

Of our more intimate time together I may not speak. He slept peacefully as a child for several hours. Just before the end I read to him very gently that hymn which will for ever now have a new meaning for me, and which was in every line and every word appropriate. 'Just as I am without one plea!' As they bound him, I held his arm tight to reassure him, —-words are useless at such a moment —-and then he turned his blindfolded face up to mine and said in a voice which wrung my heart, 'Kiss me, Sir, kiss me', and with my kiss on his lips and, 'God has you in his keeping', whispered in his ear, he passed on into the Great Unseen. God accept him; Christ receive him. I do not think he died in vain.