RUSSIA WAS LOST. Its lurch into self-destruction was matched by its capacity for self-delusion.
The extent to which this was true has often been concealed. The American ambassador's cook-cum-chauffeur, Phil Francis, wrote on 20th December:
do you know that at the present time that Petrograd is… full of Germans[released POWs]… struting [sic] around the Streets as proud as peacocks. All the Russian people are quite happy that the Germans are here. They Say that when the Germans do take Petrograd that we Shall have some kind of law and order to live under.
The poet and novelist, Zinaida Gippius, was also in Petrograd. Two days earlier, she had written:
Pogroms and shooting in all parts of the city (today is the eighth day). To these pogrom orgies, which are now taking over houses and stores, people have gotten used. There are not that many wounded and killed a day: about 10 killed and 50 wounded. Yard keepers and butlers are on strike, demanding thousands from house owners even though the Bolsheviks have announced houses to be under their control…
"Control" —that was always the mantra of the Bolsheviks. The British Ambassador, Sir George Buchanan, was way ahead of the pack in seeing that events in Russia had far outstripped its ability to continue with the war. The latter was now, he said, "more hated than even the tsar had been".
Yet, despite poor health, Buchanan was reluctant to leave Russia:
I am feeling better today and propose remaining on till the Constituent Assembly has either met or been sent about its business. The latter seems more likely, as the Bolsheviks have issued a proclamation ordering the arrest of the Cadet leaders and declaring that the enemies of the people, the landlords and the capitalists, must have no place in that assembly. They have already arrested the Cadets who had been elected.
Staying might not be an option. Trotsky had let it be known that, unless the British Government recognised the Bolshevik Government, reciprocal diplomatic arrangements would be withdrawn. He also wanted Russia's former allies to join the Soviet negotiators in negotiating peace with Germany at Brest-Litovsk. It was, he knew, very unlikely that they would, but he delayed peace negotiations by a week in order to give them time to show up. It was a gesture for domestic consumption, if nothing else — a way of making them look bad.
The Bolsheviks were riding high. They had seen the fear in the eyes of their enemies, and they revelled in it. On 20th December, Felix Dzerzhinsky was put in charge of the newly formed All-Russian Extraordinary Commission to Combat Counter Revolution and Sabotage — known to history as the Cheka. Its first offices on Gorokhovaya would become an infamous interrogation and execution centre.
This unholy marriage of unbridled sadism and prissy moralising both fascinated and repelled. Count Ottokar Czernin, the Austro-Hungarian Foreign Minister, had arrived in Brest-Litovsk and was fascinated by the Russian delegates. These included:
…a Jew called Joffre, recently liberated from Siberia… Trotsky's brother-in-law Kameneff… likewise liberated from prison during the Revolution… and Madam Bizenko [assassin of General Sacharov who had been imprisoned in Siberia for twelve years]. All that is taking place around her here she seems to regard with indifference. Only when mention is made of the great principles of the International Revolution does she suddenly awake, her whole expression alters; she reminds one of a beast of prey seeing its victim at hand and preparing to fall upon it and rend it.
Czernin concluded, not unreasonably:
They are strange creatures, the Bolsheviks. They talk of freedom and the reconciliation of the peoples of the world, of peace and unity, and withal they are said to be the most cruel tyrants history has ever known. They are simply exterminating the bourgeoisie, and their arguments are machine guns and the gallows.

My talk today with Joffre has shown me that these people are not honest, and in falsity surpass all that cunning diplomacy has been accused of, for to oppress decent citizens in this fashion and then talk at the same time of the universal blessing of freedom… it is sheer lying.
Lying surfaced instantly, especially when events failed to conform to dogma. In recent weeks, soldiers had been busily looting cellars — for food and, above all, for drink. On 21st December, Alfred Knox wrote:
…The Left Press wrote that this cellar-looting was the result of bourgeois propaganda, which of course was nonsense. It was simply the natural result of removing all control from armed men, of continuing to feed them, and of giving them nothing to do.
Casual violence in Russia was nothing new. But, with few exceptions, it had been constrained by the rule of law. No longer, however. De Robine noted an ugly scene in Petrograd which involved
…two soldiers bargaining for apples with an old woman street vendor. Deciding that the price was too high, one of them shot her in the head while the other ran her through with his bayonet. Naturally, nobody dared to do anything to the two soldier murderers, who went quietly on their way watched by an indifferent crowd and munching the apples which they had acquired…
The countryside was at least as dangerous. The Bolsheviks, busily inciting peasants to commandeer the estates of the nobility saw to that. In the vanguard were returning soldiers, determined not to miss out on the spoils. Having once abetted the peasants to lawlessness, the Bolsheviks would find it impossible later to bring them to heel without recourse to terror.
Unconstrained by authority, baser instincts surfaced. A report in Berne on 20th December described particularly repellent murders which had taken place in November. At his castle in Slavuta, Ukraine, the 89-year-old Prince Roman Sanguszko and his guests had been humiliated, brutally murdered, and mutilated by bayonets. The soldiers responsible had then gone on an orgy of destruction at the castle, culminating in the slaughter of all the Prince's famous and beautiful Arabian horses.
Such developments boded ill for the Imperial Family imprisoned in Tobolsk. The Grand Duchess Tatiana noted that "All our letters… go through the Kommissar".
Censorship was a Bolshevik fetish, like lying. It was probably not the worst of the family's problems, since they were also under house arrest, and rarely permitted to attend church. They learned, however, to contrive, as a letter from the Tsarina to Anna Vyrubova on 22nd December testified:
This is the feast day of the Virgin of the Unexpected Joy… A corner of the drawing room has been arranged with our icons and lamps. It is homelike — but not church. I got so used to going almost daily for three years to the church of Znamenia before going on to the hospitals at Tsarskoe… The spirits of the whole family are good. God is very near us, we feel His support, and are often amazed that we can endure events and separations which once might have killed us. Although we suffer horribly still here is peace in our souls. I suffer most for Russia…
It might, of course, be countered that much of Russia's suffering had been on account of her, and her ilk. Even so, it is a remarkable letter, and was clearly penned by her at a moment of greater calm and resignation than she sometimes displayed.
The ugliness of what was happening in Russia provokes a question to which there can be no easy answer. Which was better: Russia, lost in anarchy, but out of the war, or most of the rest of Europe, still engulfed in the horror?
In France this week, fighting was sporadic: the Germans captured a British advanced post near Messines in thick fog on 20th December. There were more attacks on British posts on the Ypres–Staden railway two days later and fighting at Poelcappelle near Cambrai, in Alsace and Verdun. Bad weather continued to affect operations.
There were no big offensives at least. Rowland Feilding's letters to his wife on 18th December, from the frontline near Lempire, makes it very clear this did not mean anyone was off the hook:
When I wrote last —two nights ago — we had just had what had been described to me as a direct hit on one of the platoons outside their billet. As a matter of fact, the shell had fallen in the road, just outside the door. It was an unlucky one, and nine times out of ten would have done no damage. It killed three of my men and wounded five; and it killed and wounded some artillery men and horses who happened to be passing along the road, as well. The snow outside is red with their blood today. It was a small shell too…
Two casual shells, a few nights ago, fell simultaneously, and killed twenty-two and wounded thirty-two men of the South Irish Horse at Ste Emilie — a short way down the road. But that is not likely to happen again. The fact is we have only just come to these parts, and it takes time to dig in. Each day we improve our position.

The Major-General told me, the other day, that the casualties of the Division up to the time we left the Bullecourt region at the beginning of this month, had totalled 19,580.
Nor was Oc Asquith having an easy week, having been ordered to curtail his leave and return to the front to take command of the 189th Brigade. They were stationed around Flesquieres and the strategically important Welsh Ridge which the 5th Army was desperate to hold after the reverses at Cambrai. Duty was duty, however, and the new Brigadier duly arrived on 20th December at the battalion's headquarters, ready to inspect their trenches. He had at least the consolation of friendly faces since his former battalion was now commanded by his fellow Gallipoli veteran, Patrick Shaw-Stewart.
But it all went south after that, as Shaw-Stewart described in a letter to their mutual friend, Lady Diana Cooper:
I, having been round at night and round at dawn, like a zealous C.O., and was trying to sleep it off (about 11 am), but offered to spring out of bed and go round with him — he waved me back and went off alone with his runner. An hour later the runner clattered down my dugout pale and wild-eye and cried that Oc had been wounded.

So he had — he had been standing about in my support line, relying on a thin mist, and had been shot by a sniper through the bone just above the ankle: a very nasty compound fracture, which will take him a very long time (no misfortune to a less ardent spirit than his), even if it doesn't go septic, which will be a horror.

I went with him to the ADS [Dressing Station]. It hurt him like hell, poor boy, and the morphia took ages to work and the frost made the stretcher bearers slip and the ambulance jolt over the frozen ruts. It is a cruel thing, and a great bore for me who counted a deal on general conveniences and amenities accruing from him as Brigadier…
It took a 13-hour train journey to get Oc to Lady Murray's Hospital at Le Tréport, from where he wrote to his father on 22nd December:
Except when they are dressing my foot, I have more discomfort from the small of my back and stomach than I do from it — this from being forced to be always in the same position… The alternatives before one would appear to be one's own stiff ankle, or a nicely articulated ankle and foot bought in a shop.
This kind of irrepressibility seems to have been a family tic. His sister-in-law, Cynthia, wrote in her diary the following day:
A thawing, drizzling day. The Old Boy [her father-in-law, the former Prime Minister, H. H. Asquith] sent me fifteen pounds and also, in a letter, told me the sad news of poor dear Oc having been badly wounded again just after taking over command of his Brigade. What bad luck!
The only unambiguously good news for the Allies was in the Middle East. Having now occupied Jerusalem, British forces cleared the Turks out of the area two miles south-east of Jerusalem, and moved north and east of Jaffa. An Arab force under Sheikh Faisal captured a Turkish troop train on the Hejaz railway.
The Italians were having a far rockier time. The pace of war had picked up recently on the Southern Front and, on 18th December, the Austrians mounted a ferocious attack against the Italian Fourth Army on Monte Asolone, claiming 2,000 prisoners. Thereafter, the narrative saw the kind of to-ing and fro-ing utterly familiar to anyone in Flanders: the Italians recaptured part of Monte Asolone; the Austrians carried the hills near Valstagna after a major assault four days later but lost much of the ground near the Brenta river on Christmas Eve, although they claimed to have bagged 9,000 prisoners in the last two days of the week. Meanwhile, heavy snowfalls were making conditions miserable for everyone.
For British sailors, misery was certainly the motif of the week. The announcement was made of the sinking of HMS Stephen Furness, which had been torpedoed by UB-64 off the Isle of Man on 13th December, with the loss of 101 lives. On 19th December, two American submarines collided in dense fog; one sank and 19 men died. Worse was to follow when, on 22nd December, members of a convoy which escorted vessels on the "Beef Run" — bringing much-needed food supplies from the Netherlands — struck mines off the Dutch coast. Some ships escaped unscathed but MS Torrent, Surprise and Tornado were sunk and although HMS Radiant picked up some survivors, twelve officers and 240 other ranks perished. Then, on Christmas Eve, two cargo ships were torpedoed by U-boats with the loss of a further 28 lives.
Although the Zeppelins had stayed away in recent weeks, an aeroplane raid over London, Essex and Kent on 18th December served as a brutal reminder that technology had succeeded in bringing war to civilians. On this occasion, 85 people were injured and f14 killed. For the British, one consolation was the downing of one raider off Kent.
Another was that they were fighting back in similar vein: on Christmas Eve, for the first time, factories and railways at Mannheim were bombed by British airmen. Ten DH4s of the 55th Squadron took part, two planes had to turn back and one was shot down with the crew taken prisoner. That same day British seaplanes again bombed other aerodromes and the Bruges docks.
At this stage, the intense aerial combat over the Western Front favoured the Allies. This was deceptive, insofar as German planes were being withdrawn in preparation for the forthcoming spring offensive. On 23rd December, Captain James McCudden, DSO, MC and bar, notched up his 32nd victory, having shot down two enemy planes during his morning sortie and two more while leading an afternoon patrol.
Gallant and brilliant as many of these young men were, few could beat the odds stacked so highly against their survival. On 19th December, 22-year-old Captain Richard Maybery, holder of the MC and Bar, and a member of the brilliant 56th Squadron, had just scored his 21st victory by shooting down an Albatross over Bourlon Wood when he was struck by anti-aircraft fire. That was that, and he died, crashing near the village of Haynecourt.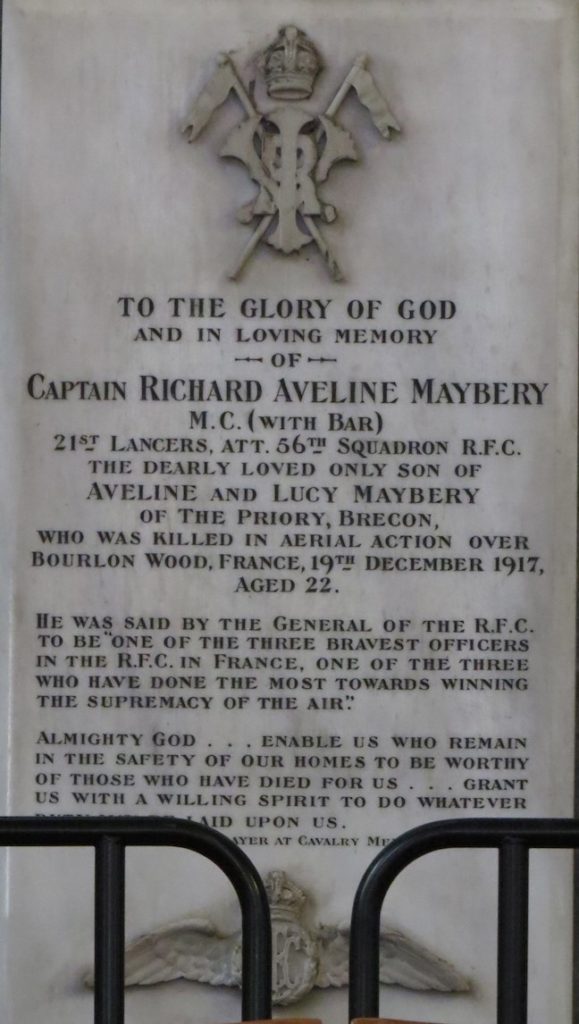 Three days later, Second Lieutenant Leslie Medlen was also shot down and killed. A telegram was duly despatched from the War Office to his mother which arrived on Christmas Day. Her grief at losing her 21-year-old son is not to be imagined, and perhaps this is what she felt as well. She died that evening.
German flyers were obviously no more immune to danger. News emerged of the death of Erwin Boehme, the talented fighter who, to his eternal remorse, had accidentally caused the death of his hero, the brilliant Oswald Boelcke, by clipping his plane during a dogfight. On 29th November, Boehme was shot down over Zillebecke behind British lines. He had just been awarded Germany's highest award for bravery, Pour Le Mérite, and the British decently gave him a full military funeral. Manfred von Richthofen, who had just clocked up his 63rd victory, sent a letter of condolence to Boehme's brother:
Come and visit me soon, dear Herr Boehme, so that we can reflect together on the lost brother and friend.
Haig was needing a friend just now. Having been forced to shed his Intelligence Chief, Charteris, the position of his Chief of Staff, General Sir Launcelot Kiggell, thought to be suffering from nervous strain, was also under scrutiny. He wrote rather fretfully on 20th December:
at present he seems better that he has been for some time, and I am very loth [sic] to part with Kigg's help and sound advice.
If Haig felt lonely, it was hardly surprising, given the burdens of high office and the persistent sniping of Lloyd George. In the Manpower Committee meetings held four times by 15th December, the Prime Minister had made it clear that he would not tolerate a repetition of the dreadful losses of 1917 and stated that
If the Government was responsible for making a further call on the manhood of the country it was equally [responsible] to see that when these men had been handed over to the Army every care was taken… that human life was not wasted.
Haig would not, of course, have disagreed with the underlying concern. Here again we see, with absolute clarity, a respect for human life and the nostrums of decency among most protagonists — of a kind which had quite deserted Russia.
Not that this was enough, of course, to prevent gross partiality and inequalities. Louis Avery, the Australian Field Engineer on an officer training course in England was struck by food shortages, writing on 23rd December:
Food is very scarce and everything difficult to obtain. Rationing is very severe. It is certain now that there are dark days ahead in the new year, and we will be forced on the defensive in France.
He was absolutely right, but it was less clear what could be done about it. The capacity of the rich to buy their way out of the inconveniences and privations was a running sore in British society. Lord Rhondda, the Food Minister, now announced sugar rationing would be introduced on 1st January 1918. On Christmas Eve, Food Control Committees seized stocks of butter and margarine from London shops to "put an end to the queue scandal". On 21st December the Prime Minister also made an impassioned plea for increased agricultural cultivation.
The longer the war endured, the more one can sense that issues of fairness became pressing. Fairness knew no easy definition, and certainly no immovable one, but the authorities were becoming sensible to the need to take private soldiers' resentments seriously.
Of these, obtaining regular leave was one of the most prominent, and the British usually did well by their men. On the other hand, the logistics involved in getting home could be a nightmare. Private Walter Williamson of the Cheshire Regiment set off from near Boulogne on 21st December. After three days waiting, cold and hungry on the Calais quayside:
…we were served out with our jam roll, and one meat pie per man, and at last we were on the 'Blighty Boat'. We steamed out of Calais on the eve of Christmas in charge of two destroyers, and when close in to Dover, our guarding destroyers turned… to continue their patrol…

We were soon moored and there was a quick rush along the ice-covered quayside to the waiting train.

…On the arrival platform at Victoria Station we met with a quite pleasant welcome. Long benches were laden with cups of steaming tea, coffee and cocoa, plates piled with sandwiches, bread and butter and cakes. Cries from the ladies in charge 'Come and help yourself Tommy'…
After shopping for a Christmas present for his wife, Williamson finally arrived home at three o'clock on Christmas morning. Happily, the 14 days of leave dated from the actual date of embarkation and not the start of his long journey home.
The ghastly wait apart, this wasn't perhaps too terrible. But it contrasts strongly with the experience of many officers, especially those from more affluent backgrounds. Cynthia Asquith diary for 23rd December illustrates this perfectly:
A bombshell! A letter from Beb to say he expects to get Paris leave 10th to 18th January, and summoning me to be there by the 7th… I do wish he could come here instead… this Paris jaunt will be so fearfully expensive… Beb wrote the most comic and pathetic letters appointing a rendezvous with him at the Ritz Hotel and at the Arc de Triomphe day after day at certain hours in case of any hitch. I am haunted by the thought of his shivering in vain at the Arc de Triomphe whilst I am stuck at Havre with lost purse and passport…