WHAT A PERFECT demonstration this week offered of an old truism: in war, you make up the rules as you go along.
Rule One — civilians are fair game: those in London knew that, of course, but now a new kind of horror struck. On 13th June, in broad daylight, 17 German Gotha bombers appeared in diamond-shaped formation over the capital. To an extent which can befuddle us now, the first reactions of civilians to the appearance of these aerial monsters was hopelessly, almost risibly, slow. There were also no sirens to suggest they took cover and even the buses kept running. It was reported that "men and women stood watching, vastly interested, a little excited, but not in the least frightened".
Not at the beginning they weren't. Hauptmann Ernst Brandenburg, commander of the raid, later recalled:
Visibility was exceptionally good. With perfect clearness, the Thames bridges, the railway stations, the city, even the Bank of England, could be recognized. The anti-aircraft fire over London was not particularly strong and was badly directed… Our aircraft circled round and dropped their bombs with no hurry or trouble.
No trouble for them perhaps. All hell broke out below when, from around 12,000 feet, between 72 and 100 bombs fell around Liverpool Street station. One landed on a train filled with passengers. Another hit a primary school in Poplar in the East End, killing two children as it passed through the building; it then exploded in a ground floor nursery where 64 children were sheltering. Forty of the children were either killed or wounded. According to The Times, 18 children were "blown into unrecognizable fragments". All but four of the victims were civilians: 162 people were killed and 432 injured in what was by far the highest death toll of any bombing raid thus far.
As always happens in the wake of a tragedy, there was a mad dash to retaliate. Ninety-two British aeroplanes rushed into the air to search out the perpetrators, but to no effect. Every one of the 17 bombers landed at their Belgian base without incident.
Back behind enemy lines, official bombast became the order of the day: Brandenburg was immediately decorated by the Kaiser with a Blue Max and a celebratory party was held for the crew. The official German communique read: "Today our airmen dropped bombs on Fortress London."
The British public was both outraged and panic-stricken – very much the same reaction as that of Germans during Allied bombing of the Second World War. In the East End, women joined in the ransacking and looting of any shop there with a German-sounding name; no doubt there was opportunism here, but also grief and fury, and the authorities managed not to notice too much. Predictably, there were demands to know why aerial defence had proved so grossly unequal to the occasion. The raid had caused more damage than all the previous raids by Zeppelins put together. Noel Pemberton-Billing, an exceptionally unpleasant MP, tried to raise this matter in the House of Commons, but was firmly blocked presumably on grounds of national security.
A memorial card for the victims read:
The Germans don't kill women and little children from the sky for the mere fun of the thing. It is part of their scheme of frightfulness. They believe that the murder of the little ones will cause the parents to revolt and overthrow authority, and by that means peace will come. Of course, they are wrong again.
Perhaps the hating helped. There was certainly a great deal of it.
Four days later, they came again – not Gothas this time, but Zeppelins. A hundred years later, it is not hard to feel sorry for the poor devils incarcerated inside these lumbering giants. On this occasion, two failed to get airborne and another two turned back with engine trouble. Even so, that left a brace of height-climbing super-Zeppelins to drop their bombs.
The two crews endured acute discomfort and anxiety. Temperatures could plummet to -25 degrees when an airship was high in the sky and Flight Engineer Pitt Klein acknowledged bleakly:
It is only a question of time before we join the rest. Everyone admits that they feel it. Our nerves are ruined by mistreatment. If anyone should say that he was not haunted by visions of burning airships, then he would be a braggart.
L48 dropped its bombs over Suffolk and most fell harmlessly onto fields. Zeppelins had become yesterday's technology and both of these were caught in searchlights. Three RFC aircraft chased them and aerial gunfire set L48 alight.
Near the village of Theberton, Doris Peacock watched it fall to earth:
Then began the awful descent of the monster, terrible to witness as we stood shivering in the chill dawn of a June morning. Piece by piece burning fabric floated down, and still the strange craft, now mortally wounded, staggered on. I thought of those poor wretches, trapped in those red-hot gondolas. That is war in the air, a nightmare horror.
Some of the crew jumped to their deaths from the airship to avoid being burnt alive. Sixteen died; amazingly, three survived, though one died of his wounds shortly afterwards.
Rule Two — our sins will find us out: The sins in question this week belonged to town hall officials – those who had recklessly allowed the Hooley Hill Rubber and Chemical Works on William Street in Ashton-under-Lyne in Lancashire to be turned over to munitions manufacture. Given that it was smack in the middle of residential housing and two gasometers, the decision was always questionable.
Back in 1915, however, at the time of the shells crisis, questioners were not welcomed. Only production mattered. It is equally easy to see why, however, when a catastrophic explosion engulfed the plant, the blame game began almost at once. The fateful event took place on 13th June, the same day as the Gothas wrought havoc in London. The contents of №9 nitrator had become unstable and the vessel boiled over. A ghastly sequence of events now followed: the wooden staging surrounding the nitrator exploded into flames; workers desperately tried to stop the flames reaching the storage area – heroically so, given that five tons of TNT lay within. Catastrophically they failed, and in the blast which followed, most on site were killed. A five-foot-deep crater, measuring some 90 feet by 36 feet across marked the spot.
Even that did not mark the climax of awfulness: the two gasometers were now ripped apart by the flames and exploded in turn, sending fireballs half a mile high in the air. Hundreds of buildings were damaged, many irreparably – and at least 2000 people were made homeless.
Tragedy is not really susceptible to quantitative judgement. For the record, 43 people were killed of whom eleven were children – seven of whom had just been walking home from primary school; Harold Hilton (12) and his friend Frederick Watson (10) had been playing in William Street; another child had been swimming in the public baths when glass in the roof was blown in. Florence Jacks died after giving birth prematurely to twins in Lakes Hospital. Sylvain Dreyfus's body had been cut in two by the explosion and he was only identified by initials on his clothing. A further 120 were gravely injured.
This was not a moment to cavil about expense. In the House of Commons the following day, Worthington Evans, Parliamentary Secretary, stated that,
The Government will bear the expense of the funerals, the arrangements for which I understand the town council are prepared to undertake. I am advised that the company owning the works is primarily liable to pay compensation to its workpeople; the Government will, however, make good any deficiency in respect of their reasonable claims.
Public funerals took place on Sunday 17th June, attended by huge crowds. Horse-drawn hearses were lined up in front of the town hall and the cortège, accompanied by dignitaries, bands and a military escort, processed to the burial at Dukinfield Cemetery. A relief fund was immediately set up and former local MP Max Aitken, now Lord Beaverbrook, contributed the first £500. In an awkward fusion of philanthropy and voyeurism, some 10,000 people paid 3d to see the remains of the factory site, the receipts going to the fund.
The resulting inquest recorded a verdict of "accidental death", whatever that was supposed to mean. "Collateral damage" might have been more accurate. The war grew more frightful, more intrusive, more unboundaried – almost hourly.
An example of that emerged only two days later when a British cargo and passenger ship, Addah, was torpedoed and sunk in the Bay of Biscay off Finistere on 15th June en route from Montreal to Cherbourg. People aboard had taken to lifeboats when the submarine responsible, SM UC-69, surfaced and its commander, Oberleutnant zur See, Erwin Wassner, ordered firing on the Captain's boat. Eight men were killed. While the boat sank, firing continued, leaving survivors flailing desperately in the water. Wassner then turned his fire upon the Chief Officer's boat, inflicting further injury. This was, by any standards, particularly brutish behaviour. A further 106 ships were lost this week.
Rule Three — war admits of no simple victories, nor of outright ones: The battle of Messines, after its dramatic and highly successful launch, ended on 14th June. The British continued to gain ground near Messines and, east of Monchy Le Preux, on Infantry Hill. It was not, however, one-way traffic: the Germans launched a strong counter-thrust on the following Monday (18th June).
Nor did the early swift victory they had enjoyed on the ridge exempt Allied soldiers from hideous injuries. Elsie Grey, a qualified nurse, was serving with the New Zealand Expeditionary Force at New Zealand №1 Stationary Hospital at Amiens:
The New Zealand stunt on 7 June ended our ease. On the night of the 9th (at midnight) the wounded poured in. It was simply ghastly. Most of them were head cases (our hospital is a special hospital for head cases). They were all operated on and the MOs never stopped day or night for four or five days.

It is terrible to see them wounded in the head — numbers of them became paralysed and quite a number were minus arms or legs or eyes. For the first few days they were quite silly —lost their reason and some speechless. Oh it was ghastly and very busy —we just went on and on doing dressings with no hope of finishing. The doctors and padres were awfully good in the wards — taking the men drink and so forth. Crowds died of course and eighty were down on the dangerously ill list.
When the chance to sleep finally came, there were fresh horrors to endure:
I will never forget that first night as long as I live. Wakened up suddenly, shot up in bed and then realised what was happening — the Hun aeroplane was directly overhead and the anti-aircraft and machine guns were thundering up at it with terrible force. Oh it was terrifying — the shrapnel was falling in all directions — first on the trees, knocking off the boughs at the side of our tent, then on the tent itself. The bullets were whizzing through the air and sounding like dozens of dogs howling and the flashes were reflected into our tent. I was speechless and absolutely terrified.
Haig, the British commander-in-chief, knew only too well that victories came at a price. In that sense, he was pure realist. But he was also an incurable optimist when it came to the greater story of the war. On 13th June, in a detailed memorandum for Sir William Robertson, Chief of the Imperial General Staff, he set out his assessment of Russia's continued involvement, French support and German weakness — and his conviction that "Germany is within 4 to 6 months of a date at which she will be unable to maintain the strength of her units in the field".
Robertson, far from being elated, was alarmed by this prediction. He told Haig:
…the LL. G idea is to settle the war from Italy, and today the railway people have been asked for figures regarding the rapid transfer of 12 Divisions and 300 heavy guns to Italy! They will never go while I am C.I.G.S. but all that will come later.

What I wish to impress on you is this: Don't argue that you can finish the war this year, or that the German is already beaten. Argue that your plan is the best plan — as it is — that no other plan would even be safe let alone decisive, and then leave them to reject your advice and mine. They dare not do that.
Haig took the point. On 17th June, he diligently prepared another account of his intentions, this time for the War Cabinet, outlining all the advantages to be gained from an advance in Belgium and the overwhelming arguments against an Italian campaign.
In my opinion the time and place to choose are now beyond dispute. We have gone a long way already towards success. Victory may be nearer than is generally realized if we act correctly now. But we may fall seriously short of it if at this juncture we fail to follow the correct principles.
Rule Four — my enemy's enemy is my friend: The American General John Pershing, having hobnobbed with political leaders and royals in London, moved on 14th June to Paris where the lionising seemed to take on a new intensity. Floyd Gibbins, war correspondent, described the guard of honour, the national anthems, and the huge emotion which greeted him:
Pershing's appearance in the open was the cue for wild unstinted applause and cheering from the crowds which packed the streets and jammed the windows of the tall buildings opposite.

General Pershing and M. Painlevé, Minister of War, took seats in a large automobile. They were preceded by a motor containing United States Ambassador Sharp and former Premier Viviani… There were some fifty automobiles in the line, the rear of which was brought up by an enormous motor-busload of the first American soldiers from the ranks to pass through the streets of Paris…

Old grey-haired fathers of French fighting men bared their heads and with tears streaming down their cheeks shouted greetings to the tall, thin, grey-moustached American commander who was leading new armies in support of their sons. Women heaped armfuls of roses into the general's car and into the cars of other American officers that followed him…
We get the idea. To modern eyes, this feels rather as if Pershing were enjoying the spoils of victory rather in advance of the fighting, but the euphoria of the French, after nearly three years of occupation, is not hard to understand. Pershing represented all the power and might which, it was devoutly hoped, America would expend to secure ultimate victory.
The British were also trying to mend a few fences in an effort to expedite final victory. At the start of May, Lloyd George had offered an Irish Convention with a view to a future in which Ireland was self-governing. Irish Nationalists and Ulster Protestants were among those willing to take part but Sinn Fein leaders were unimpressed, and announced they would boycott it. On 15th June, Bonar Law announced the release of all 120 remaining Irish rebels still held in English jails – an obvious sweetener to Irish public opinion. Trying, probably rather forlornly, to square the circle, he emphasised that there was "no danger to public security by such an act of grace".
Rule Five — everybody loves a hero: Cynthia Asquith's diary this week shows how all families, even the grandest, bathed in pride and pleasure when one of their members was singled out for bravery. In this case, "Oc", the son of the former Prime Minister, had just been decorated following his exceptional courage and leadership in the capture of the village of Gavrelle in late April.
Tuesday 12 June Still extraordinarily hot — a wonderful spell of weather. What a June! …I lunched at Cavendish Square… The dear Old Boy [H.H. Asquith] was delighted with Oc's great success as colonel of the Hood Battalion — he had just been awarded a clasp to his D.S.O. and his father handed the King's letter of congratulation all round the table with proud sniffs.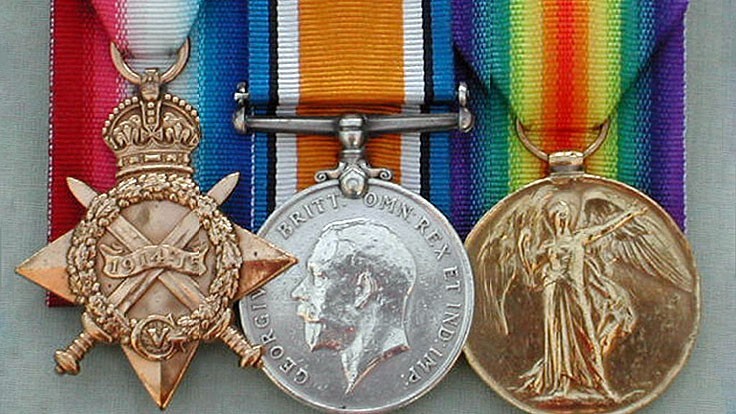 Gavrelle had been a brutal engagement with heavy casualties. The plaudits which followed Oc were not confined to his family. Thomas Macmillan, a clerk serving at 189th Brigade headquarters, noted in his diary:
The rejoicings over our victory were confined to Army, Corps and Divisional Headquarters, for the men who had accomplished the job were so overcome by fatigue and so depressed at the loss of old comrades that they could not enthuse… What shall I say of Commander Asquith? Viewed from any angle he was the outstanding personality in the fight, the one man who, more than any other, carried our arms to victory, and yet he was recommended only for a bar to his DSO. No Victoria Crosses came our way!
One of the survivors of the grim battle, Able Seaman Bryan, wrote home:
We have an excellent commander in Mr Asquiths [sic] son, he is cool and calm under great shell fire and amid the whizzing of the snipers bullets as though he was walking down the Strand. The boys think the world of him.
Most soldiers, deserving or otherwise, did not win medals. There is every reason to believe that the great majority were brave and also, rather often, very frightened. Knowledge of that was a burden about which few dared to speak, and it tormented families at home. Frederick Fairhead, a bombardier in the 62nd Brigade, Royal Field Artillery, was killed on 8th June. Four days later, his parents received a letter from his friend, Corporal Foster:
Please allow me to express, on behalf of myself and chums, the deep and very real sympathy we feel for you in your bereavement… Fred's death was by no means a lingering painful one nor was he disfigured in any way. And secondly let me tell you that he died as I knew he would; like a real Englishman. He was struck in the chest and simply said 'I'm done boys' and passed quietly away. We brought him down and at 6pm on the 19th buried him decently in a little English cemetery close by here.

Today some of the boys got away for a little while and brought back some nice little rose trees and other plants so tomorrow if his cross is finished we shall go up and do our best for one whose cheerful presence is missed by a good many… I am by no means a good Christian but last night I said just a little prayer which I shall repeat tonight. That you may be given strength to bear your affliction and every possible consolation…
To be honoured thus! The grace and humility of Corporal Foster shine down the generations, and humble each one of us.