AN END OF sorts. The Eastern Front was collapsing.
It was not a rout  –  not yet anyway  –  but the enemy advances seemed inexorable. The high summer of hope, when Brusilov had taken on the enemy in all its might, belonged to another time. Heavy fighting continued all week in the Moldavian mountains and, while resistance was never less than dogged, the traffic was one-way. The Russians were forced to evacuate Braila and, on 8th January, the combined German and Bulgarian forces captured Focsani, taking 5,500 prisoners, before progressing towards Fundeni. They had already pummelled the Russian defenders at Vacareni on 4th January and, the following day, declared the whole Dobruja area purged of enemy troops.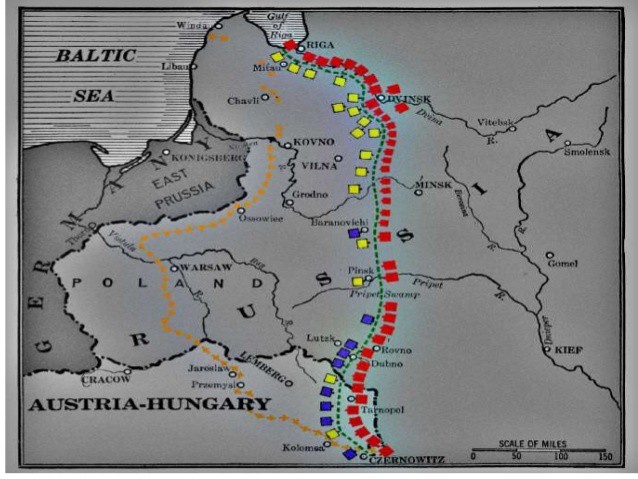 An army on the edge of defeat is not usually inclined to blame itself. Neither were high casualties, nor the difficult conditions experienced while fighting in winter, morale boosters. Added to these came rumblings of discontent provoked by the hardships at home. Dmitri Oskin, a Russian soldier, was currently enjoying a brief spell in reserve behind the lines. His diary paints a vivid picture of deep disillusionment:
The men are starting to look human again, they can cut their hair, shave, put on clean underwear and mend their clothes and clean their guns. The officers spend all day drinking and playing cards. They get their batmen to get self-distilled vodka from the rear and buy up triple-strength eau de cologne which does just as well.
There is nothing to read, just some old newspapers. But Borov got hold of a whole pile of new editions. They accuse the Government of greed, indecision and secret negotiations with the Germans. We read all this in secret. Zemlianitsky says: 'It's time to finish off this war, brothers!'
Fresh reinforcements keep on coming, mainly Ukrainians. On their first day lunch arrives. It's lentils. The first ones to try the soup throw their mess-tins on the ground: 'A pig would turn her snout up at this!' One of the soldiers raises his mess-tin and pours uncooked lentils on to the ground: 'This isn't food — it's some pellets. The Austrians are feeding us bullets in battle, now our own side wants to fill us up with them! We're not having this!' — 'Yes, to hell with this!' shout others. An incredible uproar breaks out, some soldiers throw the cook out of this field kitchen. Others pour the contents of his pots on to the ground.
No army enjoyed a monopoly of low spirits. Signalman Tench Eachus, based at General Rawlinson's headquarters in the Château de Querrieux, seems to have been in particularly bilious spirits when he filled in his diary for 3rd January:
I am boundlessly fed up with everything. I do wish it were possible to have a few days' furlough in England. There seems not the slightest chance however and the whole affair of leave seems to have collapsed miserably, which is due to the usual English method of bungling up things.
The last clause might have been taken straight from the mouth of a weary commuter. And he had few good words for those at home either:
The men who have already been to Blighty are all unanimous in the condemnation of the utter chaos, which exists all along the route and especially at the ports, where men are obliged to waste several days hanging about. During the first days of leave for our army the men were also left without food, no arrangements having been made to feed the soldiers from the time they left their units.
Whinging is never desperately attractive, but it seems to have been all the rage. Following his arrival in France, Second-Lieutenant Wilfred Owen, wrote a less-than-stoical letter to his mother:
4 January 1917 Address: 2nd Manchester Regiment, B.E.F.

I will not describe the awful vicissitudes of the journey here… Since I set foot on Calais quays I have not had dry feet. No one knew anything about us on this side, and we might have taken weeks to get here, and must have, but for fighting our way here… After two days, we were let down, gently, into the real thing. Mud.
It has penetrated now into that Sanctuary my sleeping bag, and that holy of holies my pyjamas. For I sleep on a stone floor and the servant squashed mud on all my belongings; I suppose by way of baptism. We are 3 officers in this 'Room'; the rest of the house is occupied by servants and the band; the roughest set of knaves I have ever been herded with. Even now their vile language is shaking the flimsy door between the rooms.
Everything is makeshift. The English seem to have fallen into the French unhappy-go-lucky non-system. There are scarcely any houses here. The men lie in Barns. Our Mess Room is also an Ante and Orderly Room. We eat & drink out of old tins, some of which show traces of ancient enamel. We are never dry, and never 'off-duty'.
On all the officers' faces there is a harassed look that I have never seen before, and which in England, never will be seen — out of jails. The men are just as Bairnsfather has them — expressionless lumps.
I censored hundreds of letters yesterday and the hope of peace was in every one. The Daily Mail map which appeared about Jan 2 will be of extreme interest to you…
I am perfectly well and strong, but unthinkably dirty and squalid. I scarcely dare wash. Pass on as much of this happy news as may interest people. The favourite song of the men is:
'The roses round the door
Makes me love Mother more'.
They sing this everlastingly. I don't disagree. Your very own W.E.O. x
The allusion to censorship is also interesting: even a liberal censor might have baulked at allowing some of Owen's stinging criticisms to reach the ears of those at home. But, as an officer, he was allowed to write home exempt from third-party scrutiny.
And what are we to make of his allusion to "Knaves, vile language, expressionless lumps"? He seems to have been out of sorts and indulging himself in an oedipal rant. But then he was also very young, utterly inexperienced and, very probably, cross at the turn his life had taken.
Frightened too. Despite the lack of major actions in the West, it was a week filled with danger.
By way of illustration, we might turn to the hapless New South Wales Company. They were ordered, on the night of 4th/5th January, to make an assault on (the challengingly-named) Stormy Trench near Guedecourt. Three counter-attacks followed, ground was briefly conceded, and shellfire was exchanged. Nothing was going to stop the casualties from being heavy, but the NSW soldiers could at least draw strength from the inspirational example of their officer, Captain Henry Murray. In the mêlée of the night, he exhibited the kind of cool courage under fire which allowed him to keep his men together and inspire them to quite unreasonable bravery. This kind of bravery was not flamboyant, but it was personal: he led bombing parties and bayonet charges, he carried wounded men to safety and, following that particular night's work, he was awarded the Victoria Cross.
Given that Murray had already gained a Distinguished Conduct Medal for his bravery at Gallipoli and a Distinguished Service Order (DSO) for his work on the frontlines in France, this latest honour made for an impressive foliage on his tunic. He would become, indeed, the most decorated Australian soldier of the war. Although described as "dashing, brave and handsome", he was "not a reckless hero, but rather a quiet and charismatic leader who believed in training and discipline and who possessed sound tactical skills". He was also an example of that relative rarity  –  a ranker who would in time become a lieutenant-colonel.
In fact, there were two VCs awarded this week  –  an exceptional tally. The second resulted from the eye-popping courage of a young RFC pilot, Sergeant Thomas Mottershead. On 7th January, he was piloting one of two British aeroplanes carrying out a fighter patrol over Ploegsteert when they were attacked at 9,000 feet by two Albatross fighters. His observer, Lieutenant Gower, managed to hit one of the German planes, putting it out of action  –  but the second fired at point-blank range from behind and its bullets ruptured the petrol tank.The aeroplane had a plywood fuselage which immediately burst into flames.
The London Gazette subsequently described what followed:
Enveloped in flames, which his observer, Lt. Gower, was unable to subdue, this very gallant soldier succeeded in bringing his aeroplane back to our lines, and though he made a successful landing, the machine collapsed on touching the ground, pinning him beneath the wreckage… Though suffering extreme torture from burns, Sgt. Mottershead showed the most conspicuous presence of mind in the careful selection of a landing place, and his wonderful endurance and fortitude undoubtedly saved the life of his observer.
This dramatic and distressing tableau was witnessed by another impeccable hero, Lieutenant-Colonel Rowland Feilding and his Connaught Rangers, still stationed near Messines:
I looked up and saw a German aeroplane swoop down upon our man. Then there was a fusillade of machine-gun fire between the two. Then our man's petrol tank was hit and took fire, and the machine became a long streak of streaming flame, making for home, and earth. Every second I thought it must collapse. It seemed impossible that either pilot or observer could be alive, or that the engine could be working. But the rush through the air kept the flames from the canvas, and the aeroplane flew on. It was an inspiring sight; — a magnificent fight between man and death, in which the man won — for the time being.
After a long slanting flight the aeroplane came to ground, a mile or more behind our line. I sent an officer to the spot. Though I could have sworn the occupants were dead, they were not. The aeroplane was a crumpled, shapeless mess, the fire having engulfed it the moment it settled, but both were alive, though one was so severely burned that he is not likely to recover.
Feilding, alas, was right. Despite the best efforts of surgeons, this grievously injured boy died a few days later, just before his 25th birthday. He was awarded the Victoria Cross, the only non-commissioned officer of the Royal Flying Corps in the Great War to do so.
Mottershead's modest background echoes that of Murray, and also anticipated that of "the few" who would defend Britain's skies in 1940. He had enlisted in 1914 as a mechanic, but then undertook pilot's training and obtained his flying certificate in May 1916. Having been posted to 20 Squadron, he had been awarded the Distinguished Conduct Medal three months earlier. Again, one gleans no sense of showmanship here: he had spent Christmas on leave with his family in Widnes, given a talk in his former school about his work in France, and was back on duty in the opening days of the New Year.
Feilding's own day, even before he had witnessed Mottershead's crash, had not been without incident. The Connaughts had sustained a ferocious enemy bombardment from early morning. Given that there were 5,000 Mills grenades and hundreds of Stokes mortar bombs currently piled against the walls of one of the buildings now in flames, the need for cool heads and rapid action could hardly have been overstated. Thanks to the exceptional courage and calm of Sergeant Casey, disaster was averted. There was no VC for him, however  –  like so many true heroes, he remained unsung.
Terrors were distributed generously this week. Another victim succumbed, on 4th January, to the mine-laying work of the submarine SM U-73. This time the victim was a Russian armoured cruiser, Peresvet, en route from Port Said when it struck two mines, caught fire and sank immediately. Exact losses were estimated between 116 and 167 men.
U-73 had already been responsible for sinking the 48,158-ton hospital ship Britannic, which had struck a mine and been sunk on 21st November. The British Admiralty would dearly have loved to have overseen its destruction, but it also had worries nearer home. The previous day, it had issued a strong reminder of the "immemorial right of merchant-ships to defend themselves against attack or search by an enemy". The subtext here was the fate of Captain James Blaikie, presently a prisoner of the Germans and apparently at grave risk of being executed.
Blaikie's case was a textbook example of how rapidly civilians could find themselves in dire trouble at the hands of the enemy. He had been the captain of a requisitioned passenger ship, the Caledonia, carrying mail from Salonika to Marseilles, which had been sunk off Malta on 4th December. U-65 under Hermann von Fischel had torpedoed the ship without warning and Blaikie's attempts at retaliation (he had to ram the submarine, actually striking it) had provoked a serious sense of humour failure on the part of Commander Fischel, one consequence of which was Blaikie's arrest and another was that his present fate was unknown. The British government, through the US Ambassador in Berlin, had warned that if Blaikie were executed, as had happened to the unfortunate Captain Fryatt, a German officer would be immediately shot. So far the threat had worked  –  and indeed he survived the war.
Because the textures of war necessarily lead one to dwell on the intricacies of combat, the sometimes fraught and labyrinthine relationships between allies frequently fade into the shadows. The new Prime Minister, David Lloyd George, was engaged in more formal diplomacy for much of the week, keen to turn eyes away from the Western Front to other theatres of war. This was a headline-grabbing idea which, as was privately pointed out to him, had already been energetically championed by the then First Lord of the Admiralty, Winston Churchill, two years earlier. The result had been the Gallipoli campaign.
Lloyd George now set off for the Rome Conference. Large numbers of officials had expected access to the talks but the new PM was an early exponent of "small is beautiful" and only a handful survived his cull. The result was a "petit comité"  –  an initiative welcomed by the French Premier, Briand. French and Russian Ambassadors in Rome, the British, French and Italian representatives conducted the bulk of discussions and generals  –  Cadorna (Italian), Sarrail (French) and Robertson (British) were periodically wheeled in. Lloyd George acknowledged worries over Russia's ability to continue without reinforcements, and over the need to reinforce the defenders in the Balkans. There was also the issue of the recalcitrant, moribund, pro-German government in Greece, challenged by the Venizelos alternative government now acknowledged by the Entente.
Hankey described a meeting on Sunday 7th January between the Prime Minister and Sarrail concerning the Allied ultimatum to Greece to withdraw all her forces within a fortnight to the Peloponnesus:
Sarrail is a man of quite exceptional charm. He was very frank and said that all he asked was for the British and French Governments to shut their eyes or turn their backs for a fortnight! We asked what he would do if the Greek league of reservists took to the mountains and waged guerrilla war on him, and he replied that he would catch a few, refuse them belligerent rights and shoot them.
After he had run on in this wild manner for some time Lloyd George took him in hand. He… explained how Sarrail's proposed action would outrage opinion in neutral countries generally and in America in particular, and how it would drive moderate opinion in America into the hands of the pro-Germans and pacifists. He urged that it was better to take a risk in Greece than in America.
Realpolitik, one might say. It certainly contrasts entertainingly with the Ruritanian fantasy being enacted in the Habsburg empire. Reports had reached the British press of the lavish ceremonial in Budapest, on 30th December, in which the successor to Emperor Franz Josef was formally crowned (as protocol dictated) as king of the lands of St Stephen (Hungary, Transylvania and Croatia-Slavonia).
The usual coronation festivities had been cancelled out of respect for wartime austerity but  –  in a way which may well be understood by today's royal worshippers  –  thousands nonetheless thronged the streets of Budapest to watch Karl and his beautiful 24-year-old wife, the former Princess Zita of Bourbon-Parma, process to the royal place. The new Emperor took an oath before Parliament to maintain the constitution inviolate and not to remove the ancient crown of St Stephen from the land. High Mass followed at St Matthias church, in the presence of over 1,500 Hungarian nobles, dressed in picturesque national costume, when the monarchs were crowned in succession. The new Emperor's heir, his four-year-old son Otto, watched from a box where he was accompanied by his uncle, Tsar Ferdinand of Bulgaria, who was the only foreign royal guest present.
His Imperial Majesty then went to the nearby Holy Trinity Column where, in front of a huge crowd, he publicly swore the oath to uphold and enforce the law. A 19-course coronation dinner followed, after he and the Empress returned to Vienna. Apparently they were anxious not to be seen celebrating in time of war. Sensitive also to the racial heterogeneity of his sprawling empire, he promised to spend six months of each year in Budapest. Bless his heart  –  as if the empire could be saved by that.