THE QUESTION WAS — what now? Passchendaele had failed. But the British, French and German armies still remained. Each was exhausted, and depleted. They had not collapsed, and the nations they served were equally committed to victory. Haig now concentrated his mind on an all-out assault by tanks at Cambrai, planned for 20th November.
Cambrai was known to the Germans as a bit of a backwater — somewhere to which battered divisions might be sent after a spell at Ypres, since that was, incontrovertibly, the hottest of the hot spots. Since the weather was very cold and the area around Cambrai blanketed in fog, the Germans could not do much in the way of aerial reconnaissance, and were also short of artillery and mortar ammunition.
The fact that it was a bit of a backwater, and that there was an assumption that the main fighting on the Western Front was closing down for the winter meant German commanders had not identified it as anywhere needing reinforcement. That suited Haig perfectly.
Haig obviously wanted to maintain the element of surprise. Unfortunately, following German raids on 18th November, some British prisoners blabbed to their captors that an attack was being planned somewhere in the Havrincourt sector. Perhaps it did not make much difference: that same day, Crown Prince Rupprecht had warned that "partial attacks may be expected on other parts of the front". British planes were also observed "buzzing" above Cambrai. The Germans were as good as anyone else at simple addition and, just before midnight on 19th November, General von Watter warned that:
All units are to note that in the event of the anticipated [limited] attack on the Havrincourt sector, some tanks might be used…
Thus, by week's end, the west was once again on the edge of a new offensive. The Battle of Passchendaele had officially ended only a week earlier, on 10th November. There was no sense of let-up, not even there: fighting and shelling continued as the Allies attempted to consolidate their position and the Germans counter-attacked to prevent their doing so. Rudolf Binding's diary testified to the continued intensity:
14 November It is appalling up at the Front. I have just come back from a visit to our best regiment which is holding a position I know well to the north of Passchendaele and has had heavy losses in the very first days. It is right in the mud, without any protection, without a single decent dug-out, for in this rapid withdrawal there is no time to dig. 'My fellows are in tears,' reports one battalion commander in despair, whose whole battalion lay covered by a regular blanket of English shells.

Many of the men can hardly speak. You see wild eyes gazing out of faces which are no longer human. They have a craving after brandy which can hardly be satisfied, and which shows how badly they yearn to lose the faculty for feeling. Men drink it who have never touched it before as though by instinct.

One sees much magnificent conduct calmly and coolly shown in the middle of much which is less admirable and weaker… A battalion-commander, Freiherr von G., stuck to his battalion for two days with a splinter of shell in his lung. He remained simply as an example; he knew it; and such examples have an effect.
Gas, as well as artillery, was an ever-present fear. Louis Avery, an Australian engineer at the front line in France, had recently recorded in his diary feeling sick with headaches and a very sore throat:
everything points to poison gas. I knew we had been in tear gas, but the Bosche is very cunning and mixes his gases, some of which are colourless and odourless…
To his astonishment, he was suddenly ordered to England during the week to attend some sort of training course. He was deeply delighted and relieved to be spared the mid and bullets, but found the contrast between the lot of men in uniform at home and on the front hard to bear:
16 November Went to Horseferry Road at 9am & it hurt & disgusted me to see the parade of the staff. Tall, healthy, fit men, swanky uniforms, all spit & polish, hell it knocked me rotten. These chaps should all be in France & their places filled by the unfit…
A lot of Avery's fellow countrymen back home in Australia were angry as well. During the week, it had been announced that there would be a second referendum on the introduction of conscription. The numbers of those volunteering had plummeted, and it seemed increasingly inevitable that the government would have to resort to compulsion. This was hardly surprising: there were 38,000 Australian casualties in October and November alone — more than three times as many as during the entire Gallipoli campaign.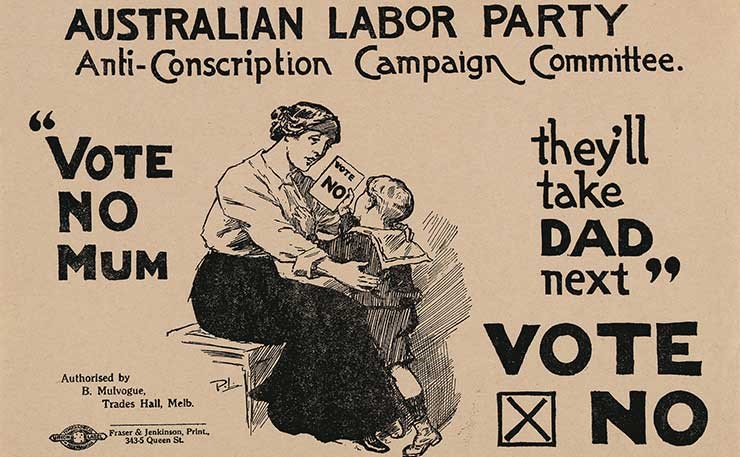 The American surgeon, Dr Harvey Cushing, was right at the sharp end of things, in terms of having to deal with casualties. He and his unit had been moved to Boulogne to replace those British Hospital personnel who had been suddenly rushed to Italy after the disaster of Caporetto. Here he was introduced to the famous bacteriologist, Sir Almroth Wright, and to his assistant, Alexander Fleming, destined to become even more famous than his mentor.
Wright was, in the language of the day, a queer fish — his eminence in bacteriology matched by notoriety for his insistence that female suffrage was rendered unsuitable in view of innate limitations in women's brains. Cushing seems to have been unfazed by that — saving life and repairing bodies was, after all, the order of the day. He recorded on Wednesday 14th November:
On Monday afternoon, Sargent… rushed in a poor Canadian from №8 Stationary whom Nature had treated badly by giving him a cleft palate, and the Boche had added insult by a penetrating wound of the skull… there was a large stinking temporal lobe and under local anaesthesia this was found and opened, and the missile was easily extracted with a magnet…
The "Madonnas of Pervyse", Elsie Knocker and Mairi Chisholm, had just completed a two-week fundraising tour of Britain. They now published a pamphlet, describing some of their cases, including one of a young boy with a terrible head wound. All they could do was to make him comfortable as he lay dying:
For one hour and a half he lay there gasping — chest heaving, mercifully unconscious —  dying the soldier's death… we stood by him and watched, praying agonised prayers that the thin, frail thread might be snapped, and that Death might wrap him in her arms, and lull him to sleep.
The wounded soldier in extremis was a tableau which would, just now, have had a special resonance for the Italians. "Caporetto", the battle from which the nation now sought, if not to recover, at least to regroup, is still used in Italian to signify a total catastrophe. It had yielded the enemy some 280,000 prisoners, and 40,000 of Italy's own were either dead or wounded. Others had deserted in droves and over 3,000 artillery pieces had been captured. Evidence of Italy's despair littered roads and mountainsides, with prodigal quantities of "materiel" thrown away. The joke was that the occupying armies were held up more by Italian cucina than artillery, seduced into spending whole days looting foodstores.
This week came glimmers that Italy may have been down rather than out. Bolstered by British and French divisions, the Italians attempted to rally and defended their new lines along the Piave river, guarding the route to Venice, and preventing any enemy progress on the Lower Piave. A strong enemy assault on 16th November once again set them back — there was more ground ceded between Brenta and Piave — but there was no rout. Three days later, they mounted an heroic and determined stand in the mountains and held off the Austrian attacks.
For the British, the nearest to unequivocal success just now lay in the Middle East. General Allenby continued his progress towards Jerusalem, and between 13th and 15th November, his forces drove the Turks from Wadi Sugheir, capturing prisoners and guns as they did so. They even broke through heavily built defences during the Battle of Junction Station, gaining essential water supplies, before Turkish reserves succeeding in holding them up, if only briefly. Allenby captured Jaffa (Joppa) two days later, and by 19th November, the British advance took them to within six miles of Jerusalem.
Mesopotamia had also been the scene of recent British success — with 9,000 prisoners taken in the previous three weeks and Tikrit captured. Then the tide turned, in dramatic and unexpected fashion, with the sudden death from cholera, of the commander, General Sir Stanley Maude, on 18th November. Irony of ironies: Maude had been a great acolyte of the drive to get troops vaccinated but, somehow, had failed to show himself the same consideration. He collapsed after drinking coffee, presumed to have contained contaminated milk.
Back at home, the main dangers of the week so far as the Prime Minister was concerned, were political. His speech in Paris the previous week had carried a clear sub-text of criticism of Haig, Robertson and other top brass which was bound to be widely resented. Recognising the danger, Lloyd George pulled out all the oratorical stops in his drive to win round Parliament to his proposed creation of a Supreme Allied War Council.
It worked. On Monday 19th November, he was able to carry the House, but not before there had been some flexing of parliamentary muscle. Four days earlier, the debating chamber had been the scene for a pointed series of questions by the Christchurch MP, Brigadier Croft, who demanded to know details of territorial gains made by the British since the start of the Battle of the Somme on 1st July 1916.
The answer, according to the Financial Secretary to the War Office, Mr Forster, was
about 128,000 square miles. This figure is necessarily approximate, as in some theatres of war no hard-and-fast line can be drawn between territory and enemy occupation on a given date… The total number of prisoners captured on the Western Front since 1st July, 1916, is 101,534. The total number of guns captured in the same period is 519. Since the commencement of the War, the British Armies have captured on all fronts about 166,000 prisoners and over 800 guns.
Pressed further for detail concerning what personnel and property had been seized from the Ottoman Empire during the same period, Mr Forster was compelled to acknowledge that pickings had been slim: 30,197 prisoners had been taken and 186 guns. The haul was bigger in Mesopotamia, however, as 47 vessels had also been captured on the Tigris and Euphrates rivers.
This little vignette serves as a reminder that Britain, even while overwhelmingly united in the prosecution of war, was determined to hold its leaders to account. To a later generation, the manners and mores of the time seem often to have been imbued with deference, but we should not be duped. Lloyd George presided over a coalition, but not a strong one. It was not just his opponents that he feared, but the many sceptics on his own side.
For now, he was safe. It was not a given, however. As the fall of the Painlevé Ministry on 13th November illustrated, a vote of no confidence was all that lay between power and opposition. Two days later, Georges Clemenceau became Prime Minister and Minister for War. A veteran of Third Republican politics, what should have been a sweet moment for him was overshadowed by the death of his friend, Auguste Rodin, aged 77, on 17th November. Rodin had given his Paris studio to the French state and it would open, as the Musée Rodin, in 1919.
Political fragility and disappointments in Britain and France were derisorily tame, however, by comparison to the mayhem now unfolding in Russia. On 15th November, Lenin cited the fact that the defence of Petrograd had been left to a few Cossacks, and a bunch of women and children, as sufficient reason for all Russian citizens to slough off any remaining shards of loyalty to the Provisional Government or its leader, Kerensky. He did not see fit to mention, however, that his own forces had unleashed death upon these same women and children, nor that he had never — at any point — offered it (or him) the least respect.
Lenin's greater preoccupations now included reform of the press and, specifically, liberating it from capitalist oppression. On 17th November, he announced the setting-up of a Commission of Inquiry
to look into the ties between capital and periodicals, the sources of their funds and revenue, the list of their donors… Concealment of books, accounts or any other documents from the Commission of Inquiry, or the giving of any evidence known to be false, shall be punishable by a revolutionary court.
Events had far outstripped the always-limited understanding of the former Tsar. Poor man, he was still stranded in Siberia without newspapers or telegrams. In the Crimea, his mother, the Dowager Empress Marie Feodorovna, heard news on 17th November which shocked her profoundly:
Our commissar Vershinin and Zhorheliani returned from Sevastopol and told us a few things, including the fact that the Winter Palace has been half destroyed and looted, with the chambers of my beloved Nicky and Alika particularly afflicted by the latter — what infamy!

Those brutes ripped Serov's magnificent portrait of Nicky from its frame and threw it out of the window, and when some boy picked it up, wishing to salvage it, the scoundrels snatched the canvas from his hands and ripped it to shreds.
Even so, the big violence was now in Moscow where 4,000 deaths were reported. One person who ought, by virtue of her rank, to have been right in the firing line was the Grand Duchess Marie Pavlovna the Younger. On 15th November, she went to Moscow to try to rescue funds and jewels from her bank and endured a terrifying day on the streets trapped in crowds and only happy to survive as some were shot around her. Sensibly, she decided to return to Petrograd forthwith and went to the station:
It presented an extraordinary spectacle… In the crowd were many wounded, tied up with all sort of rags. Here and there sneaked suspicious-looking soldiers, and beggars in indescribable tatters loitered about. We were unable to learn anything except that the Bolsheviks had been victorious….And when we actually got into a carriage, my astonishment knew no bounds… it was an ordinary, clean, old-fashioned first-class sleeping-car with a polite conductor, electricity, polished mirrors and doors, and clean bed-linen.
One hopes she enjoyed the journey. The clean bed-linen and polished mirrors would not long survive. Most Westerners were now desperate to beat a path out of the country, although the British Ambassador, Sir George Buchanan, gamely hung on, refusing to give up his daily walks through the streets. He also declined a meeting with Trotsky and turned down the offer of Red Guards to protect the embassy.
In Moscow, the US Consulate had been damaged by gunfire and the Hotel Metropole partially destroyed. Now came rumours that the cathedrals were also in ruins. Physical destruction, however, left the new rulers unmoved, unless it was destruction wrought in the course of a capitalist war. On 19th November, they offered an immediate armistice to all nations on all fronts for the purpose of discussing a democratic peace.
Such millenarian dramas seemed a long way off in Britain. Many of the pre-war customs and pleasures of the aristocracy had been sacrificed, the better to prosecute war, but the upper classes always had a knack of sniffing each other out, and usually preferred each other's company to that of others. Cynthia Asquith's diary testifies to that very clearly. On 13th November, she attended the Memorial Service of Lord Basil Blackwood at St Martin-in-the-Fields:
I dreaded the ordeal unspeakably. I hate crying in public and I can't restrain tears. However, it was all so beautiful that though painful, I think it was well worthwhile and I am glad they had it. The service was beautifully chosen… They sang 'Mine eyes have seen the glory of the coming of the Lord' — such gorgeous words, and the Grenadier band playing with muffled drums was wonderfully moving…
She was, however, more than capable of dipping into different milieux, although the upper classes were usually somewhere in attendance. That evening, she took the Lawrences, Augustus John and Ivo Grenfell to the opera:
The most piquant features were the conjunction of two red beards and of the young guardsman [Grenfell] to the Pacifist's Hun wife [Freida von Richtoften, wife of D.H.Lawrence]. She would talk about the war to Ivo and tell him how very much smarter the German regiments were! She was draped in an Italian shawl and Lawrence had trimmed his beard for the occasion…
Two days later, on 15th November, she reluctantly went to a party given by the society hostess, Lady Sybil Colefax:
…To her credit it was a very successful party and I am glad I went. Musicians played and war-poets read their works. Just after we came up from dinner, two young men came — one very shy, the other to all appearances very much at his ease. The former was Siegfried Sassoon. He was in khaki: at first I only noticed his sticking-out ears and obvious embarrassment, but a closer scrutiny revealed great charm and a certain sweetness and grave strength in his countenance. I felt much drawn to him…