THE NEW YEAR began with the Allies rejecting the German so-called peace proposals. Viewed from this distance of time, the whole episode might seem like grandstanding  –  all players dashing for the moral high-ground.
The statement from the Allied governments (despatched on 30th December) was powerfully-worded. Describing the peace proposals as "illusory", they targeted in particular Germany's attempt to make the Allies responsible for the war and berated her for proclaiming victory for the Central Powers.
The latter was dismissed as "a claim which is… untrue in every particular, and is sufficient to render sterile all attempt at negotiations". Even suggesting these things, they stated, was "less an offer of peace than a war manoeuvre". Anyone agreeing to them would risk colluding in the enemy's "attempt to justify in advance in the eyes of the world a new series of crimes — submarine warfare, deportations, forced labour and forced enlistment of inhabitants against their own countries, and violations of neutrality".
No peace would be possible, the Allies said, "so long as they have not secured reparation of violated rights and liberties, recognition of the principle of nationalities, and of the free existence of small states…" There would be a very close corollary between these ideas and those which eventually dominated the 1919 Peace Settlement.
The rejection purported to be the unanimous view of the governments of Russia, France, Great Britain, Japan, Italy, Serbia, Belgium, Montenegro, Portugal and Romania. In reality, of course, there were some waverers (certainly in Russia and Romania), but there is no reason to believe that the decision to continue with the war was one taken lightly or gladly. The only explicit enthusiasm for the Central Powers' proposals came from the neutrals  –  Sweden, Norway, Denmark and Switzerland  – and these cut little ice with the Allies. Switzerland was complimented by Germany for showing the "spirit of true humanity" — praise which, in the long run, she might have preferred to have done without.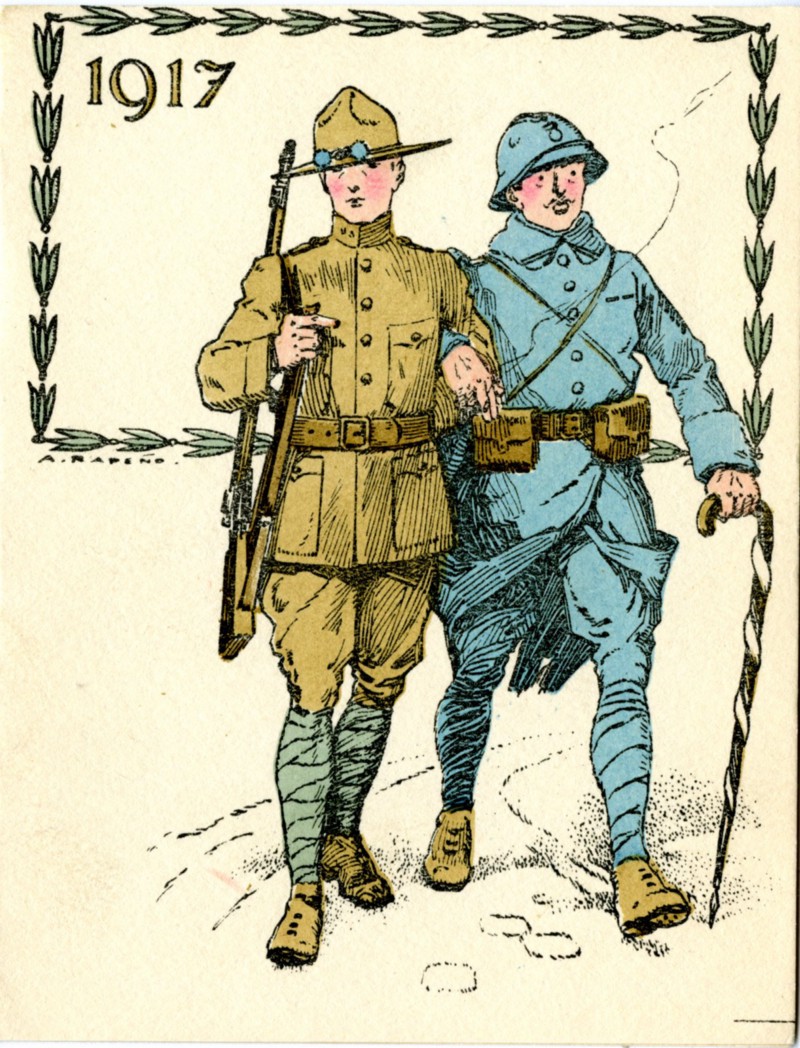 Rejecting peace might be done at the stroke of a pen; prosecuting war was an altogether harder affair. In France, its cost was weighed against the recent successes in the final offensive at Verdun. True, thousands of German prisoners had been captured, but the ungilded truth was that, until now, the French had shouldered the main burden of the war on the Western Front. Three hundred thousand of her soldiers had been lost at Verdun and 195,000 on the Somme. The full implications of this would become dramatically apparent in the course of 1917, but the signs of restiveness  –  both among military and civilians  –  were as yet too oblique to have been picked up by the nation's rulers.
In the West much of the drama of the week was experienced at sea, where the high risks of travel were highlighted after the German submarine, UB-47, commanded by Lieutenant Commander Steinbauer, claimed two more victims. On 27th December the French battleship Gaulois was torpedoed in the Aegean. Only four lives were lost, since there had been time to evacuate the ship after the first explosion.
The far deadlier attack came four days later on 1st January. This time Steinbauer's victim was the SS Ivernia, a former Cunard liner requisitioned as a troop transport. Two thousand four hundred soldiers from the Argyll and Sutherland Highlanders, Royal Scots Fusiliers, Rifle Brigade and Yeomanry were on board when the ship was torpedoed 58 nautical miles off Cape Matapan in Greece.
The ship, which had been en route from Marseilles to Alexandria, was abandoned and sank quickly. Cold weather and a heavy swell made survival difficult, though HMS Rifleman and the minesweeper Princess Mary rushed to the scene. Survivors were towed in lifeboats and rafts and taken to Suda Bay in Crete.
In the end, 121 died: some of those who reached the rescue boats would succumb later as a result of exposure. Ivernia's destruction brought the tally of Allied shipping sunk by German submarines and mines since 1914 to over five million tons. Her unhappy captain, Turner, had also been in command of the ill-fated Lusitania, sunk in 1915. He survived again, but Cunard decided now would be a good (and certainly tactful) moment to re-assign him to desk duties.
The dangers of war were, of course, not confined to land and sea. The redoubtable Elsie Knocker, now Baroness de T' Serclaes, had spent Christmas with her husband Harry, who worked for Belgian Military Aviation. His most recent flight had taken place on Christmas Eve, and his flying log showed he had been up as an observer on 94 missions between 12th February and 24th December. Of these, 24 had been reconnaissance flights checking enemy positions, railway traffic and troop movements, and 42 had been to locate and attack German heavy artillery with machine-gun fire. On five occasions he had released bombs by hand from the plane.
Such terse statistics do little to convey the appalling terrors and dangers which were endured on each occasion: flights often lasted no longer than 30 minutes as so many of the crew suffered terrible air-sickness, but that was easily long enough to be fraught with danger from enemy attack, mechanical failure and the vagaries of weather. So far, Baron de T'Serclaes had been lucky; in September he had also been decorated with the Croix de Guerre.
Signs of hubris among some of the German High Command may have been explained by their increasing success in the East. Having continued, with the help of Bulgarian forces, to fight its way through Romania and Galicia, Mackensen's army took Ramnicu Sarat in Romania, capturing 10,000 prisoners, and then advanced north and east. Bulgarian and Turkish troops were simultaneously advancing towards Macin in the Dobriuja  –  a ghastly trek in bitter winter conditions, and worse still for civilians caught in the path of the fighting. The Romanians had abandoned vital hospitals, depots and provisions as they were driven back by the Germans. By the start of January, their army had shrunk from 600,000 to a mere 200,000, with one railroad line serving as the county's only evacuation, ammunition and refugee route.
Evidently this was not sustainable. Yet the plight of the Romanians only hinted at what was about to unfold in Russia. Out of sight of most, a political catastrophe was brewing, as the Duma prepared to confront the Tsar. A Russian assembly  – the Duma  –  had been the single tangible success of the Revolution of 1905, but Nicholas II had dedicated himself to ensuring its political impotence. Thanks to burgeoning economic growth before 1914, he seemed until the outbreak of war to have successfully rolled back the frontiers of liberal democracy.
But the appearance of imperial authority was highly deceptive. The exigencies and traumas of the last two and a half years had fomented, at best, apathy in the countryside and seething resentment in the towns. Winters were always the most dangerous. Food and fuel shortages in the cities were acute  – less because Russia lacked productive capacity than because of its difficulties in distribution.
The new element during the winter of 1916/1917 was the derision in which the Imperial Court was held. Since the summer of 1915, the Tsar had been based at the Stavka headquarters, having taken over personal command of his armies. As a military expedient, this was scarcely credible. In political terms, it was a disaster. He had appointed his wife as regent, and  – given that she was both German and under the influence of a feckless peasant faith healer named Grigori Rasputin  – opera buffa now moved into grand tragedy.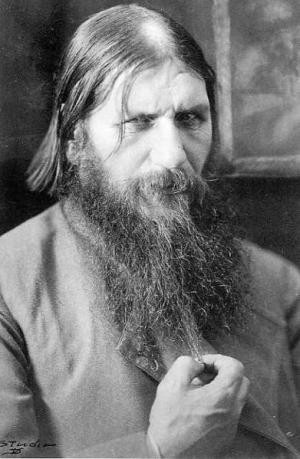 Poor Alexandra: there was no doubt that her haemophiliac son had been rescued from the jaws of death by the prayers of this thoroughly unscrupulous starets (holy man). But, however understandable her maternal desperation, she failed utterly to discharge her duties as regent with even a modicum of disinterest and good sense.
At Rasputin's behest, ministers came and went in bewildering succession, making the Romanovs ridiculous and cementing an unlikely union between liberal critics in the Duma and an often famished urban proletariat. Rumours, of course, proliferated  –  the least of which was that the Tsar was being cuckolded by the mad monk. One of the more bizarre ones to reach London claimed that "the amazing Rasputin used to cover his fingers with jam and the ladies of the Court, including the Tsarina, used to lick it off!"
Poor Nicholas: he adored his wife and children. The rumours he dismissed as tawdry and ridiculous, but he was properly terrified in squaring up to the conclusion to which they indubitably led: Rasputin had to be dismissed from within a 100 miles of the imperial family. But to do so meant confronting his wife's desperation and  – God help him  – her implacable hatred if the young Tsarvich died.
The French ambassador described the Tsar thus: "Despondency, apathy and resignation can be seen in all his actions, appearance, attitude and all the manifestations of the inner man." The Tsarina's sister, the beautiful and saintly Ella, widowed when her husband, Grand Duke Sergei, was assassinated in 1905, left her convent to plead with her sister to send Rasputin away  –  but she "dismissed me like a dog".
And there was more at stake than a flash of imperial hauteur. Another Grand Duke, back from England in November 1916, suggested that George V was worried because "well-informed agents of the British Secret Service predicted a revolution in the very near future". He too urged Nicholas to sack Rasputin and to make the reforms the Duma had requested before it was too late.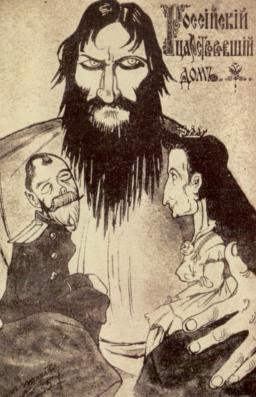 The murder of Rasputin came about not because of public indignation but because a few, very well-heeled, aristocrats feared that their own interests were threatened. On the night of 29th/30th December, he accepted an invitation to Prince Yusupov's palace in St Petersburg and was plied with wine  –  the production and sale of vodka having been banned at the start of the war. Yusopov, rich beyond the dreams of avarice and an enthusiastic bisexual, then shot Rasputin several times before his body was dumped, partially weighted, into the river Neva. Two days later it was discovered and all hell broke loose.
The imperial couple attended their "friend's" funeral and the early indications were that the incident served only to make them more than ever convinced that the world was against them. More soberly, the Dowager Queen Alexandra told her son, George V, that "the wretched Russian monk caused a sensation in the world! but [is] only regretted by poor dear Alix who might have ruined the whole future of Russia through his influence".
The inability of the imperial couple to see beyond their own predicament is also something which history should rightly censure. It stands in stark comparison to the example set by men and women of all nations and conditions. A shining example of quiet dignity and detachment came just now from the Connaught Rangers' Colonel Rowland Fielding. His battalion had just endured two days of bombardment, when:
Our people sent over thousands of heavy trench-mortar bombs, and the artillery supported well from behind. It was a pretty sight. The enemy replied with everything he had, including gas shells, the smoke from which — since there was no wind — hung long upon the ground, like lakes of fog.
He also noted the comfort afforded by wildlife:
Yesterday, while the bombardment was at its height, a robin was hopping playfully about, from sandbag to sandbag, within 10 feet of me; a blackbird was doing the same a few feet further away; and a cat was stalking between the two; — all three unconcerned among their infernal surroundings!
And, as always, his chief concern was for those under his command:
Today, the battalion being out of the trenches, we celebrated Christmas in a sort of way; that is to say, the men had turkey and plum-pudding, and French beer for dinner, and a holiday from 'fatigues'. I hoped they enjoyed it.

The extras — over and above those contributed by friends at home (whose presents had been very liberal) — cost the battalion funds about £90. But when I went round and saw the dinners I must confess I was disappointed. Our surroundings do not lend themselves to this kind of entertainment; and, as to appliances — tables, plates, cutlery, etc. — well, we have none.

The turkey had to be cut into shreds and dished up in the mess-tins. The beer had to be ladled out of buckets (or rather dixies) later, into the same mess-tins; out of which also the plum-pudding was taken, the men sitting herded about on the floors of the dark huts. It was indeed most unlike a Christmas dinner, but it was the best possible under the circumstances, and the men would have missed it if they had not had it; though, as I say, it seemed to me a dismal affair.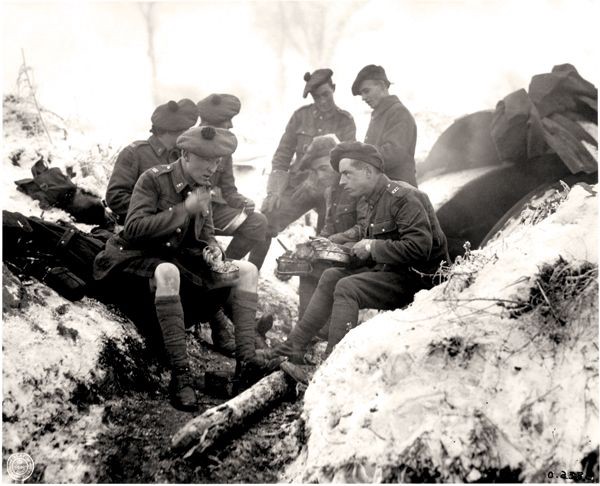 What made people guffaw in 1917 does not necessarily translate well today. But the popular limericks from the latest issue of The Moonraker suggests that the British Tommy of this period shared similar preoccupations to those of other young men the world over from time immemorial:
I know a blithe blossom in Blighty
Whom you (I'm afraid) would call flighty
For when Zepps are about
She always trips out
In a little black crêpe de chine nightie.
Easy guffaws apart, it was not always easy to find ways to keep troops and civilians happy, deeply though leaders wished to do so. The best specific was good news, but when this was lacking, plausible diversions needed to be fashioned. Joffre, once seen as the national saviour, was suddenly summoned to the Elysée Palace by President Poincaré who elevated him to the rank of Marshal of France "adding that he felt a pride in being called upon to re-establish this dignity, the last recipient of which dated from before the war of 1870".
Well , it made for an easy headline. The reality of the matter was summed up by the British Ambassador, Lord Bertie, who wrote to Haig that Joffre was "being put on the shelf for Ornamental China and not for use". His new dignity had been preceded by his sacking  –  by Premier Briand  – who had made him "a technical adviser" with a desk job in Paris. On 21st December, Joffre had discovered that "The plan of operations of the French Armies on the Western theatre for 1917 had been entirely changed by General Nivelle without my having been in any way consulted."
On New Year's Day, Haig was made Field-Marshal. This was anything but an empty bauble  –  but, like Joffre's "dignity", it was also done with an eye to public consumption. The King had written to him:
It gives me great pleasure and satisfaction to tell you that I have decided to appoint you a Field-Marshal in my Army. By your conspicuous services you have fully merited this great position. I know this will be welcomed by the whole Army in France, whose confidence you have won. I hope you will look upon it as a New Year's gift from myself and the country.
New Year also illustrated aptly the law of unintended consequences. On 21st December, an amnesty was announced as "an act of grace and conciliation" for the Irish prisoners who remained in captivity of the 1,000-plus originally rounded up in different parts of Ireland after the Easter Rising. Over 5,000 of them were still held, without trial, in a remote detention camp at Frongoch, near Bala in north Wales. Protests had been frequent concerning the treatment of the men, their poor diet and rat-infested conditions, and disquiet was growing particularly in the United States.
How the British authorities had hoped this might win them favour and forgiveness! The reality was rather different: prison had proved a superb university of revolution. More than 30 of the inmates would become members of the first Irish Parliament in 1918.
Right from the start of their incarceration they had largely ran the camp themselves, refusing to do menial jobs, or to co-operate with the authorities when they tried to discover any detainees liable for conscription. They also perfected tactics which would become powerfully emotive in future years, including hunger strikes and "dirty protests".
At an early stage of their confinement, the Irish Nationalist MP, Timothy Healy, had warned the then Home Secretary Samuel that he had:
started a Sinn Fein academy, a Sinn Fein university at Frongoch in Wales, where he has brought together some 2,000 men, guilty and innocent. Instead of these men being left at home in their little farms and cottages, scattered and dispersed as they were from one end of Ireland to another, he has congregated them together — Ulstermen, Munstermen, Connaughtmen, Leinstermen, men who have never met — and has enabled them to exchange ideas. I regard the right honourable gentleman the Home Secretary as the father of the Sinn Fein movement.
They also studied Irish and Welsh languages, history and economics, military strategy and guerrilla warfare, the latter due to the realisation that holding buildings as they had attempted to do at Easter rarely succeeded against superior forces.
The camp also helped to prepare Michael Collins for his future role, when he would be remembered as the camp's most famous inmate. He now emerged as a superb organiser, financier, manipulator and potential leader, adept at getting his way by a winning combination of charm and bullying. Collins thrived in adversity and was competitive in the extreme, even winning the 100-yard sprint in under eleven seconds, a feat mentioned in the House of Commons to "prove" that prisoners were not undernourished. (There is nothing quite like the naiveté of an MP determined to hold the official line.)
Released from 24th December onwards, the prisoners received a rapturous welcome when they eventually arrived home and were greeted as national heroes.
Heroes and heroics were in the mind of the German Emperor. His New Year message to his army and navy on 31st December 1916 was a triumph of bombast:
Once more a war year lies behind us, replete with hard fighting and sacrifices, rich in successes and victories. Our enemies' hopes for the year 1916 have been blasted. All their assaults in the East and West were broken to pieces through your bravery and devotion!

The latest triumphal march through Romania has, by God's decree, again pinned imperishable laurels to your standards. The greatest naval battle of the war, the Skager Rak victory [Jutland] and the bold exploits of the U-boats have assured to My Navy glory and admiration for all time.

You are victorious on all theatres of war, ashore as well as afloat! With unshaken trust and proud confidence the grateful Fatherland regards you. The incomparable warlike spirit dwelling in your ranks, your tenacious, untiring will to victory, your love for the Fatherland are guarantees to Me that victory will remain with our colours in the new year also. God be with us further.
The tenor was not calculated to win over waverers.
The future Nazi deputy leader, Rudolf Hess, showed a delight in slaughter which might well have appealed to his imperial master. Having recently recovered from his shrapnel wound received at Verdun, he was now on the south eastern Front, fighting the Russians in Romania. He recorded a few recent highlights in a letter to his parents, written on 27th December:
Yesterday was the best day of the whole war; the first proper attack I've fought in. The Russians were sitting tight in their well-prepared position. Our artillery shielded them for a few hours and then the Bavarian, Prussian and Austrian troops bombarded the village.

From where I stood I could see the whole division. I watched the defence lines at the front until it was our turn to attack. When the Russians peeked out of the trenches to fire, we shot at them from behind the ridge. We were aiming at their heads from 100 paces away.

I saw some of them sink to the ground after I'd fired and later, when we went into the enemy trenches, I found their bodies shot through the head. Next, we advanced through the village and attacked the Russians as they retreated. Yours, Rudi
It seems an odd letter to write home. On the other hand, satisfaction in slaughtering those who were hell bent on killing you was something understood by troops of all nations.
So was melancholy. Vasily Mishnin was working a clerk in a field hospital in Belarus when he penned this end of year diary entry:
31 December: Last day of this year and God willing, it will never return. Let such a year as this die for ever and never come back. How I'd love something new, to cheer my soul and make my heart and soul clean and bright again. I want to be happy. Instead, there are tears in my eyes. Oh Lord, what is this and when will this end? This is the end of the hateful year, 1916 — let it disappear into oblivion, for ever.
Alas for Vasily, and alas for the world. So much more, and so much worse, lay ahead — for Russia especially.