EVER SINCE THE Somme, the contest on the Western Front had felt inconclusive. Bloody and costly, always, but inconclusive. Both sides knew it.
In recent weeks and months, it had even felt that the Germans might, finally, be getting ground down. But no longer: on 10th July, they mounted an intense bombardment and did serious damage to two British battalions in the Nieuport region, capturing over 1,000 prisoners. Survivors stated that between 70 and 80 per cent of their strength had become casualties under the German artillery fire.
The British were on to them at once, driving the enemy back from their advanced positions, and repelling further attacks the following day. A couple of days' hefty fighting followed which reverted to the typical to-and-fro of recent times, and German efforts to gain ground at Mont Haut at Moronvilliers came to nothing. A sort of mirror-image drama was meanwhile unfolding east of Reims, in which the French captured a German trench system on 14th July but then found themselves having to fight off powerful German sorties on the Chemin des Dames.
All in all, it was an unnerving time for Britain and France. German artillery was clearly massing which, at the very least, suggested that Allied plans for a forthcoming offensive had not gone unnoticed. Any lingering doubts on that subject were dispelled by 15th July – the day Allied guns heralded the start of what was known, in official speak, as the Third Battle of Ypres. To later generations, it bore the emotive name of Passchendaele.
The reluctance of politicians to commit explicitly to the battle was the stuff of farce. Haig wanted the go-ahead – that much was clear – and he wanted the French to give all the support of which they were capable. The governments of both nations, for their part, most assuredly wanted the glory which would accrue in the event of triumph. On the other hand, British ministers lived in quivering fear of any repetition of the Somme, while only short weeks distanced French leaders from the mutiny which had followed the failure of the Nivelle Offensive.
Even now, the Cabinet did not officially sanction the offensive and Haig was also awaiting corroboration of French intentions. On 10th July, Robertson told him that:
Painlevé assures me… that the French Army will be able to assist us by attacking on its own front, and that the French Government intends that it should do so.
President Poincaré visited G.H.Q. that same day and, so Robertson claimed, had been "profuse in his good wishes for the success of our future offensive".
Such effusions were about as useful, militarily and diplomatically, as a sack of potato peelings. So was the fact that, on 14th July, Haig had been awarded the Order of the Thistle by the King. In terms of honour and dignity, this ranked only just below the Garter, but it offered no obvious protection against enemy fire.
Meanwhile, thousands of soldiers were receiving more orthodox preparation. On 15th July, Private Reg Lawrence, with the South African Brigade in Rouen, described life at Etaples – home of the notorious "bullring", the brutal training ground for recruits used by the British army:
We are put through our paces at the Bull Ring — a huge sandy arena about two miles square where Napoleon trained his Army of Occupation before his last attempt to invade England. The instructors gave us a lively time of it with bayonet fighting — 'Gnash-your-teeth-show-the-whites-of-your-eyes-and-look-as-if-you-mean-it'! We spent a charming day killing straw Germans (with real Kaiser Bill moustaches) suspended by chains.
Those already seasoned fighters, especially officers, often faced more worry, but less privation. Recalling his own journey for battle-readiness Captain G.D. Horridge, of the Lancashire Fusiliers, touched on different sensibilities:
We soon learned that we were marked down for battle, and officers were given three days' leave to Paris. Addresses were handed by those that had been to those that were going and my bit of seeing life cost me £71 for three days. £24 a day seems a lot of money, but we hadn't any immediate use for money. We knew we were going to Ypres and we knew the odds would probably be against us coming out… I went with another officer and we went to an address near the Eiffel Tower.
There was a girl, of course – in his own words, "a most beautiful girl".
Cécilie was eighteen and came from Le Havre. The three days went by in visiting Versailles, the Opéra once or twice, going to the best restaurants, buying Cécilie a hat and generally living it up…
But military realities obtruded, eventually. And so, too, commercial ones:
We had to return to the battalion by the midnight train on the third evening. We went to the Opéra and when the time came to go to the station, Cécilie said she would like to come to see me off, but if she did, business would cease for the night and she would make no money. I suppose one couldn't blame her…
The pathos is almost unbearable. Given what was happening back at the front, his little bursts of extravagance seem only too understandable. Captain A.F.P. Christison, MC, of the 6th Battalion, Queen's Own Cameron Highlanders, recorded in his diary on Friday 13th July that:
I was going round my forward trench when the Germans started shelling steadily, but with small stuff, and we could not understand why the shells all seemed to be duds. One shell landed in my trench almost beside me and did not burst — just a sort of plop. I felt a burning sensation just above my right knee and heard the man next to me cough and retch. I realised this was something odd and shouted 'Gas' and quickly put on my respirator. The gas alarm immediately sounded and, as we were good at our gas drill, only five or six of my Company were gassed.
So far, not perhaps so terrible. But then:
Captain Rowan heard the gas alarm and his men put on respirators. After wearing them for some time in the heat of the morning and no attack developing they thought the original alarm was false as no gas had been smelt. What they did not know was that this was mustard gas, had no smell, and had delayed action. The C Company trenches were saturated with the stuff and the whole Company was struck down. By nightfall every officer and man was either dead or in hospital.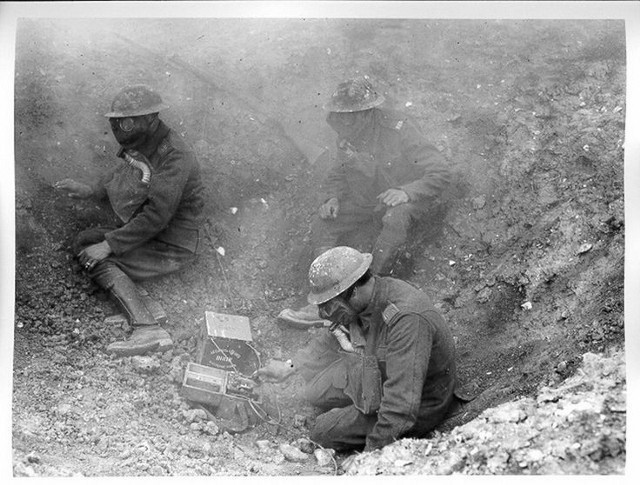 In those days running up to the offensive, aerial warfare also assumed a new intensity. RFC Communiqué №96 of 15th July recorded that more fighting had taken place in the air on 12th July than on any day since the beginning of the war, with activity greatest over the British Fifth Army Front – the area under the command of Manfred von Richthofen. There was a name calculated to send fear coursing through the veins of any Allied airmen with the ambition to live a full span of life.
In fact, on the day in question, his pilots had logged eight kills, but their commander had not been with them to enjoy the sport. Two days earlier, he had been shot down, shortly after his 57th kill. As he wrote later:
Suddenly there was a blow to my head! I was hit! For a moment I was completely paralyzed… My hands dropped to the side, my legs dangled inside the fuselage. The worst part was that the blow on the head had affected my optic nerve and I was completely blinded. The machine dived down.
He was an exceptional pilot – courageous, as well as superbly skilled. He recovered his mobility and sight sufficiently to land his plane, and was rushed to hospital in Courtrai.
I had quite a respectable hole in my head, a wound of about ten centimetres across which could be drawn together later; but in one place clear white bone… remained exposed. My thick Richthofen head had once again proved itself. The skull had not been penetrated…
To the intense relief of their allies, Russian forces had also started in recent days to resume something resembling a credible war effort. Under the spirited generalship of Brusilov, they captured Halicz in Galicia on 10th July and pursued the Germans over the river Lomnica, taking 2,000 prisoners. On 12th July, General Kornilov crossed the Lomnica, and a further 1,400 Germans were added to the haul.
This spurt of effort owed much to Kerensky, but it was unlikely, even then, to last. By the end of the week, the offensive had stumbled, leading to a withdrawal in Galicia. The operatically-named Women's Battalion of Death proved conspicuous chiefly for its refusal to advance into battle, despite being ordered to do so. Eventually, 75 officers and 300 men asked to join the women and they charged together over the top when the signal was given. Once battle began, in fact, they all seemed to do rather well: portions of the Novospasskii Forest were taken and many of the earlier mutineers seemed to uncover in themselves a new martial ardour.
But then it all went wrong, in rather a depressing and predictable way. In the third line of enemy trenches, a stash of alcohol was discovered and the temptation for some of the occupying forces proved too great. Six German counter-attacks followed and the Russians lost all the ground they had gained. Fifty women were killed or wounded. The latter included the Death's battalion's leader, Maria Botchkareva, who was knocked unconscious when a shell exploded near her, and taken to a field hospital suffering from shell shock.
The captured Germans seem to have been taken by surprise by mixed-gender warfare: "Good God! Women! What a disgrace!"
The unorthodoxies of the Eastern Front were no more than a tame symptom of the far bigger problems faced by Russia at home, where the Provisional Government was failing hopelessly. Kerensky, for all his efforts to inspire his fellow countrymen to defeat the Germans, had long been overtaken by events.
The British Ambassador in Russia, Sir George Buchanan, continued to send home from Petrograd despatches which testified fully to the extent to which Russian "government" now lay at the mercy of disloyal troops, and myriad political factions.
10th July While we were at dinner, the Cossacks charged the Kronstadt sailors, who had gathered in the square by the Embassy, and sent them flying for their lives. The Cossacks then marched up the quay, but a little later got caught in a cross-fire and suffered heavy losses. We saw several riderless horses returning at full gallop, and a little later two Cossacks who were bringing back a prisoner were attacked under our windows and nearly murdered.

12th July The political atmosphere is such that he [Kerensky] does not venture to appeal to the troops to fight for victory, but for the speedy conclusion of peace. For peace is the universal desideratum.
The imperial prisoners, still held at the great palace at Tsarskoe Selo, must have seemed like visitors from a bygone age. They heard about only as much news as their captors chose to tell them, but their response to it seems to have been characterised by an uncomplicated patriotism which was already utterly out of tune with the times. Nicholas II wrote in his diary:
10 July I forgot to write that… our troops made another breakthrough and captured: 31 officers, 7,000 lower ranks and 48 cannons, including 12 heavy ones.

11 July Yesterday we took Gallich, together with 3,000 prisoners and about 30 cannons. Thank God!
Another diarist at the palace was Elizaveta Naryshkina, Mistress of the Robes. Her analysis of events was certainly partial, but much more sophisticated than that of her royal employer. On 11th July, she wrote:
Our troops continue to press forward. Kerensky is with them, trying to keep their martial spirits high. He greets the troops both on foot and mounted; sometimes he uses an automobile, at other times an airplane. His energy is amazing. He is the only man in the ranks of this awful government who has a head on his shoulders and a backbone. Nevertheless, the Socialist-Bolsheviks are the real rulers.
By contrast, Pierre Gilliard, Swiss tutor to the Tsar's children, seems to have thought little beyond what was in front of his eyes. Still, on 15th July, that elicited a pleasing tableau:
Nothing new in our captivity. The only distraction is going outside. It is very hot, and for some days Alexei Nikolaevitch has been bathing in the pond around the children's island. It is a great joy to him.
Good. There were precious few good moments available, and even fewer lay ahead.
Although unnoticed by those at Tsarskoe Selo, the Bolsheviks in Russia were also now showing their hand rather more. Kerensky noted on 15th July:
Upon arriving in Petrograd on urgent business for a few days, I realized that the most serious and decisive events of our time are moving ever closer. In the two months of my ceaseless travels around the front, the political atmosphere in Petrograd has changed dramatically.
The next day, he only just made it out of the city:
When I was leaving the capital, trucks began flashing by on Petrograd streets, full of unknown armed people. Some were driving around the barracks, calling soldiers to join the armed revolt that was expected at any moment… As soon as my train left the station, a truck drove up under a red flag that said, 'First bullet for Kerensky'.
Also witness to these stirring events was the composer Sergei Prokofiev, who had just returned to Petrograd. He recalled that he had:
…dined at the Contan, where it is elegant and lively, and, despite the food crisis, you can eat well. True, the prices are insane, but the value of money gets cheaper every day, so why save it? As we walked through the streets in the evening we witnessed unexpected events: the streets were noisy, armed soldiers marched, crowds carried posters with 'Down with the capitalist ministers', private cars were stopped before our eyes, owners were asked to get out, and machine-guns were installed instead…
This was the start of the so-called July Days, often described as a failed Bolshevik coup. In reality, it was both more and less than that. The Bolsheviks were still pretenders to many in Russia, especially to those who believed themselves democrats, and even more to socialists.
Alexandra Kollontai, one of their representatives at the Zimmerwald Conference currently underway in Stockholm, noted that socialists from some of the Allied countries refused to attend due to the presence of enemy delegates. For her, as a Bolshevik, such a nationalist perspective was hopeless. The proletariat was pan-national and indivisible. But any attempt to persuade other attendees of the errors of their ways seemed to her so much wasted breath. On 11th July, she noted:
…the overwhelming majority of the delegates view 'Bolshevism' with mistrust and bewilderment; the sanctity of the February Revolution and Kerensky's popularity still hold great sway over the minds of our foreign comrades. Bolshevism scares them… To many it seems utopian; and more 'sober' and 'experienced' politicians perceive the Bolsheviks as childish. 'Moreover', they add, 'you're no more than a handful in number. The army, the peasants and the wider working masses will never follow you. They will not understand you.'
Truth was, a political crisis might have erupted almost anywhere just now. Indeed, it did so. On 14th July, the German Chancellor Bethmann-Hollweg resigned.
The Englishwomen, Princess Blucher, referred to the event in her diary:
The Chancellor's position has been growing more and more critical. And his day has come. No one was satisfied with him… He is, in fact, the scapegoat for covering the faults of his lord and master. I have heard on pretty certain authority that the Kaiser gave his royal assent to Austria's ultimatum to Serbia in 1914, without even mentioning this small matter to his Chancellor until it was an accomplished fact. Here the impulsiveness of his nature became a crime, and Bethmann, conscious of the fact that it was this consent which set the machinery of war in motion, has never been able to make the error good again, and has now made a final atonement, as he could not betray his royal master to the world…
There was not much to argue with there – nor with what came next:
The Kaiser is growing more and more the shadow of a king, and people talk openly of his abdication as a possibility very much desired. He gives in to all the demands of the Socialists, but at the same time makes so many palpable blunders and mistakes that a man in high office said only the other day, it looked almost as if the Emperor's advisors were in the pay of England…
Political rumblings in England, for now, were confined to fallout which followed the report on the mismanagement of the Mesopotamian campaign. Following the criticisms levelled at him, the Secretary of State for India, Austen Chamberlain, resigned on 12th July. His principled stand, which proved an asset rather than a hindrance to his later career, was insufficient however to prevent an extremely lively debate in the Commons over the next two days.
Less newsworthy at the time, but of immense significance for the future, was the by-election in East Clare several days earlier, on 10th July. Greatly to the government's chagrin, the Sinn Fein candidate had succeeded in defeating the Nationalist Party opponent and, thus, found himself elected a Member of Parliament. He had no intention, of course, of actually taking up his seat: the aim all along had been to discredit the legitimacy of British government in Ireland. The new MP's name was Eamon de Valera.
Political hassles seem tame by the side of private grief – a commodity in which war abounds. Cynthia Asquith, daughter-in-law of the former Prime Minister, was still in the early throes of despair following the news that her admirer, Lord Basil Blackwood, had been missing in action since 3rd July. Her diary entries this week list emotions which conform entirely to the pathology of bereavement.
15th July The post has become a bitter pang. I cannot believe that I shall never have another of Basil's letters. He has been a very great deal of the wind in my sails for the last five years. It is a hard thing to lose one's tonic these days.

16th July Another lovely day. I am curiously intermittent — incapable of sustained emotions of any kind — and all day I felt a curious numbness and cessation of sorrowing — so much so that I was shocked by myself, but of course it is only a lucid interval. The pain will return.