THE IDEA THAT the Western Front was a tale of "lions led by donkeys" is both facile and untrue.
As the British advanced their plans for a summer offensive in 1917, the responsibility these placed upon the shoulders of statesmen and military leaders was felt by them keenly. Haig believed only a big offensive in the west could win the war for the Allies and that the loss of life involved would be sustainable. Lloyd George, by contrast, feared the slaughter would be greater than Haig predicted, as well as futile. Moreover, were a new front to be opened up in Italy, a fresh offensive in Flanders would be superfluous.
The Cabinet Secretary, Sir Maurice Hankey, recorded the differences between PM and C-in-C in a very frank entry in his diary for 30th June:
Haig came over on the 19th and stayed for a week holding frequent conferences with the Committee on War Policy. There was a regular battle royal…

[On] Monday (June 25th), after the Committee had adjourned to give Robertson and Haig time to think it over, they adhered to their opinion and Lloyd George felt he could not press his amateur opinions and over-rule them, so he gave in, and Haig was authorized to continue his preparations. The final decision, however, was postponed until after a conference with the French, as Lloyd George declined to agree finally until assured that the French will do their bit by attacking simultaneously.
So far, so reasonable. Haig's week in London coincided with his birthday on 19th June, an occasion which saw him showered with congratulations and good wishes. It was not in his nature to dwell on these, and his own account of the day was focused upon the need to bring politicians over to his way of thinking:
The members of the War Cabinet asked me numerous questions, all tending to show that each of them was more pessimistic than the other. The Prime Minister seemed to believe the decisive moment of the war would be 1918. Until then we ought to husband our forces and do little or nothing, except support Italy with guns and gunners…

I strongly asserted that Germany was nearer her end than they seemed to think, that now was the favourable moment for pressing her and that everything possible should be done to take advantage of it by concentrating on the Western Front all available resources. I stated that Germany was within six months of the total exhaustion of her available manpower, if the fighting continues at its present intensity. To do this more guns and men are necessary.
This "six months" theme was a recurring feature of Haig's thinking just now. His Intelligence Officer, Brigadier John Charteris, was uneasy, noting that: "This is going rather farther than the paper I wrote for D.H. on the 11th June."
It isn't hard to see what was going on here: politicians suspected Haig of lacking the imagination to envision another strategy, and perhaps of being too proud to drop one with which he had become so deeply associated. Haig appears to have believed that his critics were too cowed by the fear of unpopularity and that, at the back of the ministers' minds, they feared the national will to win the war would collapse. To his eyes, this seemed short-sighted and self-defeating: without a huge offensive, there was no victory to which to look forward – only much more of what they had now.
If Haig were right, politicians were determined that there should be no repetition of the grinding horror of the Somme. To test this, they lobbed more questions at him the following day: how could Allied troops cope with German artillery? How many likely casualties would there be? What level of French support might be expected?
One senses Haig relaxing as he stressed Pétain's reassurances, and his victories at Vimy and Messines. And then, suddenly – rather as in a job interview – something came out of left field. Something unexpected and alarming, as Haig wrote:
Admiral Jellicoe, as First Sea Lord, stated that owing to the great shortage of shipping due to German submarines, it would be impossible to continue the war in 1918. This was a bombshell for the Cabinet and for all present… Jellicoe's words were, 'There is no good discussing plans for next Spring — we cannot go on'.
If Britain were on the edge of starvation, the last thing it needed was a big offensive, with all its attendant risks. One might have thought the PM would have seized upon this admission, but not at all: he was infuriated by this "startling and reckless declaration", as he later described it. But he still wanted Haig to change his mind.
The trouble was, his hand had been weakened: he had already tried once to sideline Haig when he had pushed so hard for the Nivelle offensive, an episode in which Haig's judgement had been utterly vindicated. Robertson, Chief of the Imperial General Staff, now also weighed in, insisting that the British had to be aggressive somewhere and that Belgium was the most promising direction.
The PM knew he was beaten. But, as his note reveals, he had the politician's urge to cover his back:
It was… decided that I should once more sum up the misgivings which most of us felt and leave the responsibility to Sir William Robertson and Sir Douglas Haig on the understanding that if the progress they made with the operation did not realize the expectations they had formed, it should be called off and effective help be rendered to the Italians to press their offensive.
High politics was not a preoccupation for most soldiers on the Western Front. The daily rigours of life sapped all their energies, mental and physical. War had long ago stopped being an object of romance – yet there were still many who apprehended beauty. A letter sent this week from the poet Francis Ledwidge, in Monchy-le-Preux, to the Irish poetess, Katherine Tynan, points to that:
Entering and leaving the line is most exciting, as we are usually but about thirty yards from the enemy, and you can scarcely understand how bright the nights are made by his rockets. These are in continual ascent and descent from dusk to dawn, making a beautiful crescent from Switzerland to the sea. There are white lights, green, and red, and whiter, bursting into red and changing again, and blue bursting into purple drops and reds fading into green. It is all like the end of a beautiful world.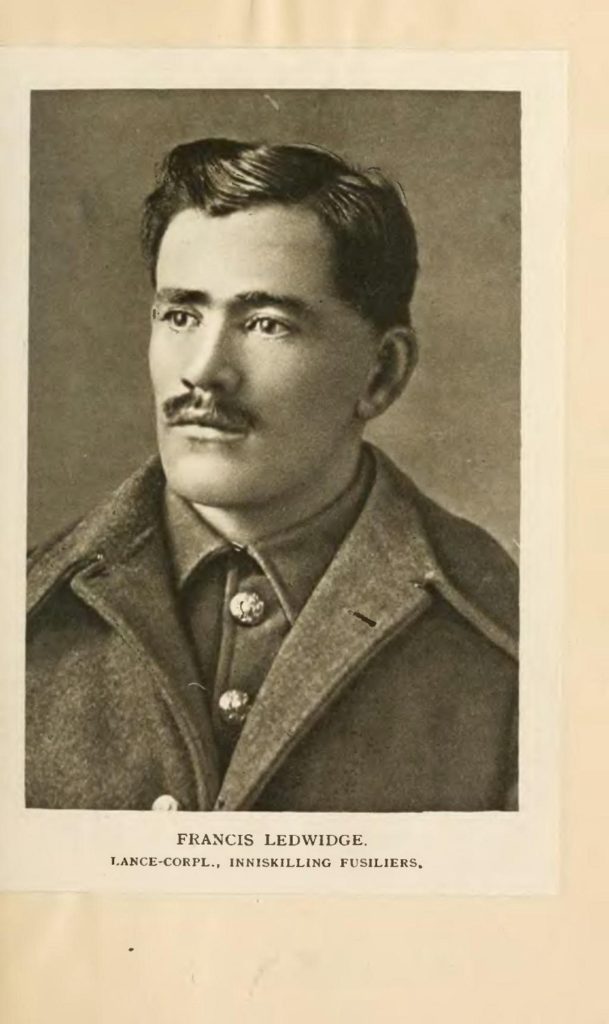 He was enough of a realist to add:
It is only horrible when you remember that every colour is a signal to waiting reinforcements of artillery and God help us if we are caught in the open, for then up go a thousand reds, and hundreds of rifles and machine-guns are emptied against us, and all amongst us shells of every calibre are thrown, shouting destruction and death. We can do nothing but fling ourselves into the first shell-hole and wonder as we wait where we will be hit…
Poetry was popular to an extent unknown by later generations. It was also a medium for humour. News now emerged that Captain William Oliphant Down, M.C., had been killed on 22nd May, aged 31. He had authored a popular parody of Yeats's famous Lake Isle of Innisfree, then considered a proper rib-tickler, although today it just seems painful:
I will arise and go now, and go to Picardy,

And a new trench-line hold there, of clay and shell-holes made,

No dug-outs shall I have there, nor a hive for the Lewis G.,

But live on top in the b. loud glade.
Colonel Feilding of the Connaught Rangers was another character who stayed alert to beauty. In his letter home from Bollezeele on 22nd June he wrote:
I was up a little before four this morning, and at five we marched to a completely new district, where British soldiers have not previously been billeted. Never was there a more glorious and inspiring morning, or cloud effects more wonderful. We rejoiced in the prospect of a cool yet cloudless summer day…
Alas – it was too good to last!
…by six o'clock, all had changed. I cannot remember a more complete transfiguration. All the blue sky had gone, and the white flecks of cloud, and the golden rays of the rising sun: and instead there were floods of rain, which continued nearly the whole day long, and drenched both men and officers to the skin. Finally, after an 18-mile march, we found the billeting arrangements incomplete, so that all had to wait out another hour and a half, and have their dinners in the rain.

The men have no change of clothes, but they take these 'trials' like they do everything else — that is to say, cheerfully and patiently, and sleep herded together on the floors of stables, and with luck get dry before the morning. I have been trying to get them an issue of rum to-night, but it is not easy, since we are now in a new Corps and Army.

(Later.) I failed to get the rum.
War, rather like weather, had the capacity to take people out of the present moment and to return them there, with equal abruptness. Vaughan, digging trenches near Prouville, recorded on 19th June:
From one o'clock to stand-to I employed writing a couple of letters, staring at the hot landscape and marvelling at the idiocy of war. Everything was so calm and still that one almost expected to hear the bells of Prouville begin to peel and to see the women hanging out washing or driving their cows into No Man's Land. Needless to say, nothing of this sort happened, but hundreds of more or less brave men on our side and ditto on theirs continued to hide in holes fearing observation. Whilst landscape, weather, church and all wasted their sweetness on unresponsive militarists, save where an isolated individual like myself succumbed and was held for a few moments before returning to the atmosphere of patrols, reports and working parties.
The sheer industriousness of life on the Western Front was a recurring theme of letters and diaries. It also served as a rebuke to the apathy and inactivity of much of the Eastern Front, along which disaffection was the nearest to the order of the day. Under the reinstated commander, General Brusilov, preparations continued for a new offensive, timed to begin shortly. The Moghilev Soviet of Workers and Soldiers had just announced its intention of eliminating a "counter-revolutionary nest" at Headquarters.
Kerensky, leader of the Provisional Government, denied this hotly, but Brusilov appeared to treat it seriously. That irritated Kerensky but, as an announcement he made on 22nd June shows, he was not without problems of his own:
There is no substance whatsoever to the rumours of front-line troops being summoned to Petersburg to fight the workers. There isn't a single soldier in St. Petersburg who isn't a member of the metropolitan garrison… they shall never move from the front to the rear to wage battle versus the workers.
Kerensky's political pas de deux was way beyond the understanding of His former Imperial Majesty. The diary of the children's Swiss tutor, Pierre Gilliard, for 20th June suggests the preoccupations were strictly domestic:
As the Grand Duchesses were losing all their hair as the result of their illnesses, their heads have been shaved. When they go out in the park they wear scarves arranged so as to conceal the fact. Just as I was going to take their photographs… they all suddenly removed their headdress. I protested, but they insisted, much amused at the idea of seeing themselves photographed like this, and looking forward to seeing the indignant surprise of their parents. Their good spirits reappear from time to time in spite of everything. It is their exuberant youth.
To judge from the Tsar's diary for the following day, the exuberant youth of one of the princesses came very near to being extinguished altogether:
In the evening at about 11 o'clock a shot was heard in the garden, and a quarter of an hour later the head of the guard asked to come in, and explained that the sentry had fired because it appeared to him that someone was signalling with a red lamp from the window of the children's bedroom. One of the officers who came in with him realized what had happened, when he saw the position of the electric lamp and how Anastasia moved her head as she sat by the window, and after excusing themselves, they left.
The episode suggests a maximum of fear and a minimum of good sense among those supposed to be guarding the Imperial family. Domestic life for the British well-to-do, to judge from Cynthia Asquith's diary, seems to have been altogether more gracious:
Monday 25 June …[to] Margot's great concert party. It was a real success, an enchanting evening. Edwina sang wonderfully, but I was more thrilled by a wonderful cello player, Suggia. She is too fascinating to watch: when not playing her face is evil unredeemed by beauty, but as she plays something comes into her face, and she is rivetingly beautiful — — amazingly expressive — a real half-Medusa, half-Madonna head with snake hair. Someone has cleverly said she looks as if she were 'committing adultery with her cello'…
Was that so clever? It sounds just tacky.
Three days later came poetry.
Thursday 21 June I had tea with Maud Russell and went to the Poets' Reading with her… Walter de la Mare was attractive to eye and ear… Far the most lovable was little Davies who read delicious poems very sweetly. I felt him to be a real poet and when one sees him one loses any lingering impression of artificial, strained simplicity. He is so obviously nature-inspired and not a retailer. Yeats was the stage poet — a pale hand checking a lock trained into rebellion — a cathedral voice and a few editing remarks before delivering a poem…
This is an occasion when the diarist's observational brilliance feels a little tainted by smugness.
In comparison to all that Bloomsbury hubris , George V was touchingly diffident. Just now, he was preoccupied by the need to ditch his surname. To modern ears, this may sound a niche pastime but, given that the said surname was Saxe-Coburg-Gotha, and that Gotha bombing raids had recently been raining down death upon his country, he had a point.
It was also a satisfyingly recondite activity for the eclectic assortment of courtiers and relations on hand – Tudor, Stuart, Plantagenet, York, Lancaster, and Fitzroy were just a few of those suggested. It was the King's formidable Private Secretary, Lord Stamfordham, who suggested Windsor. At the same time, it was decided that all of Queen Victoria's Germanic-titled descendants "who are subject of these realms" were to ditch their German names and be given peerages instead. Prince Louis of Battenburg, the former First Sea Lord, was now re-named Lord Louis Mountbatten. With somewhat cloddish humour, he wrote in a visitors' book: "Arrived Prince Jekyll, left Lord Hyde".
The King's readiness to do whatever it took to demonstrate his patriotism stands to his credit. Lord Stamfordham also took pride in keeping His Majesty informed of all shades of opinion in the land. He wrote to Lord Revelstoke:
I do not believe that there is any Sovereign in the world to whom the truth is more fearlessly told and who receives it with such good will — even gratitude — as King George. There is no Socialist newspaper, no libellous rag, that is not read and marked and shown to the King if they contain any criticism friendly or unfriendly to His Majesty and the Royal Family.
A preoccupation with image and reputation was not confined to the Royal family. It emerged also when the Prime Minister's daughter, Olwen, married Captain Thomas Carey-Evans, M.C. on 19th June. The service was at Castle Street Welsh Baptist Chapel, out of which the bridal couple emerged to a guard of honour formed by wounded soldiers from Millbank Hospital. Munition workers presented Olwen with flowers. In keeping with wartime austerity, a fake wedding cake, made of white card was the centrepiece of the modest reception held at Downing Street after which Lloyd George immediately went back to work.
In fact, the wedding nearly never happened since the groom's ship had been torpedoed on his way home – a fact which Lloyd George concealed from his daughter at the time. In the end he turned up, very bedraggled, just four days before the wedding. Carey-Evans had served with distinction in Gallipoli and Mesopotamia, being mentioned in despatches: the precariousness of all hopes and plans was a perennial texture of the war – this week and every week.
Perhaps it was that thought which provoked a generous letter of congratulations to the PM from his old political opponent, Lord Robert Cecil:
These things are like flowers in the waste of war. It is after all only a stupendous interlude in human history and the happiness of young people reminds us that in a few years all the carnage and cruelty —  yes, and all the heroism as well —will be memories of the past.
That was written on the very same day on which women in Britain got the vote. The Representation of the People Bill passed the Commons by 385 votes to 55. The concession seems now to have been grudging and hedged in by qualifiers, not least that the vote was confined to women over the age of 30 who were property owners. In a way which seems now a gratuitous insult, the bill simultaneously abolished property requirements for men.
Even this muted extension of democracy was interpreted by a few diehards as the beginning of the end. Many of them had looked to Lord Curzon, President of the National League for Opposing Woman Suffrage, for a lead. Out of patriotism (or political cowardice, perhaps) he decided that opposition to the government in a time of war would look wrong. The Bill duly passed the Lords by 134 votes to 71.
Perhaps one significance of the new Act was that it dared to look to a time when peace would return and normal politics resume. That was a very remote thought to the soldier-poet Wilfred Owen who appeared before a Medical Board at the Welsh Hospital, Netley on 25th June, suffering from shell-shock. He was also still in recovery from a bout of trench fever. Doctors now decreed him unfit for General Service for six months and he was despatched to Craiglockhart War Hospital, Edinburgh, for special observation.
Most soldiers, suddenly freed from imminent danger, felt an uncomfortable mixture of emotions. Stopping in London only to catch his train north, Owen was confronted by that most British of misfortunes: bumping into the unwelcome acquaintance. Or, in fact:
…the last person on earth or under the earth that I wished to meet: Major now Colonel Dempster, of the 2nd Battalion. He stopped, of course, and he pretended to be very affable and cordial. Yet I know a more thoroughbred Snob does not exist — even in the imagination of Thackeray. To meet him in my first hour in town — alas!