EVEN THOUGH MANY dared not believe it, events had now assumed an unstoppable momentum.
In the West, the Germans continued to retreat: the only debate was how far this was a tactical contrivance, and how far an involuntary response to being overwhelmed. But it was a fighting retreat — never less than that. The death toll for British and Dominion forces in all arenas had risen to 8,902 from 4,599 the previous week.
Against that, the Allies could point to big achievements. On 18th September, there was a spectacular triumph at the battle of Epehy, in which General Rawlinson commanded a combined force aimed at clearing the German outposts on high ground in front of the Hindenburg Line.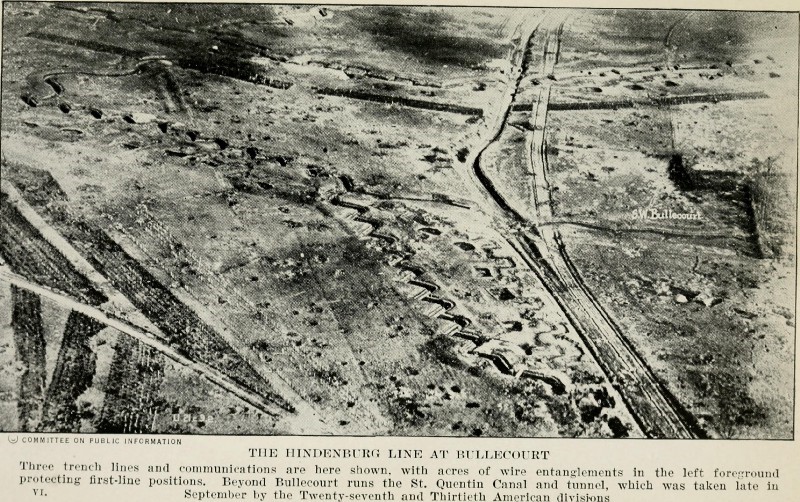 1,488 guns and 300 machine-guns were used to provide artillery protection, including a creeping barrage, but there was no preliminary bombardment. The real heroes were the Australians in the centre of the attack, who took all their objectives. Rawlinson reported to Haig that German officers were admitting that their men now refused to face Australians. Over 9,000 prisoners were taken by the end of the day. A Scottish sergeant commented:
Now their soldiers are no more than a pitiful crowd. Exhaustion of the spirit which always accompanies the exhaustion of the body. They are marked with the sign of the defeated.
The sergeant in question was himself killed on 23rd September — evidence that, whatever the final outcome, much bloodletting remained.
On the other hand, the Germans were being pushed back, even though they invariably put up a fight first, and by the end of the week, Allied troops were convincingly beating a path towards St Quentin. Haig, more than ever, was convinced that there could be no let-up in the advance. On 21st September, he recorded a meeting with Lord Milner, the Secretary of State for War:
I had another talk with Milner. He states recruiting is bad, and that if the British Army is used up now there will be no men for next year. He was quite satisfied that I should do what I deemed best in the matter of attacking or not. I pointed out that the situation was most satisfactory and that in order to take advantage of it every available man should be put into the battle at once. In my opinion, it is possible to get a decision this year; but if we do not, every blow that we deliver now will make the task next year much easier.
The British Government was, however, nervous. For one thing, the cupboard was bare: from where, they wondered, would these men come? For another, at least in the eyes of Lloyd George, Haig was damaged goods — forever tainted with the horror of Passchendaele.
It sounds as though Milner, for all his reassuring sounds to Haig, was sniffing dissent. Once back in London, he talked to Sir Henry Wilson, CIGS, who noted in his diary for 23rd September:
He thinks Haig ridiculously optimistic and is afraid he may embark on another Paschendaele [sic]. He warned Haig that if he knocked his present army about there was no other to replace it. Milner saw many generals in France and they were all most optimistic. The manpower is the trouble, and Douglas Haig and Foch …can't understand it.
What the political leaders discounted too easily, in their impatience for results, was Haig's expertise. He now set about a series of superbly coordinated plans, designed to maximise the potential of combined operations with the French. On 21st September, he met his army commanders and told them:
… the objective of the main British effort will be the line Valenciennes-Le Cateau-Wassigny. We are confronted by a strong, well sited series of defences… I therefore do not propose to attack until the American-French attack has gone in.
Two days later, at a conference of the Commanders-in-Chief at Bombon, Foch's headquarters, a series of attacks in the upcoming offensive from the Meuse to the North Sea was agreed, as Haig summarised:
September 26th — A Franco-American attack between the Suippe and the Meuse.

September 27th — An attack by the British First and Third Armies in the general direction of Cambrai.

September 28th — An attack by the Flanders Group of Armies between the sea and the Lys, under the command of the King of the Belgians.

September 29th — An attack by the British Fourth Army supported by the French First Army, in the direction of Busigny.
Up to a point, the French and British felt sanguine about the planned assault by the Americans. After their success the previous week at St Mihiel — their first action as a fully independent unit — Pershing and the American First Army were basking in a flurry of congratulations, including those of President Wilson. Petain and Foch went to St Mihiel on 20th September and Pershing noted in his diary that the Generalissimo seemed "in excellent spirits and most delighted with the operation".
Soon after that, he himself paid a visit to Petain at Verdun, joined by General Gouraud. The pleasantries were dispensed with, and everyone got down to plan the battle. When talk turned to the vexed question of whether a pre-battle bombardment would happen, and for how long, Pershing appears to have become testy. No final decision had yet been made, he told the French. And it was he, Pershing, and he alone, who would make it.
The bigger headache concerned getting American troops into position. Pershing was blessed in being able to rely on the services of Lt Col George C Marshall, one of the greatest organisational geniuses of the century. The logistics of moving 400,000 soldiers some 50–60 miles, along with their ammunition, food, fuel, medical, motor and tank supplies, all in time for the attack on 26th September, were eye-boggling. Nearly 3,000 guns with 40,000 tons of ammunition were needed, as well as replacement ammunition at a rate of 3,000 tons a day.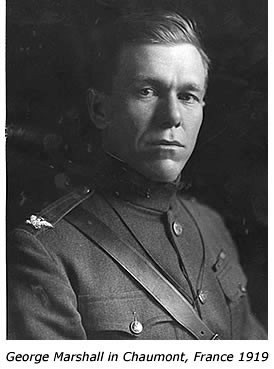 Marshall was more than equal to the task. The troops marched at night, and hid in woods during the day, eating only cold monkey meat since it was feared that cooking fires would alert the enemy to their presence. The other half of the equation was the removal of 220,000 French and Italian soldiers, currently holding the position. Bad weather turned roads into quagmires, and thousands of the 90,000 horses currently hauling supplies through the waterlogged land near the Meuse, collapsed or died — another cause of huge traffic jams.
Germany's allies were — not quite, but almost — in free fall. Austria-Hungary had made overtures the previous week for a negotiated peace, which received a big thumbs down from President Wilson, and soon afterwards by France, Britain, and Belgium. Total victory alone would suffice. On 18th September, Clemenceau delivered a speech to the Senate on the subject:
…we should be untrue to ourselves if we forgot that the greatest glory will be to those splendid poilus who will see confirmed by history the titles of nobility which they themselves have earned….What do they want and what do you? To keep on fighting victoriously until the moment when the enemy will understand there is no possible negotiation between crime and right.
Terms like "unconditional surrender" were not then in general use, because the need for them did not have the historical context which, three decades later, it most certainly would. What was clear was that the Central Powers were in big trouble and that their plight needed to be made a good deal worse before they would bow to the inevitable. Even a figure far removed from the centre of power such as the American surgeon, Harvey Cushing, who was currently preparing to receive those wounded after the imminent offensive, could see the Germans were in dire straits:
22nd September Continued British and French pressure reported between Cambrai and St. Quentin — a new offensive on a large scale in Palestine by Gen. Allenby — the pursuit of the Bulgars progresses around Lake Dorian with another 5000 prisoners — reports of activity, too, come from the Archangel and the Murmansk fronts.

The Boche needs to look many ways.
How right he was. The chaos and cruelty of Russia had long become a matter which lay far beyond the power of the Germans, or of anyone else, to quell.
It was no better this week. There was the usual rash of furious local contests: on 18th September, on the Murmansk front, the Karelians defeated the German-led forces from Finland and drove them back to the border. Two days later, a combined Bolshevik and German force defeated the Czecho-Slovaks — an unholy alliance which testified to how far the world had changed since 1914.
Elsewhere, Terror continued unabated. One report came this week from the Russian-born, American-educated academic, Alexis Babine, who had returned to his homeland in 1912 and taken up a university post in Saratov on the lower Volga. Returning there from Moscow on 23 September, Babine recorded that he met many who hated the Bolsheviks and their "despotism, cruelty, restrictions on commerce, and the constantly growing scarcity of food supplies." On arrival, he learned that twenty hostages had been shot after the failed assassination attempt on Lenin a few weeks earlier, and another 150 'conservatives' imprisoned. The town had become a byword for random executions, confiscation of property and brutal beatings. The moral degeneracy of local Bolsheviks fully matched that of the previous Tsarist officials: a favoured ruse was to promise a stay of execution for a bribe of alcohol, and then to execute the victim anyway.
International admonition seemed simply to have encouraged the Bolsheviks to ratchet up the pressure on foreign diplomats. The American Consul, DeWitt Clinton Poole, was now ordered to leave Moscow, and crossed the border into Finland on 23rd September, just minutes before the order for his arrest arrived. Other diplomats were not so lucky, and were holed up in prisons. That same day, Ambassador Francis sent a telegram to Washington asking:
Can Department advise me whether a state of war exists between the United States and the Bolshevik Government?
The fate of Russia was one which was becoming increasingly detached from the story of the Great War. This was not true of some of the nations near her border — least of all, Bulgaria. Germany's ally now suffered a full-scale defeat at the hands of French, Serb and Yugoslav forces. It was a stunning blow for the Central Powers.
The fact that an Englishwoman, Flora Sandes, was a much-decorated Major in the Serbian Army would, in time, help to make this theatre of war more memorable for some of her countrymen. For so long, she had confronted contempt and obstruction — as when, earlier in the summer, her request for a dozen pairs of socks for her Serbian soldiers had been refused by a British officer. Instead, she raised the money herself, giving talks in Britain and in YMCA huts in northern France. In time she and her co-worker, the Hon Evelina Haverfield, had supplied over 150,000 men with tea, lemonade and cigarettes at their canteens, and managed to clothe thousands of soldiers — including with 11,605 pairs of socks.
But she was a soldier, first and last. Having endured yet another operation to remove a nineteenth piece of shrapnel which had been lodged in her body since she was seriously wounded in November 1916, she now rejoined her company in the Morava Division of the Serbian Army, in time for a fresh assault on the Bulgarians. Launched on 15th September, the first two days had gone brilliantly, and the Serbian Second Army with the French Colonial divisions advanced rapidly in the difficult mountainous terrain. Sandes wrote home that,
It would have been no earthly use giving us blankets. We should have thrown them away, as we did everything else that would have impeded our progress, excepting rifle, ammunition, haversack and water bottle.
As the Bulgarians retreated, they set fire to the dry scrubland, long grasses and woods thereby creating an effective screen of acrid dense smoke and heat. On 20th September, she noted:
Went the whole day over these infernal hills in the blazing sun, not many kilometres but hills like the side of a house, scorching hot and no water anywhere. The men are dropping with their heavy packs and I am just hanging on by the skin of my teeth.
They had very little to eat, their feet were bleeding, but the worst thing was the lack of water. On 21st September, three men of the Second Company, pinned down by enemy fire, died of thirst. On 23rd September, French cavalry entered Prilep, the first sizeable town to fall to the Allies since 1916, and the enemy streamed north towards Veles, pursued by Allied troops. The British advanced north of Lake Doiran and cavalry pursued the retreating Bulgarians along the road to Strumitsa. The Bulgarian rout was complete.
Sandes shared the feelings of her soldier-friends:
The men are splendid, dead tired, almost barefoot [and] nothing to eat till nightfall…they are in the height of spirits.
Yet the victory came at a high cost: those British soldiers fighting in the Battle of Doiran suffered particularly, as the Official History recorded:
In the two days the losses of the 22nd Division, plus the attached 77th Brigade and the portion of the 83rd which was also attached, were 165 officers and 3,155 other ranks. More than one battalion lost over 70 per cent of the numbers which went into action.
Rather like those soldiers of a later generation who fought against the Japanese, British troops who took part in the 'sideshow' at Salonika would always feel undervalued — part of a largely-forgotten army whose gallantry and endurance never received much recognition.
Perhaps the same might also be said of Allied forces fighting in the Middle East which this week achieved a success even more stunning, and apparently every bit as conclusive. Strategy in the region at the start of the war had focused on the protection of the Suez Canal, but had evolved into a plan to invade Palestine and seize Jerusalem. This was less to do with land-grabbing and more about driving the Ottomans out of Palestine and Syria, thereby taking Germany's ally, Turkey, out of the war.
Although Jerusalem had been taken, the British C-in-C, Sir Edward Allenby's Egyptian Expeditionary Force had been weakened when several of the best divisions were sent to France in response the German spring offensive. Now, thanks to a large contingent from the Indian Army, it boasted 57,000 infantry, 12,000 cavalry and 540 guns — a favourable tally, given the 26,000 Turks under the command of the German, Liman von Sanders. Critically, the RAF could supply 100 planes and the Germans only had fifteen.
On 19th September, the battle of Megiddo began when a sole Handley Page heavy bomber dropped its sixteen 112-pound bombs on the telephone exchange and railway station at Al-Afuleh, thereby severing communications between von Sanders in Nazareth and his armies on the front line. Messudieh railway junction, the headquarters of the Turkish Seventh Army and the telephone exchange at Nablus were also bombed. Four hours later, at 4.30 am, the British guns fired at the Turkish 7th and 20th Infantry Divisions. The Turks were taken totally by surprise as British and Indian troops swept forward under a creeping barrage. By dawn the next day, the Turkish 8th Army was all but destroyed, its remnants disappeared into the hills. At dawn, patrolling planes spotted a 'great greyish-black snake, nine miles in length'. Ruthlessly, for about four hours, wave after wave of Allied planes bombed and strafed the retreating Turks, trapped without cover by the steep sides of the defile.
According to TE Lawrence, "The RAF lost four killed. The Turks lost a corps." British cavalry later found a six-mile area covered in smouldering wreckage. The Allied advance continued: Haifa and Acre on the coast were taken on 21st September while cavalry continued its pursuit of the Turkish 4th Army. By 23rd September, 25,000 prisoners had been taken and 260 guns. Allenby wrote to CIGS Wilson that "everything went according to plan, without a hitch" and praised his Indian battalions which "did grandly, despite their newness and short training".
On 21st September, TE Lawrence visited Allenby at his headquarters in Ramleh:
There I found the great man unmoved except for the light in his eye as Bols [his chief of staff] bustled in every fifteen minutes, with news of some wider success. Allenby had been so sure, before he started, that to him the result was almost boredom…
That imperturbability ought not to deceive. The fighting had been hard, and the conditions of heat, dust and exhaustion put extra strain on troops, especially the new recruits. A sense of the deep relief afforded by success is apparent in the rather stuttering response of Lieutenant-Colonel HJH Davidson's to the compliments of his Brigadier:
I think we have about broken the Turkish Army. My boys were so splendid. They have pulled me through…You cannot imagine my feelings. I told you all along I had a topping lot of boys.
The idea of "pulling through" was, strangely enough, not entirely remote from what was happening on the Home Front. Premier Lloyd George found himself forced to remain in Manchester following his recent speech, having fallen seriously ill with influenza. On 21st September, he returned to London, still wearing a respirator, to undergo a working convalescence. He was, however, enough himself to worry about his mistress, Frances Stevenson, who was also ill.
Influenza, which had threatened to become a full-blown epidemic a few months earlier before diminishing, suddenly re-emerged everywhere. Franklin D Roosevelt, Assistant Secretary of the US Navy, was one of dozens who contracted the disease while returning home from Europe on the troopship Leviathan. By the time he docked in New York on 19th September, he was described as looking "rotten" — but he was alive. Many on board had died during the voyage home and been buried at sea.
Roosevelt, presumably, could afford the very best care. Thomas Livingstone, a Glaswegian who kept a meticulous war diary, was not one of those.
21st September Tommy [his son] completely all out. No appetite, sick, headache, tired, sneezing, restless. Kept him in bed all day. I went for doctor about 9.30 but it was too late. Tommy feverish and delirious during the night, so we took turn about sitting up. I've got a dose of the cold myself. Great British victory in Palestine. 3,000 Turks captured.

22nd September Tommy not any better. He can't eat yet. As the doctor did not come, I went out to his house in Cathcart at tea time. He thinks Tommy has influenza and will come tomorrow. He gave me a line for three powders, which I duly got in a chemist. A worrying sort of weekend. Allies advancing on all fronts.

23rd September Doctor Gardiner up today. Tommy has got the influenza. To be kept in bed. Milk diet etc. His temperature is high.
The extent to which influenza would lay waste was not yet known. For now, even the most practical and least introspective of men were daring to believe in a future. On 20th September, Haig wrote to the CIGS, Sir Henry Wilson
…I am not nor am I likely to be a 'famous General'. For that must we not have pandered to Repington and the Gutter Press? But we have a surprisingly large number of very capable generals. Thanks to these gentlemen and to their 'sound military knowledge built up by study and practice until it has become an instinct' and to a steady adherence to the principles of our Field Service Regulations Part I are our successes to be chiefly attributed.
That was vintage Haig — no cult of personality there. His rigid self-effacement contrasts favourably with the histrionics of the Kaiser who, on 19th September, volunteered the information that:
…I haven't had a wink of sleep since I left Wilhelmshohe. I'm gradually cracking up…The troops continue to retreat. I have lost all confidence them.
Princess Blucher, a far more perceptive character than her Emperor, or most of the military top brass, pondered Germany's plight in her diary this week:
… Do Hindenburg and Ludendorff at last realise the truth of Kuhlmann's words, 'The war can never be settled by military methods alone,' and are they cunningly retreating in time, that peace may be based on the fact that the German army has quitted the enemies' land? Or do they fear the spirit of their own troops? Again and again I have heard rumours of German regiments refusing to attack when ordered to do so; in other words, that a spirit of mutiny is arising here and there amongst the exhausted soldiers
The fate of ordinary soldiers should surely have been the litmus test for anyone wishing to understand what was happening in the world. On 17th September, Lt Col Feilding spent the day making recommendations for awards, lamenting as he did so the need to indulge in the "flamboyant language of the Penny Dreadful" in order for nominations to be taken seriously.
This appears not to have been an exaggeration. In his letter home, he mentioned one Commanding Officer whose application for a Military Medal for one of his men had been turned down.
The C.O. was disappointed, since the case was a particularly deserving one, but, nothing daunted, he tried again. He rewrote the story, racking his brains for the most extravagant language he could muster. His success exceeded his wildest expectations. The man got a V.C.
The next day, dramatic news arrived out of the blue. Feilding was told he and his men were being moved to the Italian Front:
I will not disguise the fact that the prospect of a change of climate and 'entourage' has caused delight among the troops, as it has to myself. We shall be four days on a troop train.
This supremely unselfish man could be relied upon, every time, to think first about those in his care. As such, he rejoiced.
For himself, he acknowledged ambivalence. The memories of war, in all its terr
or and intensity, could not be laid so easily aside:
I say I am glad, but, truthfully, I shall feel a little sorry at leaving France. It is a cursed war, and I dislike the whole business as much as anybody. Yet I love it: it has been the breath of life to me, and I shall always look back upon the time I have spent here with great happiness.