IN THE MIDST of horror, an avenging angel is always welcome.
In France, soldiers in the Hood Battalion fighting their way through mud and blood and guts — all three in generous quantities — were uplifted this week by the calm example of their commander, Arthur 'Oc' Asquith. Oc was legendarily brave, and fiercely protective of the men under his command.
Based near St Julien, four miles north-east of Ypres, he had faced a bawling out by Brigadier General Philips, his superior. The usual repertoire of complaints rolled out — temerity to question orders and so forth — at which Oc appears to have held his tongue.
When, however, the Brigadier asserted that Oc's men were 'not working well' when they were supposed to be repairing roads, the former PM's son had a sense of humour failure. He replied that:
I am unable to inquire into the alleged slackness of the few men you mention unless I know their Platoon and the time at which they were smoking and doing no work. I have not yet found any signs of slackness, or want of supervision among the officers, of whom one has been killed and two wounded on this work during the last three days.
Military discipline did not encourage anyone, even the son of a former PM, to give lip, but Oc had the advantage of being unimpeachably brave and vastly experienced in the field. One suspects the Brigadier (the rank to which Oc himself would soon be elevated) retired at this point, hurt.
Not as hurt as some. Thomas Macmillan, a clerk at Brigade Headquarters and devoted to Oc, described a visit to the front:
We had to proceed cautiously over the greasy duck-board track, on each side of which the day's casualties lay half-buried in mud. Occasionally we halted in order to negotiate some awkward bend on the track: to have lost a footing might have meant slow and certain death from drowning in a waterlogged shell-hole.

The clayey soil had been pulped by the enemy's artillery, while the continuous rain had transformed every shell-hole into a muddy pool. Succeeding salvoes had enlarged the shell-holes, and in one of the largest of them I discovered all that remained of a battery of our field artillery. Men and horses, half-submerged, eyed us with a glassy stare, and the brown water ran red with their blood.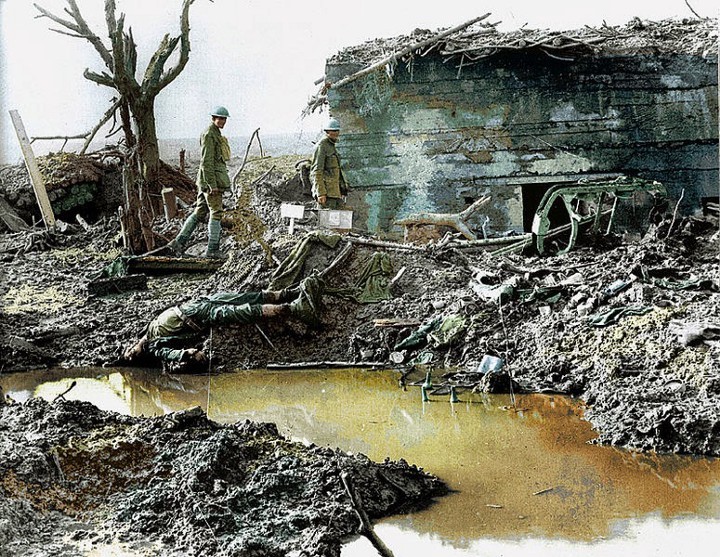 It was into these conditions that, on 20th October, Oc was ordered to take his Hood battalion to prepare for an action six days later, attached to the 188th Brigade, to cover the left flank of the Canadian Corps. As Jerrold, the official RND historian, would write: 'The Division was never confronted with a task which, on the lines laid down to them, was more impossible of fulfilment.'
But Passchendaele, of course, was an apotheosis of doing, or seeking to do, the impossible. Eight days earlier on 12th October, the American surgeon, Dr Harvey Cushing, had been puzzled why, given the atrocious weather, the attack scheduled for that day had not been postponed. A British officer had explained that the preparations were already so far advanced that it would have taken two days flat out work just to halt it.
Cushing noted laconically:
Men who are trying to struggle on, waist deep, in a morass full of shell-hole ponds into which they can slip and drown, made an easy target for machine-guns.
Just as Oc found himself battling with his Brigadier, so Cushing had to tackle the inevitable bureaucratic wrangling which followed on from the increasing American presence on the Western Front. Should his unit remain with the British or be transferred to the Americans? If the former, then: 'I am to take charge of all the cranial work of the BEF…'
The wrangling wasn't just the result of the pettifogging British. On 18th October came a news of a mix-up between the Red Cross and the U.S. Army:
No longer possible on short notice to get such things as warm underwear for hospital nurses by requisitioning the Red Cross, which has them in stock. Requests must go through the regular army channels, with the goods possibly delivered some time next spring.
And, in almost every waking hour, he had to operate. According to his diary:
20 October 10 p.m. A full operating day… 5 perforative cases, a Lancashire Fusilier, a Northumberland ditto; a man from the Tank Corps hit while on a salvage expedition trying to rescue a mired tank; an artilleryman from a siege battery; and also a boy hit while taking rations across No Man's Land during the night…Our 'take in' was slow — -less than the 200 in 24 hours.
Next day, he went to visit a friend's grave in Dosinghem:
It's dreadful to see that place grow — a thousand burials in the past three weeks. A service going on — a Padre, a Tommy at attention at the foot of the grave, a body in a blanket barely showing above the surface of the muddy water in the bottom of the ditch.
On 22nd October came the latest big push. Cushing recorded:
Zero hour was 5.35… Walking wounded began to come in about 2 p.m… very muddy but, as usual with walkers, optimistic and jubilant at getting back with a prospect of a Blighty… The conditions must be appalling… During the early attack in the mist, dummy figures of cardboard were put out to draw the enemy's machine-gun fire, and the barrage was to advance and recede so as to catch the Boche after he had come out of his dugouts and pillboxes. A German threw away his gun and floundered up to one of the dummies shouting 'Kamerad'…
A letter from Vera Brittain, written on 12th October from the 24th General Hospital in Etaples, had just reached her mother. It describes the medical fallout from the early battles of Passchendaele:
Three times this week we have taken in convoys & evacuated to England, & the fourth came into our ward all at the same time. Every day since this day last week has been one long doing of the impossible — or what seemed the impossible before you started… I never knew anything approaching it in London, & certainly not in Malta. No one realises the meaning of emergencies who has not been in France. Nor does one know the meaning of 'bad cases' for they don't get to England in the state we see them here; they either die in France or else wait to get better before they are evacuated…
The grand design of Third Ypres — to break the will of the Germans and chase them east — seemed as elusive as ever. A French attack west of Craonne on 16th October was repulsed by the Germans who managed to infiltrate French trenches at Hill 344, Verdun, the following day. On 21st October, the Germans launched a powerful attack on Bezonvaux near Verdun and on 22nd October, yet another attack was launched in the battle for Passchendaele. This time a Franco-British force advanced on a 2.5 mile front between Poelcappelle and Houthulst Forest, capturing the southern end of the forest and taking 200 prisoners — gains were more or less lost later the same day.
Haig continued to plan further attacks. He heartily endorsed General Kiggell's view, expressed on 15th October that 'the Huns are weakening and may give way at any moment'. Having exhausted the British and Anzac divisions, he entrusted the next phase of the battle to the Canadian Corps whose commander, Lieutenant-General Sir Arthur Currie, warned Haig on 16th October that, if battle went ahead, 16,000 casualties were likely.
All this while torrential rain fell. Crawling inches among the mud was no one's idea of a Good War. The British were also enraged by a string of highly successful bombing raids, and by the death and destruction rained down upon them by Gothas and Zeppelins. Revenge was sweet, but hard to come by — it was much easier for German aeroplanes to attack Britain from occupied France and Belgium, than for the RFC to reach Germany.
On 17th October, however, an attempt was made. Eight de Havilland 4 daylight bombers of №55 Squadron attacked the Burbach works near Saarbrucken. A German official report later acknowledged
damage to the railway lines, the walls of the condensing tower, and especially to the casino buildings and to neighbouring houses… damage 17,000 marks.
It would be the first of many such raids.
Two days later came the payback. Although Zeppelins had had a paralysing effect upon the civilian population when they had first appeared over Britain, that time was now well past. Their immense size and slowness made them highly vulnerable to attack, which was one reason why many in the German High Command had started to favour Gotha raids. However, on 19th October, eleven so-called 'Super Zeppelins' — capable of reaching more than 20,000 feet — set off to bomb the Midlands and the North.
Who should one feel sorrier for — the intended target or the wretched crew? The former, doubtless — but it is impossible for one's heart not to wring at the thought of these freezing German boys, starved of oxygen and riven by altitude sickness. Once over 20,000 feet, the crews unexpectedly met gale-force winds from the north-west which forced them off course, dropping bombs as they went. Most bombs fell on London, including Hendon and Piccadilly Circus.
A total of 36 were killed and 55 injured. A 300lb.bomb from L.45 exploded in Lewisham, destroying three houses and damaging others. Five women and nine children were killed, including seven siblings from the Kingston family: Annie (18), Bridget (16), Mary (11), Kathleen (10), Richard (8), Thomas (6), and Edith (3).
At this point, no doubt, one should stop worrying about the crew. None of the British aeroplanes which set off frantically to destroy the raiders could get anywhere near — 20,000 feet was way too high for aircraft of that era. When the airships descended, however, it was another story: L.44 and L.45 were shot down over France and Germany by British and French planes; L.55 crashed on its return to base, and L.50 was swept out to the Mediterranean and was never recovered. French pilots managed to force L.49 to the ground thus securing the only Zeppelin to be captured intact during the war.
For all the death unleashed, air aces exuded an irresistible glamour. Trenchard's ADC, Maurice Baring, mentioned in a letter of 17th October that,
Yesterday I took Major Orpen to a Squadron where I think he enjoyed himself and today he will probably paint a portrait of a pilot namely Rhys-Davids who… has brought down a whole bevy of Huns.
Orpen was, of course, the great Irish portraitist, Sir William Orpen. Arthur Rhys-Davids, MC, had been a brilliant student at Eton from which he had been decanted a year before being awarded the DSO on 1st October for 'conspicuous gallantry and devotion to duty in bringing down nine enemy aircraft in nine weeks'. By this time, he was already hailed a national hero, having downed the German ace, Werner Voss, on 23rd September.
Five days before his sitting, Rhys-Davids had secured his 27th kill. But the impression he left on the artist was that of a gentle soul. Orpen believed Rhys-Davids 'hated fighting, hated flying, loved books and was terribly anxious for the war to be over, so that he could get to Oxford'.
Three days later, on 20th October, a letter home, penned by Second Lieutenant H.G. Downing, testifies to the courage of another young pilot:
Well, I am still in the land of the living and am enjoying myself no end. It is quite like old times. I had an exciting experience a day or two ago. You know how misty the weather is nowadays. Well, we were flying about over the line, when a fellow and myself lost the rest of the patrol in a fog and we had not a bit of an idea where we were, so we came down to a few hundred feet from the ground.

Presently we came to a large Town, which puzzled me immensely, and I circled round quite comically trying to locate it on the map. I thought, and so did the other fellow, that we were on our side of the lines. Imagine my surprise when I discovered it to be about 12 miles in Hun land. We were soon greeted with shells and machine gun fire. So of course we frightened everything we met on the roads, diving quite close to the ground and on to motor lorries etc. and I bet we scared Huns out of their lives. When we eventually came home we noticed all the roads quite clear of men and lorries etc… so we were immensely bucked with ourselves and enjoyed a jolly good breakfast…
This jolly japes language should deceive nobody. Downing and his family can have been under no illusions: life expectancy for RFC pilots on the Western Front was only a matter of weeks. He would be posted as missing in action within a month.
There is ample evidence that war had long exhausted its novelty value. Materially, the British — soldiers and civilians alike — had a better time of it than the Germans, but by late 1917 the British were stretched here too. The diary of Thomas Livingstone in Glasgow testifies to anxiety at the cost and availability of life's staples:
Tuesday, 16 October Coal selling today for 1/11 per bag. Eggs 3/9 per bag…

Wednesday, 17 October We got our sugar ticket today…

Thursday, 18 October Filled in my sugar ticket tonight.

Saturday, 20 October Tea 4/- a pound now, and very scarce. Currants scarce too.
Livingstone was observing, not whining. His diary was full of hard war news as well. But food mattered, and for that one cannot blame him. The surgeon, Harvey Cushing, was delighted to have been invited to take tea with the 2/Scots Guards on 19th October, partly because they had real milk. Indeed, his diary recorded, they owned:
…three cows which go everywhere — except over the top — with the battalion; they were commandeered in this Ypres sector just three years ago, this month, their owners having taken flight… Tomorrow at 4 a.m. when the Guards move back to St Omer for a rest, the cows go along in a boxcar attached to the officers' train, bearing the label: 'horses, 3, officer's'.
The privileges of officers belonged to a world in which traditional hierarchy still held sway. In Britain and the West, these occasioned resentment, but not to the extent that class relationships had become poisoned. In Russia, of course, it was a very different story. There, political debate focused upon whether or not to end the war. German military successes in the Riga region over the last days had spread panic, and contingency plans were drawn up for moving the capital from Petrograd to Moscow. According to American journalist, John Reed:
In the barracks, the factories, on street corners, endless soldier speakers, all clamouring for an end to the war, declaring that if the Government did not make an energetic effort to get peace, the army would leave the trenches and go home.

The spokesman for the Eighth Army : 'We are weak, we have only a few men left in each company. They must give us food and boots and reinforcements, or soon there will be left only empty trenches. Peace or supplies — either let the Government end the war or support the Army.'
On 18th October, Georgy Knyazev was in despair:
Russia is in the grips of anarchy, with Petrograd blighted by murders and robberies. There were 77 acts of violence last night alone. A whole family was slaughtered the other day in Lesnoye. The suspects are police officers… There's hooliganism at every turn, and there's no reining it in…
Hooliganism was the least of it. By now, revolution lay — scarcely — in the wings. On 20th October, Lenin's wife, Krupskaya, recorded that her husband was back in Petrograd but still in hiding. That day, the 'Provisional Council of the Russian Republic' opened with a speech by Kerensky (he was keen on these) outlining plans for a Constituent Assembly. Trotsky and the Maximalists staged their customary walk-out having refused to support either the government or the Council. Two days later, in the course of a stormy meeting of the Petrograd Soviet, he accused the beleaguered Russian premier of treason.
The political tragedy of Russia was manifested in its military plight. All week, the Germans continued their powerful assault on the islands near Riga. An attempted German landing on Dago Island was repulsed on 17th October, but, by midweek the Germans were also in possession of Dago and Schilden Islands and then landed on the Russian mainland at Verder opposite Moon Island. They claimed to have taken 20,000 prisoners and 100 guns in the last nine days of fighting.
There was also renewed fighting in Italy, along the Trentino and Carnia Fronts, with considerable artillery activity. On 22nd October, the Italians repulsed a strong Austrian-German attack on the Cadore Front in the Dolomites. The conflict had been operating at a less intense pitch than that in the Western Front, but its strategic significance was potentially immense. An Austrian collapse, should it occur, risked forcing the Germans to divert more troops from the West in order to shore up the crumbling Habsburg Army. On the other hand, if the Russians really did collapse, they would have the chance of taking large numbers of troops from the East with a view to a final reckoning in the West.
Too many problems for all parties. Back in England, Cynthia Asquith — when not diverting herself at the hospital bedside of Brigadier General Freyberg — had taken a fond (if doubtless somewhat grande dame) interest in the fortunes of the writer DH Lawrence. Quite apart from courting controversy by writing books whose subject matter was widely considered unsuitable, Lawrence gained further notoriety by being married to someone who was an aristocrat, a German, and a cousin (five times removed) of the Red Baron.
Cynthia Asquith's diary takes up the story:
October 16 D.H. Lawrence came to see me at five, looking very gaunt. Last Friday the police searched their house, took letters to Frieda, and told them they must leave at once. It is hard for him. In Cornwall he lived so cheaply and healthily, and he will have to go on paying for the house there. His health doesn't allow of his living in London and all the money he has in the world is the prospect of eighteen pounds for the publication of some poems all about bellies and breasts which he gave me to read. People should either be left in peace or interned at the country's expense. I promised to do what I could in the matter, but doubt whether it will be much — after all, the woman is a German and it doesn't seem unreasonable.
A couple of days later, the narrative was nicely spiced up with Asquithian contempt for the man who had replaced her father as Prime Minister the previous year
October 18 …Bicycled to lunch in Cavendish Square. Margot [Asquith] told lurid tales of Lloyd George's cowardice during the raids: she said his appearance of terror was such that two typists fainted at the mere sight of him, thinking some appalling disaster must have taken place.

October 21 …The Lawrences came to tea… We were not able to hold out any hopes of their being allowed to return to Cornwall. Their exclusion seems so very reasonable…
The last two sentences encapsulate a perspective which seems strange to those who have lived in peacetime. Cynthia Asquith was very fond of Frieda Lawrence, but the implications of war between their two countries were unforgiving. Personal ties had no place whatsoever.