TO WIN THIS war — what was it going to take?
Asked the same question back in 1914, the British might have plumped for Dreadnoughts — or even cavalry. In 1916, Haig believed salvation relied on field artillery, machine guns and defence in depth. In 1917, it seemed as though U-boats might prove decisive, or tanks.
By the end of January 1918, we knew: — it was all of these, and a virtually inexhaustible supply of men ready to fight and die. And therein lay the problem: Haig and his staff were wrestling with worries over manpower.
In fact, the British had a goodly supply of men of fighting age, although too many of them seemed somehow disinclined to cross the Channel. In January 1918, there were 74,403 officers and 1,486,459 other ranks on the British mainland, of whom (excluding Dominion forces) 607,403 were available for general service —" lots of troops in Norfolk", in the words of one wry commentator.
The Government had passed laws, ordering men to be withdrawn from industries, including munitions, in order for them to get trained up and sent overseas. But Lloyd George hesitated to shake that particularly tender plant too vigorously.
One reason was a reluctance to provoke industrial action. In 1917, there had been 588 strikes in Britain with 5,766,000 working days lost. Reluctance to wear khaki was explained not merely by a disinclination to get killed, but also by a reluctance to sacrifice relatively high wages for the modest stipend of a private soldier.
Another, and bigger, reason was that the PM did not trust or much like Field Marshal Haig, and he had it in him to be ruthless. He had already removed Jellicoe from the Admiralty at Christmas, and was now angling for the removal of CIGS Robertson. On 22nd January, he saw the King's Private Secretary, Lord Stamfordham, and "opened his heart" about the conduct of the war, deeming a breakthrough on the Western Front never achievable.
Was that an honest opinion, or had Lloyd George been assailed by a sudden fit of gloom? He admitted to "profound dissatisfaction with and distrust of the Army" and described the War Office as "rotten and extravagant in men, money and material".
Lloyd George had already created the Supreme War Council with his eye on a future unified command. Robertson kept his job — for now. Meanwhile, General Smuts and Cabinet Secretary completed their tour of the Western Front on 27th January, which they had carried out at the PM's behest, and returned to brief him.
Hankey found General Byng of the Third Army
very suspicious of the Prime Minister and (like many officers I have met out here) was firmly convinced that he was responsible for the recent Press campaign against the Higher Command.
He wasn't the only one, either. General Gough, commander of the Fifth Army, wrote in pungent terms on 25th January to Oc Asquith, recovering from a leg amputation in hospital:
All will be well if the vile campaign now being conducted by Northcliffe and his Press does not undermine the confidence and the discipline of the Army.
Hankey's conclusion was that
the Army is in fine fettle, though a little tired. I think it will hold out against any attack, but I do not think that it would be right to expose it to another prolonged attack of the Somme–Flanders type…
This seems a very assured and sweeping assessment for a civilian to have made, especially on the basis of a short and no doubt sanitised tour. One wonders why Lloyd George would be troubling to take any of his views seriously — unless, of course, they could be used to corroborate his own. To judge from a letter written on 26th January by Haig's former Intelligence Officer, Brigadier Charteris, this seems plausible:
L.G. tried to get D.H. to commit himself to the opinion that the German Army was down and out, and that therefore there would be no German offensive in spite of the fact that all the Intelligence reports show conclusively that the Germans are staging an attack. D.H. refused to commit himself, but the Cabinet seem to have made up their minds that there will be no attack…
As Charteris noted:
…The whole inner meaning of this is the man-power problem. We are far below establishment. The Government either cannot or will not bring us up to strength, and is trying to unload its responsibility on to G.H.Q…

So… we are confronted with:

A longer front to hold.
Reduced establishment to hold it.
No hope of reinforcements.
A German attack in greater strength than anything we have yet experienced.

Not a cheerful prospect.
Charteris was right. The British Army in France was seriously weakened by the end of January 1918. Five divisions, under General Plumer, were still in Italy, and relatively inactive. They had been sent there in the wake of the Italian defeat at Caporetto, partly to buoy up the Italians, and partly because it pleased Lloyd George who deplored the total focus on the Western Front. This left the BEF 100,000 men under strength and, following the agreement signed at Boulogne four months earlier, it had also taken over more than 28 miles of front from the French.
So there was a problem, one made more menacing by signs that a new enemy offensive was imminent. Facing the British were almost half of all German divisions in France, with more expected as Russia withdrew from the war.
To square the circle, the War Cabinet's solution was to demand that each brigade was to be reduced from four battalions to three, and each division from twelve battalions to nine. Fiddling the figures, in other words. Politicians usually end up behaving in rather predictable ways.
Quite how this was supposed to make it easier to fight Germans was not convincingly addressed. Moreover, the human cost of disbanding 141 battalions was felt keenly. Army Chaplain Julian Bickersteth wrote home bitterly on 26th January:
…I have seen many sad sights out here in France, but I have never witnessed anything sadder than the destruction of a battalion of battle-comrades. It is not good to see strong men weep.

…I only consoled myself with coming to this job at Divisional HQ by the thought that I was near to my first and only love in the Army — the Rangers. Now that they have disappeared, things seem rather empty.

There is only one job for a chaplain in France and that is with the battalion. They are the fighting men, the men who bear the brunt of war, who get wounded and recover, return to the trenches and get wounded again until their time comes and they die. It is good to live with dying men — dying men who are in the full vigour of health and strength, whose comradeship is something past understanding, but sacred and wonderful.

These are the men who are always treated worst. They are the worst paid; they live in greater hardships; they are more away from their homes; they live in greater danger than any other man who wears the King's uniform. It is they who by their lives, their heroism and splendid unselfishness live very close to their God.

They have one consolation in the midst of what most people know to be a hopeless existence, and that is their comradeship, their friendship. It is this fact alone which helps them through — the comradeship of men who have shared countless hardships and dangers together; and now even this has been taken…

And then the country expect the 'morale' of the troops to be kept up!
The Dominion contingents, upon whom the BEF relied, were having none of it. Their ten strong divisions remained. The move almost certainly served to stiffen the sinews of the Americans as well, who were determined to maintain their autonomy and fight quite separately.
Whatever illusions the Cabinet entertained on the subject of German military intentions in France, British commanders were a hard-headed bunch. As Haig had divined, the Germans had no intention of sitting on their hands in 1918. As Ludendorff later explained:
…Against the weight of the enemy's material the troops no longer displayed their old stubbornness; they thought with horror of fresh defensive battles and longed for a war of movement… The interests of the Army were best served by the offensive; in defence it was bound gradually to succumb to the ever increasing hostile superiority in men and material.

This feeling was shared by everybody. In the West the Army pined for the offensive and after Russia's collapse expected it with the most intense relief.
The prospect of an offensive was profoundly unnerving for those in the front line. Lieutenant Colonel Feilding remarked wryly in a letter home this week that it was "one of the paradoxes of war that the further you get from the battle-line the more 'offensive' are the people you meet!"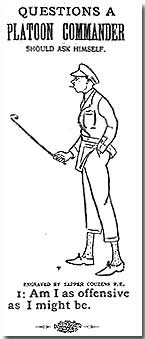 Even without that, conditions were dire: as the snow melted, the ground became saturated again and mud a major problem. Feilding returned on 28th January to the same trenches he had last inhabited a month earlier.
The change is remarkable. I left the trenches frozen like rock. I find them to-day, half full of sticky mud; twice as wide and half as deep owing to the caving of the sides; two layers of trench-boards buried 2 feet deep in glutinous mud. It is a labour to walk in them…

Indeed, for a few days past I find that the officers on duty on both sides have been making it a practice to walk along the parapet, so as to avoid the quagmire of the trenches. This morning, however, when an officer on our side tried it, the enemy opened with machine-gun fire: so this highly irregular practice is now at an end, which is perhaps as well.
On 22nd January, the Germans mounted raids near St Quentin and La Bassée. Three days later, they attacked east of Loos, without conspicuous success. The French continued their actions in Champagne. The British extended their line to south of St Quentin, but their major efforts just now were expended on bombing German aerodromes and installations around Courtrai, Tournai, Ghent and Douai.
When fighting in the air, the Germans seemed to prefer civilian targets. On the evening of 28th January, 13 Gothas and two "Giants" — outsized biplanes which served as strategic bombers — set off across the channel to raid the south-east. Dense fog and mechanical failure required half of them to turn back, but the rump which got through showered bombs on Margate, Sheerness, Ramsgate, Sandwich and London itself.
The deadliest fell on Oldhams Print Works in Long Acre which was used as a public shelter. Around 500 people were in the basement when 300 kg of high explosive smashed through the pavement and exploded below. One of those inside was a young boy who, many years later, recalled:
Everything seemed to be alight and falling on me. I was pinned to the ground with a piece of machine across my legs. My two playmates were missing and no trace was ever found of them. I can vividly remember women and children bleeding and burning, lying near me, and one woman with her dress blazing actually ran over me.
It would take weeks to search the rubble for bodies, but 38 died there and the raids that night accounted for 67 dead and 166 injured. Two British pilots succeeded in downing one of the enemy Gothas, but the "Giant" evaded both heavy barrage fire and an attack by a Bristol Fighter, and went on to drop bombs in Bethnal Green, Covent Garden and Hatton Gardens.
At sea, enemy engines of destruction seemed similarly indestructible. In the Dardanelles, the stranded Yavuz Sultan Selim, formerly Goeben, beached at Nagar Point, remained obstinately afloat. Allies pilots flew low under anti-aircraft fire to try to finish her off — an appallingly dangerous task, made more perilous still by ferocious defence from Turkish shore guns. In nine days, an estimated 276 flights were carried out, some 15 tons of bombs dropped and 16 hits scored — but still the vessel did not sink.
Death at sea was not confined to the Hellespont. At least 61 vessels were sunk elsewhere, including passenger ships, and around 140 lives were lost. On 26th January, two German submarines were depth-charged and destroyed in the North Sea, with the loss of 66 crewmen; two days later, another German U-boat struck a mine in the English Channel, and sank with the loss of all 43 crew.
One of the legendary survivors of the war — to date — was the redoutable Flora Sandes, the much-decorated British woman in the Serbian army. She was presently in London, defying the bombs and raising money to buy winter clothes for the Serbian army. Her first port of call had been to the British Red Cross representative in Salonika, who had done little but show her the door. Now she sought to capitalise upon her considerable fame with an appearance on 27th January at the Alhambra in Leicester Square. In an effort to coax funds, she had already published an article in the Weekly Dispatch before Christmas:
The terrible cold in the Balkans must be endured to be understood. The almost total absence of woollen garments which the men suffer from is likely to render their life in the trenches almost intolerable. Perhaps it may seem an extraordinary thing to appeal on behalf of an entire army but it must be remembered that the Serbian army depends for its entire sustenance on Allied support.
The purse strings were duly loosened. Sandes' reputation, (she had been appallingly wounded in November 1916), ensured generous press coverage of her visit, and also some royal favour. On 20th January, she was invited to Marlborough House to meet Queen Alexandra, mother of the present King and widow of Edward VII, and remembered the Queen as "such a very lovable old lady".
Queen Alexandra was a lot more than that: a game old bird, she had been particularly fascinated by Sandes' loaded revolver, still marked in its metal by the grenade that had wounded her.
She also had a visceral dislike of the Kaiser, her nephew by marriage, which long predated the outbreak of hostilities between the two nations. The old bombast's birthday on 27th January (his 59th) was a much more muted affair than in previous years. Sidelined by Ludendorff, he now had no serious role to fulfil and cut an increasingly forlorn figure. Leaflets distributed in the back streets of Berlin proclaimed "Down with the Kaiser, down with the Government."
One reason for his unpopularity was, undoubtedly, the serious hunger which now stalked Germany. The cumulative effect of the Allied blockade helped this week to provoke serious strikes in Berlin, Hamburg and Kiel.
Even the British picked up a sense that the supreme warlord was now widely derided. Feilding noted:
To-day is the Kaiser's birthday, and we half expected that things might happen, but there has been a thick fog, and all has been as silent as can be. I am afraid the troops are not so sorry as they ought to be.
There were no indications, however, that those controlling Germany's destiny had the least inclination to compromise, either in the fierce prosecution of war, or in what they hoped to gain from a victory. There had been a series of recent speeches on Allied war aims, and the Daily Telegraph contrasted what they deemed the constructive and conciliatory response of Count Czernin, Austria's Foreign Minister, to that of Count Hertling, the German Chancellor — which they described as "impudent". The reality was that the German military situation was, in relative terms, never likely to be as favourable as it was just now. Hertling was not about to blink.
German confidence owed much to the collapse of the Russians. At Brest-Litovsk, peace negotiations limped on, bad-tempered and inconclusive, while sober commentators wondered at what would become of the beast that the revolution had awakened.
Well they might. In Petrograd, Leighton Rogers, an American bank clerk, walked along the Nevsky and described
the frantic throng on the sidewalks, ragged, gaunt, worried, with the look of the fugitive imprinted on their pallored faces, hurrying along as though driven before a storm of unknown forces. People with rude bundles, some with hard-won loaves under their arms, and others with neither bundles nor bread, only the hunger for it.

Thin, aged children forced to labor before their time; crippled soldiers turned out of hospitals by their native country with no other payment for their sacrifice than the privilege of begging on its streets; and professional beggars everywhere… a panorama of 'les miserables'.
Dennis Garstin, a cavalry captain seconded as intelligence officer in the British Propaganda Unit in Petrograd, was depressed at developments:
The Bolsheviks are nominally at the head of affairs but in reality it's mob law — in which the mob is there but not the law. Trotsky and Lenin, hating the bourgeoisie more and more every day, issue new edicts, destroying everything, repudiating debts, marriages, murders, alliances, enemy crimes — oh, they are having a great time.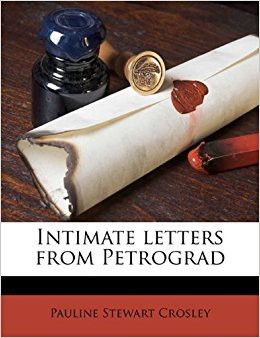 Another observer, Pauline Crosley, was aware of the
evident effort to drive foreigners out… Russia is a wonderful country, full of lights and shadows, though just now the shadows have the advantage. It is too bad that the world must lose so much that was beautiful in Russia to receive — what? Something much worse than nothing.
New Zealand-born journalist, Harold Williams, was the Petrograd correspondent of the Daily Chronicle. He had felt excited when revolution had broken out a year earlier, but —  rather like the Whig, Charles James Fox — had been disillusioned by events. In the Daily Chronicle of 28th January, he sought to explain why:
The Bolsheviks do not profess to encourage any illusions as to their real nature. They treat the bourgeoisie of all countries with equal contempt; they glory in all violence directed against the ruling classes, they despise laws and decencies that they consider effete, they trample on the arts and refinements of life.

It is nothing to them if in the throes of the great upheaval the world relapses into barbarism.
But the world had not, and would not. Barbarism remained a minority sport.
In dignified contrast, we may consider the death of Major William Gregory, MC, who died on 23rd January at the age of 36 when his plane crashed near Grossa, Padua. According to the squadron's driver, Frederick Burns,
…He [Gregory] went one day to visit a patrol over the lines and never returned… Observers saw the Major's Camel come down in a nose dive from a great height above the Asiago Plateau. The machine was a complete write-off.

I heard that the C.O. had been inoculated not long before his last flight and that he should not have flown so soon afterwards. The theory was that he fainted and lost control.
Gregory seems to have been one of those brilliantly gifted souls, sacrificed to war. An artist and cricketer, he had served with the Connaught Rangers before transferring to the Royal Flying Corps. Eleven months of continuous service in a Scout Squadron had earned him the MC for "having invariably displayed the highest courage and skill", and also the Legion d'Honneur for "many acts of conspicuous bravery". W.B. Yeats, a friend of the Gregory family, composed four poems in his memory:
An Irish Airman Foresees His Death

I know I shall meet my fate

Somewhere among the clouds above;

Those that I fight I do not hate,

Those that I guard I do not love;

My country is Kiltartan Cross,

My countrymen Kiltartan's poor,

No likely end could bring them loss

Or leave them happier than before.

Nor law, nor duty bade me fight,

Nor public men, nor cheering crowds,

A lonely impulse of delight

Drove to this tumult in the clouds;

I balanced all, brought all to mind,

The years to come seemed waste of breath,

A waste of breath the years behind

In balance with this life, this death.