WHAT CANNOT BE helped must be endured. That grinding saw seemed never truer than just now.
Indeed, on 18th January, Lloyd George made a speech to this effect in Westminster Central Hall. According to his secretary, Sir Maurice Hankey, he was in great spirits afterwards. The Daily Telegraph, hardly his biggest fan, conceded that Lloyd George is without equal in the department of oratory.
The PM was, in some respects, a raffish character, capable of being carried away by the exuberance of his own verbosity. But he had been disturbed by the extent to which the views of peace-mongers were gaining traction among the bien-pensants, and carrying labour opinion with them. In this address, he sought to tackle both by citing the example of Russia:
When the Russian soldiers ceased fighting and fraternised, and simply talked great ideals and principles to the German army, what did the Germans do? Did they retreat? No, they took Riga and the islands…and if Petrograd had been nearer they would have taken that too.
The Channel ports are not so far from the fighting line, and unless we are prepared to stand up to the whole might of the people who are dominating Germany now — and will dominate the world tomorrow, if we allow them — you will find that Britain and British democracy and French democracy are at the mercy of the cruellest military autocracy that the world has ever seen.

… My own conviction is this, the people must either go on or go under.
These were thoughts also on the mind of Burgon, the brother of the Army Chaplain, Julian Bickersteth. He was currently writing a brigade history of the Royal Dragoons and lecturing. In a letter of 21st January, he directly refuted the patronising assumption that ordinary soldiers were invariably uninterested in wider politics:
I spoke for an hour on German Ideals and War-aims, bringing in Mittel Europa, and contrasted the genius of France and Britain with them. The men came voluntarily in large numbers and listened so you could hear a pin drop, which with an audience of soldiers means something.

I worked up to quite a peroration at the end, and told them that in a hundred years' time all the armies and guns and Victoria Crosses and generals would be forgotten, and Sir Douglas Haig's name would merely appear on the page of a history book. What would endure would be liberty.
Haig's ambitions were focused less on immemorial fame than on procuring more troops. Quite apart from the depredations the Army had suffered in 1917, Germany was shortly to be able to release tens — perhaps hundreds — of thousands of men from the eastern front to the western. A Man Power Bill had passed the Committee stage of the House of Commons on 21st January, which had been calculated to yield a further 450,000 men, most of whom would be called up from civilian employment. But it would be many months before any of them were useful soldiers and, meanwhile, he had just taken over part of the French line, completing the relief of two French divisions on 14th January. At least the Supreme War Council had also agreed on a generally defensive policy on the Western Front, particularly as it was now believed that a German offensive was imminent.
That was one worry. The other was that Haig knew he conspicuously lacked the Prime Minister's confidence. Smuts, a member of the War Cabinet, and its Secretary, Hankey, were despatched on 21st January to tour the Western Front, and report on their findings to Lloyd George. Robertson, the CIGS, told Haig about the visit on 19th January writing that:
I think the proposal emanated from the P.M. from what I can hear.

He was remarking that he did not know many of the various Generals at the front, and therefore he suggested that it would be a good thing for Smuts to go round and see as many as he could and so be able to tell him his opinion about them.
The subtext is not hard to reach. Watch your back.
The Central Powers were, for their part, short not just of men, but of food. Of course, the severities of winter exacerbated the problem but, in the Habsburg Empire, civilian insurrection threatened. Count Czernin, still negotiating with the Bolsheviks in Brest Litovsk, noted that he had received very worrying accounts from a mayor that disaster due to lack of foodstuffs is now imminent.His own view was that the carelessness and incapacity of the Ministers were to blame, and he now telegraphed the Emperor quoting his source:
Only small quantities [of food] are now being received from Hungary, from Rumania only 10,000 wagons of maize; this then gives a decrease of at least 30,000 wagons of grain, without which we must infallibly perish…[some believe that] in a few weeks our war industries, our railway traffic, would be at a standstill, the provisioning of the army would be impossible, it must break down, and that would mean the collapse of Austria and therewith also of Hungary…
The only solution was to get short-term help from the Germans and then to requisition by force the stocks that were doubtless still available in Hungary.
But the Germans weren't about to play. Czernin reported that his counterpart, Kuhlmann, was not at all sanguine, as Germany is itself in straitened circumstances.
The situation worsened with news from Vienna of a serious strike due to the reduction of flour rations and the tardy progress of the Brest negotiations. The female workforce from the Daimler Motor Factory in Wiener Neustadt walked out and joined workers from other large factories. Strikes spread rapidly and soon involved around 750,000 workers, with serious unrest also erupting in Budapest.
Given the mayhem and madness engulfing Russia, the Habsburg authorities could not afford to mishandle the situation. Vienna proved accordingly generous in the negotiations which followed: workers' councils were sanctioned, and factories demilitarised. It was a far cry from the spirit of 1914.
Authorities everywhere were aware of the need to boost morale. The (relatively) new Emperor Karl I visited Austrian troops in the South Tyrol — the old magic of royal benediction still worked for some.
The German government sought to capitalise on the heroic status of Manfred von Richthofen by sending him on a tour of munitions factories in which some workers were on strike.
According to his mother:
When he arrived they all rushed up to him and he had to speak to them. Then he made it clear to them just how important their work was and so on. For the most part, they went back to work. But perhaps they would not do it for long. He was very gloomy on that point.
The new Russian rulers, having fashioned a workers' paradise, felt no need of PR stunts. But they were always ready to bare their teeth if the occasion to do so arose. On 16th January, Lenin reminded the nation that
…all power in the Russian Republic belongs to the Soviets and the Soviet institutions. Accordingly, any attempt by any person or institution whatsoever to usurp any of the functions of state power will be regarded as a counter-revolutionary act…
That bleak warning was undoubtedly designed for the ears of members of the new Constituent Assembly, meeting — at long last — on 18th January in the Tauride Palace. As they came to take their places in the Assembly Hall, the Bolsheviks put on a crude display of force: Tauride Square was packed with cannons, machine-guns, ammunition, Red Guards and fearsome sailors from Kronstadt.
According to Zinaida Gippius:
One member of the Constituent Assembly has been killed, one soldier, some workers, many are wounded…There are machine-gun ambushes…six Red Army soldiers were gunned down…one girl was stabbed in the neck by a Red Army soldier, and when she fell he kept stabbing her while she died.
Inside, some refused to be cowed. One delegate, Irakli Tsereteli, insisted the Assembly was meeting at a moment
when all democratic freedoms have been stifled…there is no safety from threats to personal integrity, no shelter, no freedom of speech, no freedom to assemble or form unions, no right even to strike;

…there is no criminal justice, and all the worst forms of outrage and lawlessness that we thought were dead and buried for ever after the glorious February Revolution have once more been given legitimacy.
Accusation and counter-accusation went back and forth for twelve hours. Then Lenin ordered the Bolshevik delegates to walk out and, the following day, he forcibly closed down whatever was left. That was the end of that.
Political repression was matched fully by physical hardship. In Petrograd, there was little public transport — but perhaps not much reason to go out. Many shops — unsurprisingly, given the dearth of coal, kerosene and even candles — stayed closed.
The American journalist, Bessie Beatty, recalled: Even the foreign colony, whose members were far better off than the Russians heard the grey wolf howling. We were a hungry lot from morning until night.
In Tobolsk, the ex-Tsar had been ordered to remove the epaulettes from his uniform — a petty humiliation, justified on spurious ideological grounds, which he bore without complaint. He was more preoccupied with helping his children to recover from measles. In a letter to his sister, Xenia, on 20th January, he commented tartly: It makes you sick to think how much our allies must despise us.
In more melancholy vein, he admitted: For me, the night is the best part of the day, at least you can forget for a while….
For now, the Tsar and his family survived, although their hearts must have been full of unnamed terrors. War offered, if nothing else, many different ways to die — sometimes in a manner which was both unexpected and cruel. On 15th January, the Matron and twelve nurses from the 65th General Hospital in Basra were invited to the Beit Naana Officers' Hospital to meet convalescent officers and take tea with them. On the way home, just after sunset, their motor launch collided with a steam tug and was sliced in two. Four of the nurses were drowned.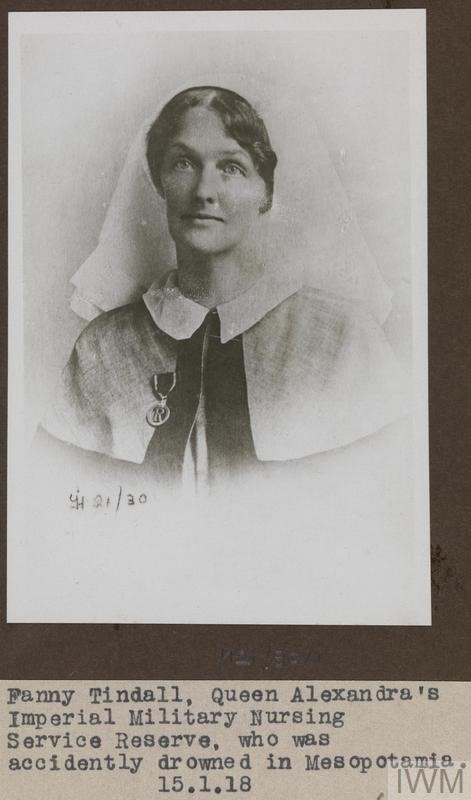 More predictable, if less melancholy, was the loss of two British ships, HMS Raglan and M.28, with the loss of 139 men. They were players in a major sea battle near the Dardanelles on 20th January which erupted after Allied ships took on vessels from the Ottoman Black Sea fleet which had slipped into the Ionian Sea. Other casualties were the famous light cruiser Breslau, renamed Midilli, and the battle cruiser, Goeben, now called Yavuz Sultan Selim. Two destroyers, HMS Lizard and Tigris managed to manoeuvre the Midilli into a minefield where it sank having struck a mine. Yavuz Sultan Selim fled, escorted by four Turkish destroyers, but hit a mine and beached at Nagara Point. Turkish losses amounted to 330 killed and 172 captured.
Everyone suffered at sea this week. That same day, two German destroyers hit mines in the North Sea, two of their submarines were sunk off Jutland, and two torpedo boats hit mines. Over 200 lives were lost in consequence. This grim total was exceeded by that of the British on the following day, when HMS Louvain, an armed steamer, was torpedoed and sunk by UC-22 in the Aegean: 227 men died.
The perils of war at sea were fully matched by those in the air. Aerial combat was more extensive than ever before. Bombing targets by the British ranged from Samaria, bombed twice this week, and the aerodrome at Kifri near Baghdad in the Middle East, to Thionville, Metz, and airfields in Belgium.
Here, too, tragedy stalked. Brigadier General Gordon Shephard, DSO, MC, died on 19th January of injuries, sustained after his aeroplane spun into the ground at Auchel aerodrome. He was the highest-ranking officer in the RFC to die in the war. Brigadier he may have been, but Shephard was still a very young man of only 32 — one of those larger-than-life figures in which his generation seems to have specialised. A keen yachtsman, he had been the model for the hero Carruthers, in Erskine Childers' bestseller, The Riddle of the Sands as he had helped Childers in his gun-running.
Another way to die, of course, was by one's own hand. Sir Harry Beauchamp Duff, erstwhile Commander-in-Chief of the Indian Army, had been relieved of his command in late October 1916, having been held largely responsible (along with the Viceroy, Lord Hardinge) for the failed campaign in Mesopotamia. Remorse and grief had eaten away at him in recent months, during which time he had hit the bottle hard. On 20th January, he took a fatal overdose. Suicide, while rare, was tacitly condoned among the upper classes of most western countries — at least as a means of expiating shame and disgrace.
Most Britons just now seem to have been gloomy rather than desperate, a cast of mind to which growing shortages of food contributed. On 17th January, the Daily Telegraph reported that the Food Controller, Lord Rhondda, had requisitioned all supplies of margarine, and that rationing would be introduced, the following month, in London and the Home Counties.
The less there was to eat, the more food seems to have dominated thought and conversation. Cynthia Asquith's diary testified to that:
16 January…Food encroaches more and more as a topic for table talk. We are very short of butter and jam and so on, and how we all enjoy our food! So far we still press the only scone or whatever it may be on our neighbours: it will be interesting to see when this formality is dethroned by natural instinct and 'after me' frankly takes the place of 'after you'.

Beb [her husband, currently on leave] certainly feels under-nourished under the home regime, but it is wonderful how Papa's looks have improved under rations….
Poor Cynthia and Beb. Succour, however, lay just round the corner:
19 January….We lunched with Evan [Cynthia's uncle, QC, in the Tank Corps] Beb enjoyed his pate de foie gras, burgundy, cigars and brandy.
Suitably fortified, it was then time for Beb to go back to war. The Asquith sons were always more than ready to do their full share of fighting and dying, but had no intention of rubbing shoulders with the riffraff more than they had to. Having grand friends helped, of course, as Cynthia's diary explained:
Lord Hugh kindly took Beb off to the War Office to try and wangle permission for him to go on the Staff train the next day. It is typical that the Staff should roll away in Pullmans after luncheon, whilst the regimental officers are rattled off at five in the morning. At the War Office Beb was told that he would have to have a warrant from some official saying he wanted to see him in the morning, this providing exemption from going by early train. We threw ourselves on[Churchill's PPS, Edward Marsh] Eddie's mercy and he was most angelic, taking Winston's name in vain, and in his beautiful hand wrote: 'The Minister of Munitions wishes to see Lieutenant Asquith at eleven o'clock on Sunday morning'.
What, in wartime, constituted reasonable assertion of privileges of rank and birth, and what was an abuse, is by no means always clear to later generations.
At the same moment as Beb luxuriated in his Pullman, citizens of all classes in Britain were patriotically opening their pockets. Raising money for war had become a priority. A highly successful fundraising venture capitalised on public fascination with new technology — specifically, with the tank. Tank Weeks were held across the country: six tanks were sent to major cities and people were encouraged to donate whatever they could spare or to purchase War Bonds. Statesmen, politicians, war heroes and others stood on the roofs of the tanks, urging crowds to donate. Tank Julian, named after Sir Julian Byng, the commander at Cambrai, raised millions.
The citizens of Glasgow proved almost unbelievably generous. Tank Week in Glasgow from 14th January raised over £14 million — about £750 million today — more than the total raised by London, Birmingham and Manchester combined. As a token of appreciation, tartan was attached to one of Julian's six-pounder guns — hardly a big deal, in the circumstances.
Back on the front, the French this week mounted successful attacks south-east of Verdun and in Argonne, while German raids near Neuve Chapelle and Lens were successfully repulsed. But it was the miserable conditions which seem to have been uppermost in the minds of many of those on the ground. A gunner from the RGA, Leonard Ounsworth, recalled:
The thaw started on January the 15th, with rain as well — it was so complete that the ground just collapsed. The end of the dug-out just fell in and buried one of the cooks — he'd have suffocated if we hadn't got him out in time.
Lance Corporal Walter Williamson had just returned to the Ypres Salient from leave, to discover that his battalion was going into the line at Poelcappelle:
….The boys were not expecting a rosy time, as there were no trenches in that sector, it being impossible to cut trenches owing to the awful state of the ground… The general opinion seemed to be that the chances of being drowned or frozen in were about even…
The wet and cold quickly took a toll:
Some eighty cases of severe 'Trench feet' were sent off … to hospital, while practically the whole battalion was under treatment.
The weather also made drinking water harder to obtain. Shell-holes were the usual source — but it was imperative to take precautions first to ensure that the water was uncontaminated. With so many now cased in ice, however, these became awkward and time-consuming. Not everyone was scrupulous. Williamson noted an instance in which one runner, in his anxiety to get water for the men's tea, had simply hoped for the best.
He hoped in vain. Three men were taken off to hospital the following day. Soon, it became clear why:
Later when the ice disappeared, the shell-hole from which the runner had obtained the water, was found to contain the dead body of a Bosche in an advanced state of decomposition.
Another, less seasonal, affliction was celibacy. Captain Cyril Dennys of the Royal Garrison Artillery recorded:
Well of course I was very young. I think that the sexual aspect worried some of the older men quite a lot. I mean, it made them jumpy. I remember there was one case where a captain who was getting on in age applied for special leave. You could get a week's special leave to go to Paris or somewhere. On his leave chit he was asked for his reason. He put quite boldly, sexual starvation.
Honesty is the best policy, as they say. It certainly was here.
And to everyone's surprise and delight he got his leave. He went off and we hoped he satisfied his needs in Paris.