BY NOW, THERE was no way back. The Germans were losing.
True, there is ample evidence that their commanders could not confront the military or existential reality of that fact. Indeed, their denial was mirrored to a considerable extent by the British War Cabinet which struggled to accept Haig's insistence that the war was now in its final stages. He had journeyed to London in an effort to persuade them that this was, indeed, the fact.
Following his meeting with Lord Milner on 10th September, he noted:
I had specially asked for this interview, and I stated that the object of my visit was to explain how greatly the situation in the field had changed to the advantage of the Allies. I considered it to be of first importance that the Cabinet should realise how all our plans and methods are at once affected by this change.

Within the last weeks we had captured 77,000 prisoners and nearly 800 guns! There has never been such a victory in the annals of Britain, and its effects are not yet apparent. The German prisoners now taken will not obey their officers or N.C.O.s… The discipline of the German Army is quickly going, and the German Officer is not what he was. It seems to me to be the beginning of the end.

…the character of the war has changed. What is wanted now is to provide the means to exploit our recent great successes to the full. Reserves in England should be regarded as Reserves for the French front, and all yeomanry, cyclists and other troops now kept for civil defence should be sent to France at once. If we act with energy now, a decision can be obtained in the very near future…
This is a remarkable document. Although frequently derided as inflexible and unfeeling, Haig — as this document reveals — had it in him to be agile in responding to events. The prescription he now outlined was measured, but bold.
Foch, initially hesitant, had been brought round to Haig's way of thinking. Along the Western Front, the German retreat was continuing, albeit interspersed by localised contests, notably in the Epehy and Gouzeaucourt sectors. The French continued their progress towards St Quentin and, on 11th September, fierce fighting erupted on the Cambrai Front, where the Germans attempted unsuccessfully to counter-attack at Gouzeaucourt and Moeuvre. But the bigger picture stood out, even if many struggled to believe it: the Allies were winning, time and time again.
Lloyd George, however much he rejoiced in that knowledge, could not bear to acknowledge the fact that Haig's insistence the war would be won, or lost, along the Western Front was being vindicated by events. In Manchester on 11th September, accompanied by his wife and daughters, his chief concern seems to have been to allude to his own role in the good news coming from France.
…I have… expressed my gratitude to the newspapers which criticised the government on the ground that we had no reserves for so skilfully misleading the enemy. We… took very good care not to contradict them. As a matter of fact we have poured in hundreds of thousands of very fine troops since March 21, and the Germans never expected them in the least. They now know that they are there.
Surely this was the moment to salute Haig? Not a bit of it. Rather, he opted to hint gently that the decision a few months earlier to unify command under Foch was the key factor in the recent successes:
It is not that one general is better than another, but that one general is better than two.
Of Haig himself, not a word. The omission was picked up by The Daily Chronicle's lobby correspondent, Harry Jones, who was in no doubt that it was deliberate. This showed, in his view:
evidence of a small mind that petulantly refuses to acknowledge the services of a great soldier…
The big military showdown of the week came on 12th September, when the American First Army launched its first independent action and took the St Mihiel Salient, south of Verdun. Its importance was symbolic as well as strategic: Pershing had insisted all along that American troops should fight only under American commanders and the American flag and so, in this instance, it was American amour propre that was on the line. Two days earlier, on 10th September, he had met with all the corps commanders of the First Army, a meeting in which — as his diary suggests — there had been some sharp disagreement over whether or not to have a preliminary artillery bombardment.
The precedents were by no means always encouraging — the ghastliness of the Somme and Passchendaele were etched on the collective memory of every Allied commander. But crossing open ground and facing machine guns and barbed wire before the enemy had been softened up also felt suicidal. That, and fear that the heavy rain would scupper the passage of the tanks lying in readiness, added to the inevitable nerves before an attack.
Pershing himself showed the strain: he kept chopping and changing his mind about artillery before, eventually, opting for a four-hour bombardment. His diary for 11th September recorded laconically:
Luck seems to be against us; weather still very rainy. Worked in office all day; simply waiting for the attack.
But the battle proved an out and out success for the doughboys and the Americans were soon advancing five miles on a twelve-mile front, having taken at least 16,000 prisoners, 443 guns and thousands of tons of supplies. Although they had notched up some 7,000 casualties of their own, few were gravely hurt, and the battle proved to be a nursery for great figures of a later war — Marshall, Patton and MacArthur.
There was never anything smooth about fighting one's way across open ground in 1918, but the Germans had long anticipated an attack in the area and had already withdrawn many troops, and the French also supplied the artillery and hundreds of tanks for the battle.
Even so, it was American soldiers who swept forward, and 1500 American pilots who lent support — the largest number involved in any battle during The Great War. On 12th September, US troops came within reach of the fortress guns at Metz, and Pershing and Pétain spent part of the day touring the town of St Mihiel.
Pershing's diary recalled:
Talked with the inhabitants who the evening before were in the hands of the Germans. The children were carrying French flags which had been hidden for four years…
There was often an undercurrent of menace which accompanied liberation. The mayor told the two generals that the Germans
have taken with them when they left… all the French men between the ages of 16 and a half and 45 years, the Germans were very respectful to the inhabitants.
On the other hand:
the conduct of some of the women has not been all that it should have been.
Pershing was struck by Pétain's advice not to be "too severe in judging these women", although there is no way of no knowing whether or not this counsel was heeded.
Pétain's fair-mindedness seems to have been quite the motif of the occasion, and it extended to his insistence everywhere that the town's deliverance was due to the Americans, whereas the French had acted solely in support.
Others were not so sure. The American surgeon, Harvey Cushing, had been touring the battlefields and checking all the hospitals and offered, if not a dissenting judgement, something a little more measured:
My impression of these last few days is that the enemy made an extraordinarily good get-away during Wednesday night, and though we are cheering loudly and much elated over regaining the salient, it has not been a great military victory.

Though everything went smoothly enough, there is no knowing what would have happened had there been serious resistance and had we received large numbers of wounded. Our Medical Corps has yet to meet the consequences of stubbornly resisting picked troops such as we grew all too familiar with in last autumn's battles at Passchendaele. It will surely come — perhaps south of the Argonne, where we must next lay plans. Meanwhile we gain experience.
"Experience" included the management of German prisoners. Corporal Elmer Stroud, animated perhaps by the spirit of egalitarianism which belonged more to the New World than the old, liked the fact that German officers were required to dirty their hands:
A good many of the Germans are being utilised to carry back wounded. A sedate-looking officer wearing white gloves had to bow his back in the work just as his men did.

It seemed to do these enemy enlisted men good to see their officers thus reduced to their own plane. Most of them became quite cheerful after they found that they weren't going to be scalped as they had been led to believe these aboriginal Americans were wont to do.
Evidence began to accumulate this week that the implosion of the Germans in the West was beginning to impact the war elsewhere.
The evidence for this in Russia was oblique: what was happening there had become increasingly a toxic civil war rather than a coherent conflict much related to anything else. This week saw the arrival of American troops at Archangel — an action unconvincingly asserted by President Wilson to be unrelated to Russian domestic politics and motivated only by American determination to prevent ports and supplies falling into German hands.
Frankly, at this particular moment, if the Americans had announced their intention to invade the entire country, few voices outside Russia would have been raised in protest. Anti-Bolshevik feeling was running high in Britain, especially with the continued detention of its diplomats. Bruce Lockhart was languishing in the Lubianka in Moscow, and the rest of them in the Peter and Paul Fortress in Petrograd — a city reported to be in flames, which cannot have added to the cheerfulness of those incarcerated. The general indignation of the British public was also fed by more news seeping into the British press that the Tsarina and her five children had been
murdered by the savages who still keep Russia simmering in crime and chaos.
While the future of Russia lay God alone knew where, strong indicators now arrived that the war along the Southern Front was approaching a conclusion. A new offensive opened against the Bulgarians on 15th September with the start of the Battle of Vardar.
This initiative was a considerable relief to the British and French forces, who had been condemned to inactivity for so long that they had acquired the not-altogether respectful soubriquet of "the gardeners of Salonika". Augmented now by Serbian and Greek troops, and under the command of a dynamic Frenchman, General Franchet d'Espèrey, they proceeded to carry Bulgarian positions on a seven-mile front and bag 800 prisoners.
Although Allied victory here undeniably owed something to the fact that stalwart German troops who had long supported the Bulgarians had been rushed hurriedly to try to shore up the Western Front, it was a singular achievement. That very same day, Italian troops made a successful raid north and north-west of Mount Grappa. Troops on the Southern Front had long felt themselves poor relations by the side of those in France. All of a sudden, they could chalk up two victories in the space of 24 hours.
Major Bundy's Balkan diary of the time offers an excellent snapshot of how one intelligent officer felt on the eve of battle. True to his time and class, he seems to have had a jaundiced view of some of his allies:
12th September Greeks took over trenches today. They look surprisingly tough and seem quite determined. The Bulgars evidently have wind of an attack for they have shelled us unceasingly for 48 hours. We have had many deserters and from these we learn that the Bulgars are finished and will not stand up to an attack.

I have heard that sort of thing before and I shall certainly be surprised if the Greeks are successful. I should be more disposed to back the Serbs who are attacking to our left. They are splendid soldiers and definitely keen on killing Bulgars. In any case the general conditions appear to be favourable for a breakthrough, for according to reports the Germans are on the run in France and the Bulgars must be dispirited.

We are all keyed up and the British are elated because for once they are looking on instead of fighting, though if the Greeks fail and fall back we've got to support them so God knows what the future holds for us.
Then came the moment of truth and, from Major Bundy, a generous acknowledgement that he might have got it wrong:
15th September What an experience. At 4.45 the Greeks could not stay and started going over the top. They were mowed down by machine-gun fire but pressed on. It was amazing. I would never have believed they had the courage. By 5.30 they had captured the Bulgar front line and we could see the enemy bolting away like rabbits. We have had orders to go forward to support the Greeks. The Bulgars have broken at last!
Good news was not unalloyed. On 14th September, Turkish batteries crossed railroad tracks, beating back Russian defenders, and gained control of the cliffs overlooking Baku. The oil-rich port on the Caspian was way too valuable to be allowed to fall into the hands of an enemy without a fight. The British 39th Brigade made a spirited attempt to stem their advance. Alas, they were hopelessly outnumbered and proceeded to get absolutely nowhere. Their commander, Major General Dunsterville, ordered a withdrawal and the Navy was sent to pick up the remnants.
The British complained that local Armenians failed to offer the support to which they were entitled. Viewed from today, one is left wondering how seriously the British had ever been committed to the operation. British dead and wounded numbered 180, whereas Turkish casualties numbered 2,000.
The war at sea showed no sign of let-up. At least 76 Germans died on their U-boats this week: one was depth-charged near the Orkneys, and another disappeared on patrol. The Allies faced a terrible tragedy with the sinking of an ocean liner, the Galway Castle, on 12th September. It was carrying nearly 1,000 people, and was only two days from Plymouth en route to Cape Town when it was struck by a torpedo from U-82.
The immediate result was serious damage rather than a massive explosion, but there was also a very reasonable fear that the U-boat would attack again. This provoked an agonising decision: should the captain try to nurse the ship into a safe haven? Or launch the lifeboats in heavy seas, and trust to luck?
The order to launch the lifeboats was given. Most of those who stayed on board were rescued before the ship sank three days later. Those who trusted to the lifeboats were not so lucky. One hundred and forty-three souls were sacrificed to the swell.
Four days later came fresh tragedy when HMS Glatton, in Dover Harbour, was suddenly rocked by a violent explosion — a consequence of the slow combustion of cork lagging which somehow led to the ignition of the magazine and — desperately — to the cordite within it. One of those who attempted to rescue the injured, Captain Pearce, left a harrowing account of the scene on deck:
…dozens of offices and men, terribly wounded. Some were lying prostrate; others writhing in agony from burns. Many of the men were naked. I learned afterwards that they had been bathing when the explosion occurred. Chaos, bewilderment and suffering everywhere.
The attrition was frightful: 60 men had been killed; 124 were injured and of these 19 died later. The fire could not be controlled and, given the danger to nearby vessels and the town of Dover when the ship blew up, as it inevitably would, Admiral Keyes ordered it to be torpedoed and sunk.
The British people were never an unfeeling lot, but they — along with every other nation — had wearied of war. A rash of strikes now erupted. That of the gas workers' strike was settled on 10th September, but another one began, this time the coal-heavers on Merseyside. They were now joined by theatrical and cotton workers. It is difficult to believe that theatrical workers laying down — what? — their props? — constituted a national emergency. The cotton workers' strike, however, was a more significant threat and emergency regulations were invoked to stop the distribution of strike pay. Then, on 13th September, a railway strike began in South Wales.
Britain had been a nation riven with industrial unrest in the years leading up to war. Few people, fantasising about a post-war world, looked forward again to such a prospect. Lloyd George, discreetly measuring up his prospects for electoral success in the general election which he knew lay not far off, was conflicted. He could not be seen to appease the strikers at a time of war, but he deeply wanted to address what he perceived as their underlying fears.
In his Manchester speech on 11th September, he tried to present a reassuring picture of the nation which would emerge into peace. Health was "the secret of national efficiency and national recuperation" and would, he promised, be given top priority, coupled with housing. He also praised Fisher's recent reforming Education Act, saying that an educated man was "a better worker, a more formidable warrior and a better citizen".
Talk was, of course, what this man did best. But, buried beneath all the humbug and half-truths, he was a radical and he was determined that life had to become sharply better:
There has been a community of sacrifice. The national conscience has been stirred in a way which is unparalleled in the history of this country, and the nation when the war is over will expect [us to] put right the wrongs, inequalities and stupidities from which millions have suffered and the community has suffered.
As it turned out, all that talk about health seems not to have been good for him. That same evening, he cancelled a dinner at the Reform Club and took to his bed. He would stay there for nine days, seriously ill with influenza.
He was right to look to the future, however. Peace was becoming less of a fantasy, and more a tantalising prospect. For those preoccupied by the challenge of redrawing national frontiers, the complexities were stupefying. But there was also a burning uncertainty as to how societies would cope with their returning soldiers. For over four years, nations had survived thanks to the blood sacrifice of their young men, and they would be way too unabashed to surrender to old claims of deference.
A telling snapshot of men in these weeks comes from Lieutenant Colonel Feilding, presently with his "sadly depleted battalion" at Auchel, Pas-de-Calais, which, in his letter home, he described as
… a big coal-mining village, where there are shops and estaminets and women and children and where the officers will have sheets, and every N.C.O. will have some sort of bed to sleep in. It is a great contrast to the scenes we have left behind in the shocking wilderness of the Somme…

14th September The men are loving their time here. They sit in the Estaminets — in an atmosphere you could hardly breathe in — smoking, and singing, and airing their French. It is just the sort of change they want after all they have gone through — a taste of town life, however remote from the ideal.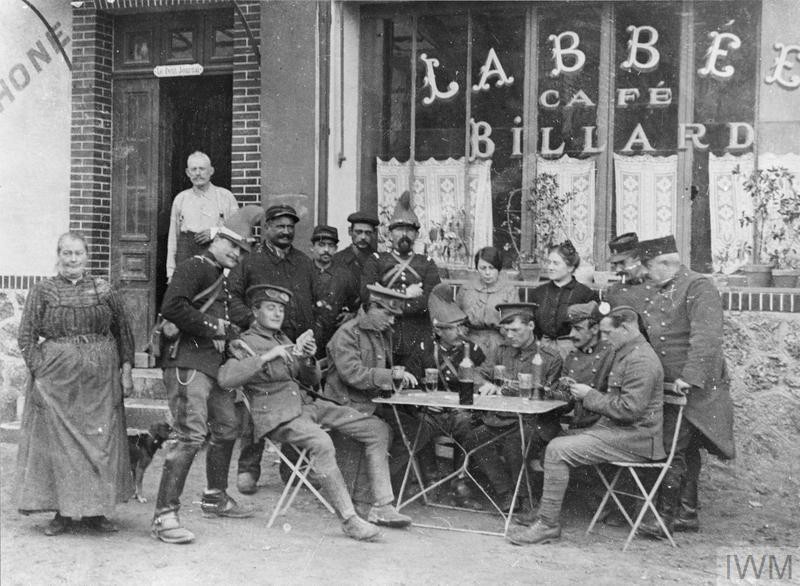 Feilding, as ever, communicates compassion and deep affection for those in his charge — reassuring qualities in any commander. He seems to have been an unusually fine officer, but far from unique, and it is a truism that good example of any kind travelled well through the ranks. Perhaps this helped to shape a moment of great magnanimity between British troops and German prisoners, spotted at Clapham Junction Station on 14th September, by the journalist Michael Macdonagh:
As soldiers, both are caught in the toils of a war which neither had done anything to cause, and that unhappy fate brought them together in a spirit of comradeship. They began fraternising at once. The Germans smiled, waved their hands and called out 'Kamerad!' The Tommies started hilariously shouting 'Good old Jerries!' and jumping out of their carriages they threw at the Germans, not bombs, but packets of tobacco and chocolate.