PERHAPS IT WAS a failure of nerve. The French and the British had always been terrified that a new offensive would turn into a bloodbath –  the same kind of deadly attrition which had characterised Verdun and the Somme the previous year. Much of the excitement espoused in Nivelle should be understood in that light: he had promised rapid results, devastating artillery, and he also had agreed to pull the plug if it wasn't working.
Haig and his confreres didn't trust the strategy. They saw no prospect of a pulverising breakthrough through the Chemin des Dames. But their objections were overridden, mainly because the Prime Minister, Lloyd George, had succumbed to Nivelle's charisma. Or perhaps it was that he just wanted to clip Haig's wings. If one is looking to point a finger, maybe it should rest here: a politician who, for political reasons, shafted his own C-in-C.
Had Nivelle succeeded, of course, nobody would have minded. But for all the tactical successes achieved by both French and British during the early days of the offensive, the attempt to force a strategically decisive battle on the Germans failed. By 25th April the main offensive was suspended, at which point the French had suffered nearly 100,000 casualties –  ten times as many as the original estimates. Credibility in French leadership was further undermined by a breakdown in medical services, and by delays in ferrying French wounded from the front-line.
On 28th April, Petain was brought back and made Chief of the French General Staff. The previous day, Haig had written to Robertson, the CIGS:
I think the time has now come for me taking up our 'alternative plan'… we should ask the French to relieve some of our Divisions on the right, while we relieve their Divisions on the Belgian coast.
He had been chafing for ages to launch an offensive in the Ypres area, with a view to seizing back the Channel ports now in German hands and used as U-boat bases. Given the diabolical losses sustained by Allied and neutral shipping in these weeks, the appeal of this idea is not hard to understand. But Haig knew he needed to persuade the French to back the idea and told Robertson:
… If I cannot come to an agreement with the French C.in C. (whoever he may be!) in this matter, it may be necessary to settle the question at the Conference.
The phrase in parentheses says a lot. Nivelle had not yet been formally sacked but Haig had divined he was already history. He was too professional to gloat, but does not seem to have been very sorry.
Newspaper reports from the Front painted a picture that was altogether more gung-ho. Knowing what we do now, it is hard to repress the thought that a popular readership was being fed lies. The Daily Mail correspondent W.L. McAlpin reported on 26th April:
The German losses are estimated at 28 per cent in the past few days' fighting on the Scarpe of the troops engaged. A Pomeranian division of at least 10,000 men was almost annihilated and a regiment of a Prussian division, say 2,000 bayonets, was mown down almost to the last man.
Le Matin was effusive about the new technology:
The tanks did wonders. Three were engaged without a stop for eight hours. Besides their customary good work they exercised a salutary impression on the enemy. The new German anti-tank guns do not seem to have sensibly interfered with their operations. Near Fontaine-les-Croisilles the British carried, at the end of the day, a portion of the Hindenburg line. Here the first belt of barbed wire was 20 yards deep… Then came reinforced concrete trenches… Great things were expected from this formidable system of obstacles, but the British were equal to them.
But, as so often, the reality was both more terrible and more magnificent than anything put up by the popular press. Alfred Pollard, a Second Lieutenant in the Honourable Artillery Company, was currently with his battalion, near Gavrelle, waiting to be sent into battle. In a startlingly frank letter to his mother on 25th April, he revealed that he was enlivening his days by leading patrols into No-Man's Land.
I had a most exciting adventure in a Hun trench the other day. I cut through their wire and got into their trench thinking it was unoccupied, but soon discovered it was full of Huns and consequently had to beat a hasty retreat. I got out all right fortunately. I hear a rumour that the Brigadier has recommended me for a bar to my M.C. in consequence of this little business so if you keep your eyes glued on the paper you may shortly see my name in it. Don't think I've been taking any unnecessary risks because I have not. I've merely done what I've been asked to do… Best of spirits and having a good time. By the way, I have killed another Hun. Hurrah!
A couple of days later, when the Germans attacked at Gavrelle, Pollard along with four of his men sought to rally British troops retreating in disarray. Led by him, the soldiers resumed the fight and his audacity proved extremely disconcerting to the aggressors. Not merely did they have to cede the ground they had lost, but they sustained hefty casualties. His actions that day earned him a VC and, according to the official citation, "this officer's splendid example inspired courage in every man who saw him".
Wilfred Owen's soldiering was, in a very literal sense, rather more earthbound. He was with the 2nd Manchesters at Fayet. There were no medals or ribbons for him, but he was not complaining. In a letter home on 25th April, he suggested that his reward was:
to remain in the Line 12 days. For twelve days I did not wash my face, nor take off my boots nor sleep a deep sleep. For twelve days we lay in holes… A big shell lit on the top of the bank, just 2 yards from my head. Before I awoke, I was blown in the air right away from the bank! I passed most of the following days in a railway cutting, in a hole just big enough to lie in, and covered with corrugated iron. My brother officer of B Coy, 2/Lt Gaukroger lay opposite in a similar hole. But he was covered with earth, and no relief will ever relieve him, nor will his Rest be a 9 days'-rest.
However dramatic the slogging match, it was moot whether the war was capable of being won on the Western Front. For the Allies, the bigger fear just now was that it might be lost at sea. Over 157 ships were sunk in the week of 24th–30th April with the loss of over 600 lives. Vessels sunk included the passenger ship Abosso en route to Liverpool from Lagos, the French troopship Colbert lost in the Mediterranean and HMS Tulip, operating as a 'Q' ship. She was torpedoed by U-62 off south-west Ireland with the loss of 102 crew, and her captain was taken prisoner. April shipping losses for Great Britain rose to 545,282 gross tons in comparison with the 353,478 tons lost in March. So easy to say (and, indeed, it was said very often) that the situation could not be allowed to continue.
Short of surrender, however, what alternatives were there? Sir Maurice Hankey recorded in his diary on 29th April:
In one way this has been one of the most dreadful weeks of the war, owing to appalling mercantile losses from submarines. These have depressed me very much…
The politicians were the loudest in demanding answers but they were nervous of leaning on the Admiralty who, for their part, deeply disliked being held to account by civilians.
Hankey continued:
…at last, when it is almost too late, the Government are taking action… a few weeks ago they [the Admiralty] scouted the idea of convoy. Now they are undertaking it on their own initiative, but apparently want weeks to organize it, though this at any rate might have been done earlier. They don't look ahead.
Lloyd George was seriously alarmed, and invoked his full authority to address the issue on 25th April. The next day, the First Sea Lord approved setting up a system whereby merchantmen would sail in convoys protected by armed vessels –  the so-called convoy system. It was a big risk, but the alternatives had been exhausted.
For Britain, the costliness of April had been felt in the skies as well as at sea. The von Richthofen brothers exacted a terrible cost: Manfred secured his 52nd victory on 29th April, downing four planes while, that same day, Lothar had to be satisfied with a mere two. The entire spectacle was witnessed by their father, Major Albrecht von Richthofen, in the middle of his visit to Roucourt. One's mind boggles at the tableau –  it cannot have been quite like watching one's sons turn out for the First XI.
The British tried to draw comfort in the delivery of the latest in aerial hot technology – the Sopwith Triplane, the potential of which was demonstrated in a combat on 23rd April:
An indecisive combat took place between Fl/Cdr Arnold… and a single-seater Albatros Scout. The flight lasted about twenty minutes and the German pilot showed great skill in manoeuvring his machine but was at a disadvantage, as the triplane could out-manoeuvre and out-climb the hostile machine.
A particular grief for the families of flyers who lost their lives in combat was that their bodies were often unrecovered. Nurses Elsie Knocker and Mairi Chisholm, dubbed by the press as the "Angels of Pervyse", had made it their business to retrieve these wherever they humanly could. Based only hundreds of yards from the German front line near Dixmuide, they ran terrible risks when they went to forage for identity discs within range of the German guns. They also offered a bounty of 100 francs to Belgian soldiers and civilians for every British airman's body brought to them –  itself an indication of the material hardship suffered by civilians.
The contribution of nurses to bring succour and relief could never be truly quantified. The toll it took on these young women in Pervyse was, inevitably, easily overlooked. Mairi Chisholm rather lost her heart to "an exceptionally brilliant pilot", the squadron commander, Jack Petre. That was going nowhere, alas: a Stonyhurst boy, Petre seemed to have scattered stardust wherever he went –  he had already won the Distinguished Service Cross and the Croix de Guerre –  but then, of course, his luck ran out. He was killed on 13th April while practising firing at ground targets. On 27th April, two VAD nurses wrote to Petre's parents:
We have known your son and his friends now for more than a year… and we all felt we must write to say how terribly upset we are about it all, and how deeply we feel for you… Out here he was thought so very much of, for his work was splendid, and he was a splendid fellow. One of his best friends passed through yesterday and said that the blank in the Squadron was awful, everyone loved him, and would have done anything for him. We have both lost brothers and friends in this war, and though letters cannot help much, yet one is so proud to hear about them… We have seen wonderful and very sad things too… we have simply written because we have felt it so much.
Nurses, of course, were particularly exposed to some of the visceral sights and sounds. Smells, too. The French painter Paul Maze (who later became a friend of Churchill) was in hospital just now:
All the men here with the exception of myself are bad cases… Some have to be anaesthetized to have their wounds dressed… there is a man with gangrene who has to be carried out every second day to have a bit more of his leg cut off. One boy has both his legs cut off and the nurses watch over him constantly — he smells terribly of decomposition, poor fellow, and infects the ward. I have not understood that he has died until I see a stretcher slip out of the side door, a blanket covering his pitiably short body…
Nurses' commitment to their patients could encroach, of course, upon their existing domestic and romantic attachments. Kenneth Dalgliesh had been seriously wounded in 1915 with the Leicestershire Regiment, as a result of which his left arm had been amputated, and was now working in Egypt as a military censor. Following the battle of Gaza, he wrote home on 30th April with the momentous news that his fiancée, Ellen Franklin, an experienced nurse, had just been awarded the Royal Red Cross –  the equivalent to the Military Cross.
I haven't seen much of [Ellen] lately, she is very busy and won't leave her ward, except for a few moments if I go over. She rushed in to see me the other day with her sleeves rolled up and blood all over her apron, she had been picking bullets out of a man's arm! But never mind, I wouldn't take an ounce of her attention from these poor wounded chaps, they want all the attention they can get. She has one rather special patient, a poor little chap that has lost a leg and arm. He is a Cockney flower seller at home and is rather amusing in his remarks. He doesn't appreciate chicken and champagne but asked for kippers, so I got him some tinned ones, I couldn't get anything else, and he woke one morning to find he had kippers for breakfast.
Dalgliesh sounds a proper grown-up. Of course, he had been badly injured himself and was already 25 at start of war, and an architect.
The extent to which minds as well as bodies might be tortured had, after three years of war, gained currency. Siegfried Sassoon, recently wounded and repatriated, was now in a ward in the Fourth London Hospital in Denmark Hill. Common sense suggested that rest would promote recovery. But, as his diary for April 24th records, rest –  even when lying supine in bed –  was elusive.
And when the lights are out, and the ward is half shadow and half glowing firelight, and the white beds are quiet with drowsy figures, huddled outstretched, then the horrors come creeping across the floor: the floor is littered with parcels of dead flesh and bones, faces glaring at the ceiling, faces turned to the floor, hands clutching neck or belly; a livid grinning face with bristly moustache peers at me over the edge of my bed, the hands clutching my sheets. Yet I found no bloodstains there this morning.

These corpses are silent; they do not moan and bleat in the war-zone manner approved by the War Office. They are like dummy figures made to deceive snipers; one feels that there is no stuffing inside them… They are not here to scare me; they look at me reproachfully, because I am so lucky, with my safe wound, and the warm kindly immunity of the hospital is what they longed for when they shivered and waited for the attack to begin, or the brutal bombardment to cease.

One boy, an English private, in full battle order, crawls to me painfully on hands and knees, and lies gasping at the foot of my bed; he is fumbling in his tunic for a letter; just as he reaches forward to give it me his head lolls sideways and he collapses on the floor; there is a hole in his jaw, and the blood spreads across his white face like ink spilt on blotting-paper. I wish I could sleep.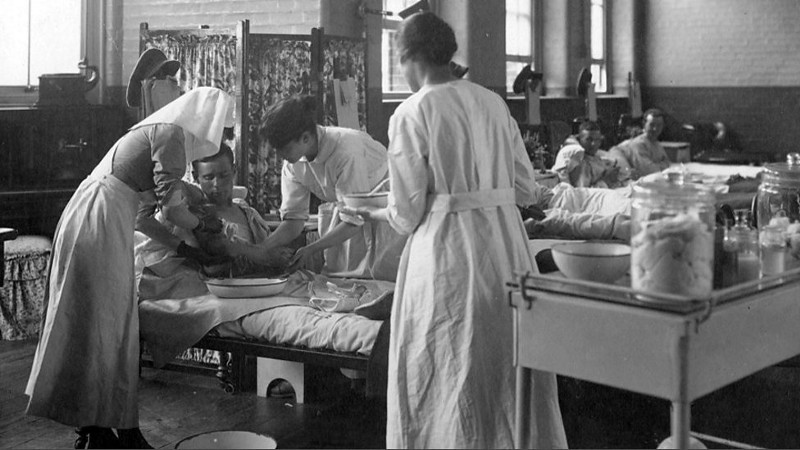 Such horrors were the portion of fighting troops in all theatres of war –  and, until very recently, Russian troops had shared fully in them. In recent days and weeks, however, their engagement in the war had become far more equivocal.
On 23rd April, the British Ambassador, Sir George Buchanan, conveyed reports of German troops fraternising with Russians, "trying to complete the work begun by the Socialists by urging them to kill their officers". The problem which kept niggling at the Allies was –  for whom did the Provisional Government speak? There was a small metropolitan elite who seemed keen on it, but opinion elsewhere was never more than lukewarm.
Other reports suggested that German agents, disguised as Russian soldiers, had infiltrated the Russian army and spread rumours that land was being distributed. Land hunger had been the perennial cry of the Russian peasant for the last half century, and nobody wanted to miss out on a share of the pickings. Victory against Germany, by the side of that, seemed unimportant to many. Motives for victory became, in fact, more easily understood in terms of sectional interests. On 27th April, the American Jewish Committee sent a message of support for the new government, fearing a separate peace might be made which would
lead to the ultimate restoration of an autocratic government, and the degradation of the Russian Jews below even their former deplorable condition.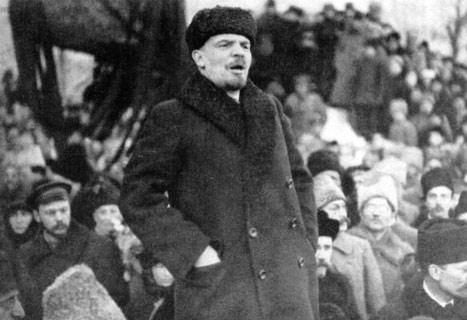 Lenin, of course, despised the war –  in his eyes, it was neither more nor less than a capitalist conspiracy. On 24th April, he declared – in typically bombastic fashion –  that:
all expenditure on the capitalist war should be borne by capitalists, who have profited and continue to profit in this war to the tune of billions of roubles, and… that all money for the war should be taken from the pockets of the bourgeoisie and aristocracy.
That kind of talk was enough to frighten off most of the bien-pensants, many of whom dismissed Lenin as a little local difficulty. The French Ambassador, Maurice Paleologue, however, was not so sure. He confided to his diary on 21st April:
Lenin, utopian dreamer and fanatic, prophet and metaphysician, blind to any idea of the impossible or the absurd, a stranger to all feelings of justice or mercy, violent, Machiavellian and crazy with vanity, pitiless logic and amazing powers of persuasion and command. Judging by the reports I have received of his first speeches, he is insisting on the revolutionary dictatorship of the working and rural masses; he is preaching that the proletariat has no country and proclaiming his longing for the defeat of the Russian armies. When anyone attacks his crude fancies with some argument drawn from the realms of reality, he replies with the gorgeous phrase: "So much the worse for reality!" Thus it is a mere waste of time to endeavour to convince him that if the Russian armies are destroyed, Russia will become helpless prey in the claws of the German conqueror who, after gorging himself on her, will abandon her to the convulsions of anarchy. The man is all the more dangerous because he is said to be pure-minded, temperate and ascetic…
The French Government doubted that the "original" Provisional Government, headed by Prince Lvov, could last. A Mission arrived in Russia on 22nd April, led by the Minister of Munitions of War, Albert Thomas, who identified one of its rising stars, Alexander Kerensky, as the man of destiny. Paleologue, the professional diplomat, favoured the foreign minister, Pavel Miliukov –  an altogether more moderate figure.
The following day, 23rd April, Thomas handed Paleologue his letter of recall because:
It has seemed to the Government that your position of favour with the Emperor would make it more difficult to carry on your duties under the present government. You will realise that in new circumstances a new man is required…
The Tsar himself, arguably the author of all this trouble, was inevitably far more preoccupied by domestic anxieties. Mayhem and madness outside the walls of the Alexander Palace at Tsarskoe Selo, in which the imperial family remained under house arrest, was subordinate in interest to "the subject of Alexei's lessons".
The children's Swiss tutor, Pierre Gilliard, noted on 29th April:
We must find a way out since we have no longer any tutors. The Tsar is going to make himself responsible for History and Geography, the Tsarina will take charge of his religious instruction.
One might have thought that the poor Tsarevich had enough problems already without having to rely upon his spectacularly witless father to guide him through History.
On 25th April, Minister of Justice Kerensky had paid another visit to the palace to interrogate the Tsarina concerning her role in recent politics and her influence over the Tsar. He left convinced of her sincerity when she claimed she and the Tsar were the most united of couples with no secrets from each other and that so, of course, they had discussed politics.
The Tsarina, for her part, had found Kerensky sympathetic and frank. He was another one with problems enough and could probably have done without praise from that quarter.