NOTHING IS HARDER to understand now than the iron inflexibility of those who commanded the armies of the First World War in Europe.
Haig's resolution has become the stuff of legend. Even within the relative privacy of his painfully inarticulate diaries and letters, there is never a sense that he would break: however bloodied his armies, he remained unbowed.
Set against the German C-in-C, however, Haig seems almost floppy. Field Marshal Erich von Ludendorff would become a figure of notoriety to later generations, mainly for his nationalist hubris — which extended way beyond parody — and for his subsequent flirtation with Hitler and Nazism. But he seems also to have been short of compassion, and almost culpably naïve. In May 1918, he was in deep trouble, and he knew it. Not only had 430,000 Americans arrived in France by 1st May to counter his own exhausted and depleted forces, but the evidence of deteriorating morale amongst his own soldiers had become unmistakable.
Ludendorff claimed to have been shocked when news now reached him of breaches of discipline — of looting and drunkenness. Many of these emanated from those times when his troops raided well-stocked British supply dumps and wine cellars. Even worse, when called upon by their officers to desist, they appeared undaunted, and carried on. After the war, Ludendorff argued that such behaviour
impaired our chances of success and showed poor discipline. But it was equally serious that both our young company commanders and our senior officers did not feel strong enough to take disciplinary action, and exercise enough authority to enable them to lead their men forward without delay.

The absence of our old peace-trained corps of officers was most severely felt. They had been the repository of the moral strength of the Army.
In a way, this was just the latest spin on an old story: things are not what they used to be! In peacetime, people did what they were told. The irony of this bleat, straight from the mouth of the commander of a nation whose leaders exalted war, seems to have been lost on him.
His senior staff officers, Crown Prince Rupprecht and General von Lossberg of his Fourth Army, were more cautious. They urged against further offensives: manpower was down, and matériel melting away like hot butter on a stove. For Ludendorff, however, the idea of ratcheting down the war was emotionally insupportable. He now planned an attack on the French, scheduled for late May: this would draw them to the south, and separate them from the British.
It was never clear how Ludendorff expected this to happen: despite everything which had been thrown at them, the Allies were girding their loins for a spectacular comeback. General von Kuhl, Chief of Staff to Prince Rupprecht of Bavaria, tried to confront the unpalatable reality:
… No great strategic movement had become possible; the Channel ports had not been reached… The second great offensive had not brought about the hoped-for decision.
Defeating the British, in particular, was an obsession of long-standing, both for Ludendorff and his supreme overlord, the Kaiser. But, despite all the insults hurled in its direction, perfidious Albion was not so contemptible after all. An officer of the Alpine Corps, a veteran of many campaigns, would tell a British officer after the war that
the defenders on the British front in April 1918 were the best troops of the many with whom we crossed swords in the course of four and a quarter years.
As for the indiscipline which Ludendorff so deplored, it is hard to believe he was actually as surprised as he later claimed. They might be gaining pockets of ground, but German soldiers smelled defeat. Furthermore, they discovered that the best way to assuage their raging hunger lay in ransacking the trenches that the enemy had just vacated.
The psychological effects of this were the subject of a conversation Princess Evelyn Blucher in Berlin later had with a soldier who had taken part in the great offensive near Armentières in April 1918:
After describing the perfect organisation and timing of the attack as the infantry worked forward, cutting through barbed wire, overcoming all obstacles, and with breathless haste tumbling into the first line of English trenches, he said, they found not a soul! They had been evacuated, evidently in a hurry, for only the men were gone, everything else had been left. Stacks and stacks of food, cases of biscuits, jam, tobacco, corned beef, milk — all that a poor starved German's imagination could desire in his wildest dreams.

Then clothes, mackintoshes, leather waistcoats, silk socks, books — wonderful waterproof trench boots, depots of leather goods, saddles, reins, bags; real English compact army outfit of every kind.

… English prisoners were on the road, mostly swearing at the war, at their bad luck, often enough too at Lloyd George and the state of affairs at home. The Germans thought 'tout comme chez nous'. Because 'state affairs at home' conjured up the state of affairs in Germany. But when they remembered those two lines of trenches and the treasures therein, they began to think there were different kinds of 'states of affairs at home,' and different degrees of suffering.
Relative to recent weeks, the present week was a quiet time along the Western Front: the Americans joined an action on the Amiens front on 1st May, and the Australians gained 1,200 yards across a one-mile front near Morlancourt, bagging 200 prisoners in the process. Haig seems, in his controlled way, to have been bucked up by these snippets of good news. He concluded in his diary on 3rd May that, "our troops are in good heart and have the upper hand of the Germans…"
Then came less good news: three days later, he was presented with the devastating casualty returns for the period between 21st March and 30th April: 704 officers and 230,089 Other Ranks had been killed, wounded, missing and captured: the British Official History would later amend the total slightly to 236,300.
For any C-in-C that would have been a heavy burden to bear. In Haig's case it was made more grievous by the certain knowledge that he had never enjoyed the confidence of the Prime Minister, David Lloyd George. Unstated, but hovering for always in the background, lay the imputation that these terrible numbers were a consequence of Haig's championship of a "western strategy".
Even now, Haig did not complain. The strain, however, can be seen in a letter to his wife this week, in which he insisted:
I am ready to serve wherever the Government thinks fit to send me, and I don't want to stay here a day longer than the Government have confidence in me. At the same time, I think they will find it difficult to find a successor at the moment.
In terms of casualties, Germany's position was even more dire. By the end of April, the Spring Offensive felled around 350,000 Germans killed or wounded. In April, over 5,000 had been taken prisoner — a threefold increase on the previous month.
France, although less in the eye of this particular storm than the British, had seen 90,000 of her own troops sacrificed. Foch now wrote to Haig, urging him to undertake a British offensive. In fact, Haig already had a scheme to do so, but he was not about to be rushed into launching it, simply in order to pacify a Supreme Commander, especially one who was French.
He replied that "the present moment is not a suitable time" before adding pointedly: "I note with satisfaction that an offensive is about to be delivered by the French Army."
Just now, the squabbling between the Allies seems to have been intense. It can seem small-minded to us — more like a self-indulgent sideshow in which the grandstanding of grandees, politicians and soldiers alike, allowed the lives of ordinary soldiers to be uselessly sacrificed.
The truth appears to be more complicated. No doubt there were some egos to be massaged, but there were substantive issues also to confront. General Pershing's diary, written during the Fifth Supreme War Council in Abbeville during the week, is particularly enlightening with regards to the extent the French suspected the Americans of favouring the British:
1st May …the French became somewhat envious when they learned that the infantry and machine gun units of six American divisions are to be allocated to the British for a short period of training and service, and wish to get a similar allocation from the United States…
Another issue, becoming a real old chestnut by now, was the extent of the authority enjoyed by the Supreme Commander:
2nd May …M. Clemenceau presented question of acceptance of General Foch as Commander-in-Chief of all Allied forces on Western Front. An agreement with Italy adopted whereby General Foch commands Italian troops in France, and in case of Allied forces in Italy he commands all Allied troops there…
And the third, something which actually brought the British and French together, was the underlying fear that the Americans were taking too long to get stuck into the war to which they had, finally, signed up to a year earlier:
2nd May …Mr Lloyd George …said that the situation would indeed be precarious if America does not come to the rescue; that if the war is lost it would be lost honorably [sic] by France and England, as they would have expended their last in the struggle, but that for America to lose the war without having put into it more than Belgium would not be in compatibility with American pride and American traditions.
Prime Ministerial rhetoric should not be allowed to occlude the more significant problem. Would the Americans fight as an independent army, as Pershing wanted? Or would they become subsumed as reinforcements into the British and French fighting units? According to the diary of the Cabinet Secretary, Sir Maurice Hankey:
The Council was mainly occupied with interminable discussions about the incorporation of American battalions in British brigades. The U.S. Government accepts our point of view, but leaves a wide discretion to Pershing who hates the whole scheme as detrimental to the building up of an American army under his command. He is very obstinate and we had great difficulty in reaching a not very satisfactory agreement.
This was a much more complicated matter than it sometimes appeared. If Americans were going to fight and die, it wasn't unreasonable for them to do so under their own flag. Old World prejudice may have blinded Hankey and others to the force of this point. For most British and French, all that mattered was to get Americans into battle.
The irritation was not confined to the top brass. Many British soldiers felt as Hankey did. A letter from FS Oliver to his brother on 2nd May is filled with frustration:
When is it reasonable to think that the Americans will be able to put in that immense army of three millions, fully equipped, each man, with a hair mattress, a hot-water bottle, a gramophone, and a medicine chest, which they tell us will get to Berlin and 'cook the goose' of the Kaiser? When? If it came next year it might produce the desired military results. But is there the slightest reason to imagine that it will come next year, or the year after, or even the year after that?
Even now, the British had far more on their hands than the Americans, or the war in the west. The war in the Middle East was proving an exhausting affair, and more inconclusive than earlier advances had suggested. In Mesopotamia, on 30th April, the British reached the Tauk river on the Mosul road, 140 miles north of Baghdad, capturing 1,800 prisoners and twelve guns. But there were setbacks in Palestine: Australian soldiers captured Es Salt, east of Jordan, but only for a couple of days after which the enemy came back in force and re-took it.
Lloyd George and the Foreign Office were not unaware of the geopolitical complications for the British Empire should Ottoman resistance to the Allies prove successful, or indeed should Arab nationalism outstrip their gratitude to the British for assistance rendered. But that was tomorrow's problem. For now, the task was to defeat the Central Powers.
What could not, however, be much longer delayed was an attempt to frame a response to the simmering unrest in Ireland. The proposed extension of conscription there threatened to become a deus ex machina from which Ireland might yet again explode into civil war.
At the end of April, Lloyd George asked Lord Wimborne to resign as Lord Lieutenant. Wimborne's name was inextricably bound up with the repression which had led on from the Easter Rising two years earlier, and the arrival of fresh faces and conciliatory voices seemed like a good tactic to win over moderates on to the side of law and order.
The name for his replacement upon which the government alighted was that of Field Marshal Lord French, Haig's predecessor on the Western Front. Even by Westminster standards, this was asinine. One can almost hear the civil servants of the day congratulating themselves as they hit upon his name and, it was true, French was of Irish extraction. But his attitudes — many would say prejudices — were laughably reactionary, and staggeringly ill-suited to conciliate an increasingly restive population. So far as he was concerned, authority in the country would have to be reasserted before anything like conscription or Home Rule could be considered. He wrote to Lloyd George on 5th May arguing that his own appointment signalled the establishment of "a quasi-military Government in Ireland with a Soldier as Lord Lieutenant".
Irish travails pale into relative insignificance by the side of those in Russia just now. Following the peace settlement agreed at Brest-Litovsk, the Germans were now attempting to claim the spoils of war. On 1st May, they occupied Sevastopol, establishing a military dictatorship in Ukraine under Field Marshal von Eichhorn.
His main function there was to ensure that the peasant population set about sowing the crops. The region had long been known as "the bread basket of Europe" and, at a time of dire food shortages in Germany, a good harvest might yet make the difference between survival and starvation for the German population.
Although they could not yet have known it, survival was becoming increasingly improbable for the Romanov family. On 30th April, the Tsar and Tsarina and their daughter Maria arrived in Ekaterinburg from Tobolsk.
The fate of the family had been a subject of angry dispute among many Bolsheviks for months. Trotsky wanted him to stand trial in Moscow, whereas others were plumping for summary execution. For whatever reason, those in the Urals seem to have been particularly hostile.
Nicholas, never the brightest cookie in the jar, was always stoical in the face of humiliation and setbacks, by both of which his life was now generously furnished. According to his diary:
30th April At 8.40 we arrived in Ekaterinburg. We stood for three hours in one station…

The house is pleasant and clean. We have been given four large rooms. We were not able to unpack our things for a long time, as the commissar, the commandant and the guards captain had not had time to inspect our trunks. Then the inspection was like a customs search, just as strict, right down to the last capsule in Alix's travelling medicine kit. This annoyed me so much that I expressed my opinion sharply to the commissar. By nine o'clock we had at last settled in.
The reaction of said Commissar is not recorded. It seems likely that Nicholas's uxoriousness may have left him unmoved.
There were other awkwardnesses, as his diary relates:
In order to go to the bathroom or the W.C., it was necessary to go past the sentry at the door of the duty office…
But there were consolations too:
4th May [Easter Vigil] …At Botkin's request, they allowed a priest and a deacon in at 8 o'clock. They conducted the service quickly and well; it was a great comfort to pray even in such circumstances and to hear 'Christ is Risen'.
For those less beleaguered, comforts tended to be more secular. Cynthia Asquith enjoyed her brother-in-law, Arthur ("Oc") Asquith's wedding to Betty Manners on 30th April, mainly for reasons she saw no reason to disguise:
When I went to bed it seemed like three days since breakfast, but such good days, and such a wonderful lot of eating in them!

The wedding was a poem — really lovely and most touching — much the nicest I have ever seen… We went back to the most wonderful pre-war meal and I ate till I was blue — there were actually solid things like ham!
Back in London, her preoccupation with food persisted:
3rd May [Lunching at the Bath Club] We saw Steer [the artist] at a table… We were alarmed by his appearance — I have never seen so much ballast in the way of flesh so quickly thrown overboard. He must be stones lighter and he would do well for a poster to encourage the Huns in submarine warfare…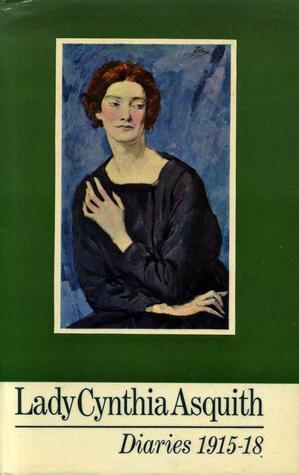 The Germans would have been grateful just then, one feels, for any encouragement they could get. On 2nd May, private and national grief converged in the old Garrison Church in Potsdam, resting place of so many Prussian generals, for the memorial service of Manfred von Richthofen. The day chosen would have been his 26th birthday as well as the anniversary of his first meeting with the Kaiser.
Berliners lined the streets as relatives and dignitaries arrived, including the Kaiserin herself who sat with the family, as did her nephew, Prinz Sigismund of Prussia. A guard of honour, formed by young fighter pilots, stood beside a display of medals, awards and a funeral wreath from which protruded a splintered propeller.
Macabre to modern eyes, the tableau was lapped up hungrily by the mourners of the day, and it was all done to the accompaniment of Brahms' "Ein Deutsches Requiem". The Germans, not a doubt about it, really came into their own when grief and gloom was the plat du jour.
Rituals of mourning change over time. Grief, especially of kith and kin, does not. Richthofen's mother clung to the pastor's words that her son had not "been touched by the death of ordinary life; but rather [by] death in all its heroic beauty". His pilot brother, Lothar, was consumed with guilt that he had not been there to save his brother's life as Manfred had so many times saved his. After he had learned the news in hospital, he eventually wrote to his mother: "I should have written to you before, but I could find no words for this pain."
Another bereaved German officer this week was Paul Hub, still in France, and still short of all supplies and equipment. His letter to his fiancée on 5th May from Cournay announced that
My dear friend Lutz from Plochingen is dead. Hit by a bullet, killed instantly. We buried him yesterday. I felt very sad as I threw earth on his grave. The musicians played 'The Song of a Good Comrade'.

Another of my closest friends is in his grave! He was the most dashing officer in the regiment…

There's nothing left standing here. Just the ruins of one house. The trees are all stumps.
Yet the grimness of war, as he recalled even now, could not eclipse the comfort of nature. Look around you, and there lay life and hope:
But every night from what's left of the wood you can hear the nightingales sing! It's so beautiful! Just imagine, in the middle of the battlefield, nightingales.